INTERVIEW
---
Tradition and technology:


Smart Alliance on capturing the attention of modern travellers
Rodrigo Manceñido, Managing Director of fast-growing Argentinian company Smart Alliance, tells Sight Lines Editor Liam Coleman about the company's experience of its first year in the airport advertising sector and how it plans to carve out a differentiated niche.
Liam Coleman:

Tell us what services Smart Alliance offers for travel retail advertising.
Rodrigo Manceñido: We are not simply an agency or media owners. We are a company that is specialised in connecting brands in the luxury sector with consumers throughout the key touchpoints of their travels. That involves using out-of-home advertising, travel retail activity and digital touchpoints.
On one side, we do have a special partnership with media owners. That includes a Colombian shareholder, Efectimedios, which mainly runs advertising at El Dorado Airport in Bogotá. In Brazil, we have a partnership with Eletromidia, which is in Rio de Janeiro as well as Florianópolis and Salvador. The third one is IMU, a Mexican shareholder, which runs Benito Juarez Airport Terminal 1 in Mexico City. With these airports, we can do whatever we want and we can stimulate more than 90 million passengers every year.
At the same time, if our partner brands want to do something elsewhere in the Americas or in Europe on top of these airports, we can also run a campaign wherever their needs are, as we have excellent relations with other partners at a worldwide level.
"Brands have to be very smart and intelligent with how they approach customers. If it is a coherent, 360-degree approach then one part [of a campaign] is not necessarily more important than another."
Rodrigo Manceñido
Does your work involve primarily working with brands or with airport operators?
We work in both ways. As well as our work with luxury brands, we have had Caribbean airports asking us to build up their out-of-home advertising and to connect them with brands they don't have links with. 
We launched Smart Alliance in November 2018. In 2019, we focused on developing in Latin America, but we were having requests from brands to do campaigns in the UK, Spain or France, for example.
Smart Alliance helped Tag Heuer promote its partnership with Red Bull Racing during the Mexican Grand Prix
Tell us about a recent campaign you are particularly proud of.
I have always been on the brand side, so in the past I was always demanding non-static campaigns that just have a magazine and a billboard, like the good old times.
When I joined Smart Alliance, I said we needed to think in a 360-degree way to take account of all the different touchpoints in the consumer journey. That goes from when they are reserving the flights or hotels, to issuing the ticket, travelling to the airport, the touchpoints in the airport, during the flight and then when they arrive and are back home or at their final destination. Throughout this process, a product can be bought at any time.
Our most recent campaign was with Tag Heuer. They are linked to Formula 1 team, Red Bull Racing; they wanted to promote one of their watches in Mexico at the time of the Mexican Grand Prix in October 2019. We ran the campaign in October and then extended it to take advantage of the Christmas season. The advertising used both digital and traditional assets. Depending on the path of the consumer journey, we would pick and choose the best way to reach the audience. When arriving at the airport, the advertising was there in the arrivals corridors. For the return journey, there was advertising at the taxi drop off, the check-in, security, duty free and the boarding doors. At the same time, we were running a mobile, geo-targeted campaign with both static banners and video.
At which stage do you think a brand can most successfully influence a customer?
It depends on the type of customer. Business travellers, for example, are super aware of everything. That is not the case with those that travel for leisure: they are more receptive to advertising from the beginning.
I think the most impactful moment is after you go through security because you are more relaxed, and you have the time to go to the VIP lounge or shop. It is then that you are more open to interaction with brands. 
That said, brands have to be very smart and intelligent with how they approach customers. If it is a coherent, 360-degree approach then one part is not necessarily more important than another.
In its first full year, Smart Alliance worked on campaigns beyond the Americas, including this one for The Swatch Group in Shanghai
What is Smart Alliance doing to harness the latest technology in out-of-home advertising?
We want to establish what the emotions and reactions to advertising campaigns will be, and if that has a direct link to shopping either straight away or afterwards. I am discussing how we can engage AI (artificial intelligence) with digital out of home.
There has been a huge evolution in the world of advertising – 20 years ago you had to advertise in Vogue or The New York Times – but now it is about technology. That is why we want to see how AI can be present in an advert campaign.
Smart Alliance's raison d'être is to connect brands in the luxury sector with consumers throughout the key touchpoints of their travels
What does 2020 have in store for Smart Alliance?
We are signing an agreement with a major group of brands for global out-of-home communications in travel retail for 2020, which we will be able to announce in the coming weeks. That will be an initial explosion for us and then more business will come.
How do you see the future of airport advertising unfolding?
As important as it is to harness technology, we cannot forget about the experience for the end consumer. If you can't smell a fragrance, you won't buy it; if you can't taste chocolate or whisky, you won't buy it; and the same with trying on sunglasses and clothing. I don't see the physical side of airport retail disappearing.
The big department stores and retailers are disappearing in the face of Amazon, but they are not experimenting. Online retailers thrive out of convenience, but when you are indulging yourself in travel retail and you have the time, your senses are engaged. Furthermore, travel retail has a captive consumer, which makes it very different from the domestic market. 
That is why, despite increased global tensions, the travel retail and airport advertising industries keep growing.
Rodrigo Manceñido: Inspiring campaigns and airports
Campaign: "What Shiseido does with the Forest Valley at Jewel Changi Airport is brilliant."
Airports: "With Asia's travel retail boom in recent years, you see the impactful assets in Beijing [Daxing International Airport is pictured], Singapore and Hong Kong, as well as Dubai and Heathrow Terminal 5. We don't have anything like that in the Americas beyond LAX and JFK. Those assets will come though and there will be a bright future here."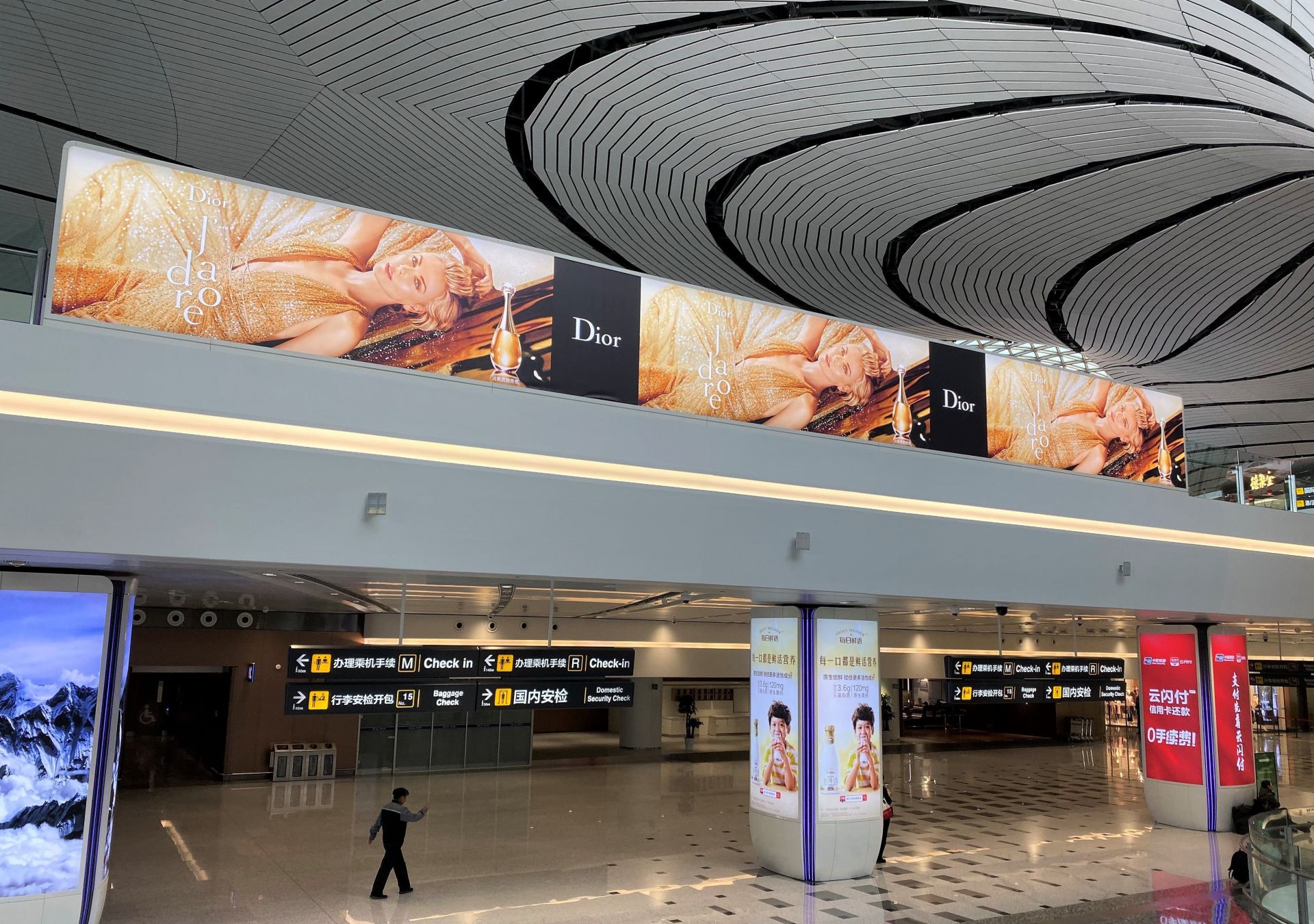 Sight Lines is published by The Moodie Davitt Report (Moodie International Ltd) five times a year.
© All material is copyright and cannot be reproduced without the permission of the Publisher.
To find out more visit www.moodiedavittreport.com and to subscribe, please
e-mail sinead@moodiedavittreport.com