INTERVIEW
---
Mars calling earth
Mars International Travel Retail is rolling out an unprecedented airport advertising and communications campaign to celebrate the launch of a M&M's limited-edition Salted Caramel line and a new Celebrate range. MITR Category Director Raghav Rekhi (pictured right), who is driving the project, tells Martin Moodie all about it.
"Full throttle." That's how Mars International Travel Retail (MITR) Category Director Raghav Rekhi describes an unprecedented international advertising campaign that the confectionery giant has launched in partnership with world out of home advertising leader JCDecaux. The campaign is being conducted across Amsterdam Schiphol, Bangkok Suvarnabhumi, DXB (Dubai International), Frankfurt, London Heathrow, Paris Charles de Gaulle and Singapore Changi airports.
It is being supported by in-store executions with lead confectionery retailers at those airports while shopping bags at Heinemann's Sweet Dreams stores at Hong Kong International Airport will feature M&M's/retailer co-branding from July.
MITR Category Director Raghav Rekhi is driving the project. Rekhi, a two-decade Mars man, joined the division in April 2018, charged with leading and developing the marketing team to "outstanding deployment" of the travel retail category vision and ITR strategies, both globally and locally.
Airports, says Rekhi, are an "ecosystem" whose inhabitants – international travellers – need to be served better at retail level. In the past, he observes, airport stores were simply viewed as a channel to drive sales volumes.
Such a philosophy is no longer enough, he contends, arguing that the industry's historically mediocre penetration rates – which in some cases are declining – require a different mindset.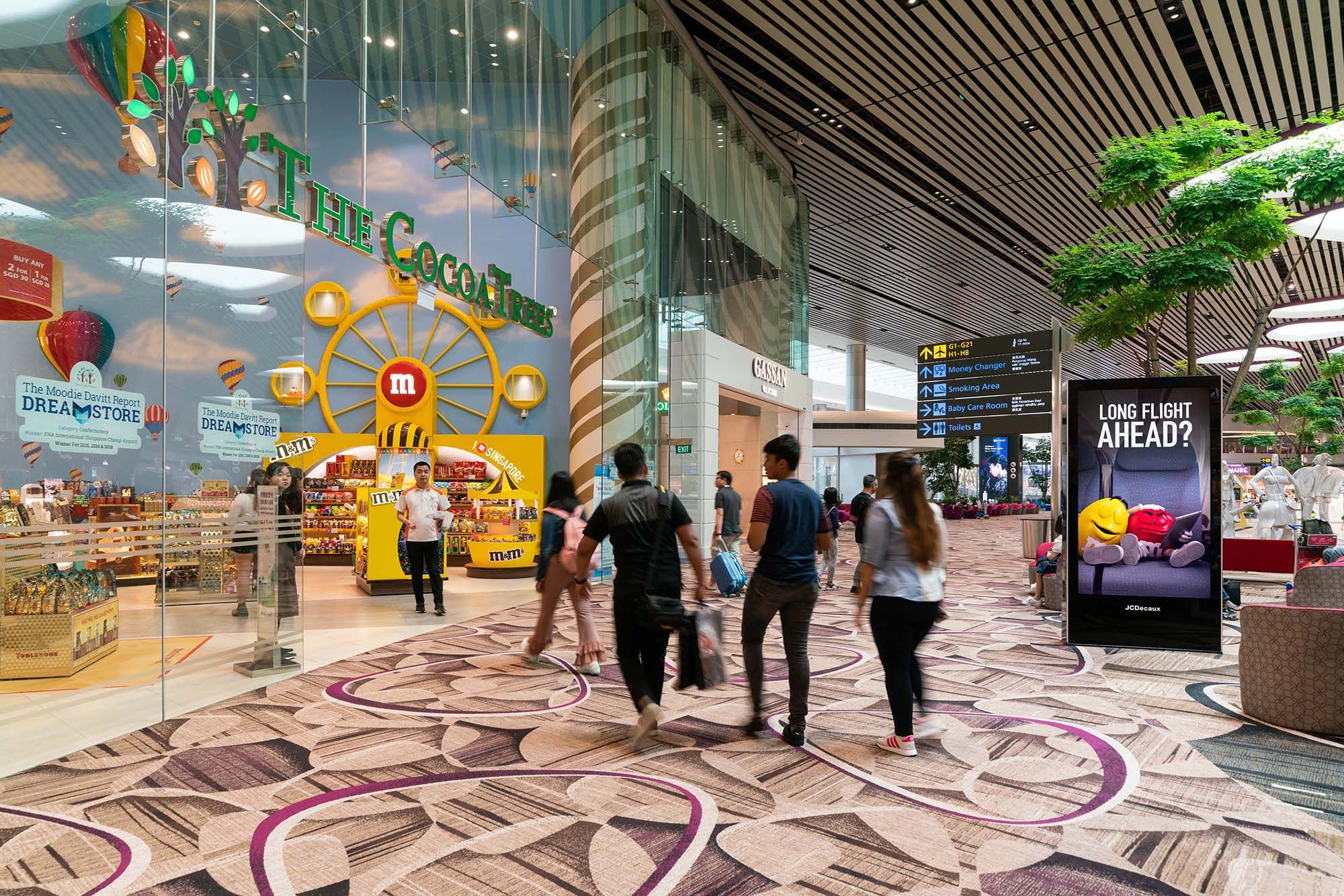 Mars landing: A fun M&M's message at Changi Airport
"You've got people going through their journeys who have needs which are largely going unfulfilled," Rekhi contends. Over the past few months, he has led an internal project designed to identify and meet those needs and to create a much stronger connection between brand company and the travelling consumer. Then, and only then, should the focus switch to operational expertise, route to market, logistics and so on, he says.
"We could really attract more travellers into retail spaces by giving them something to have fun with. To me, it starts with fun and entertainment, to engage them."
So far, so good. But more needs to be done, Rekhi says, if MITR and its peers are to truly address the major industry challenge of poor penetration rates.
"From a Mars Wrigley standpoint, we talk about conversion being our industry's challenge. We've invested a lot of time and money into researching what is driving the trends of today and being able to put some specific data points by those," says Rekhi.
"In due course, we'd be very happy to share those findings with yourselves and the industry. Because, at the end of the day, it's about growing our industry as opposed to just really driving Mars' market share – that's not our primary KPI. Our primary KPI is to grow the marketplace. Because we're confident that within that we can grow market share."
Why is conversion so low? Rekhi returns to his core theme – a failure to address changing consumer needs in an ever-evolving marketplace.
"If I look at Mars Wrigley, we've had a very strong business in Europe for many years now. We've organised ourselves to have a global business unit that also looks to meet the needs of the duty free industry in Asia, the Middle East and the Americas. And, essentially, we've tried to take a very European-centric approach to delivering on the needs of travellers who are quite different. And, as a result, there's been a mismatch."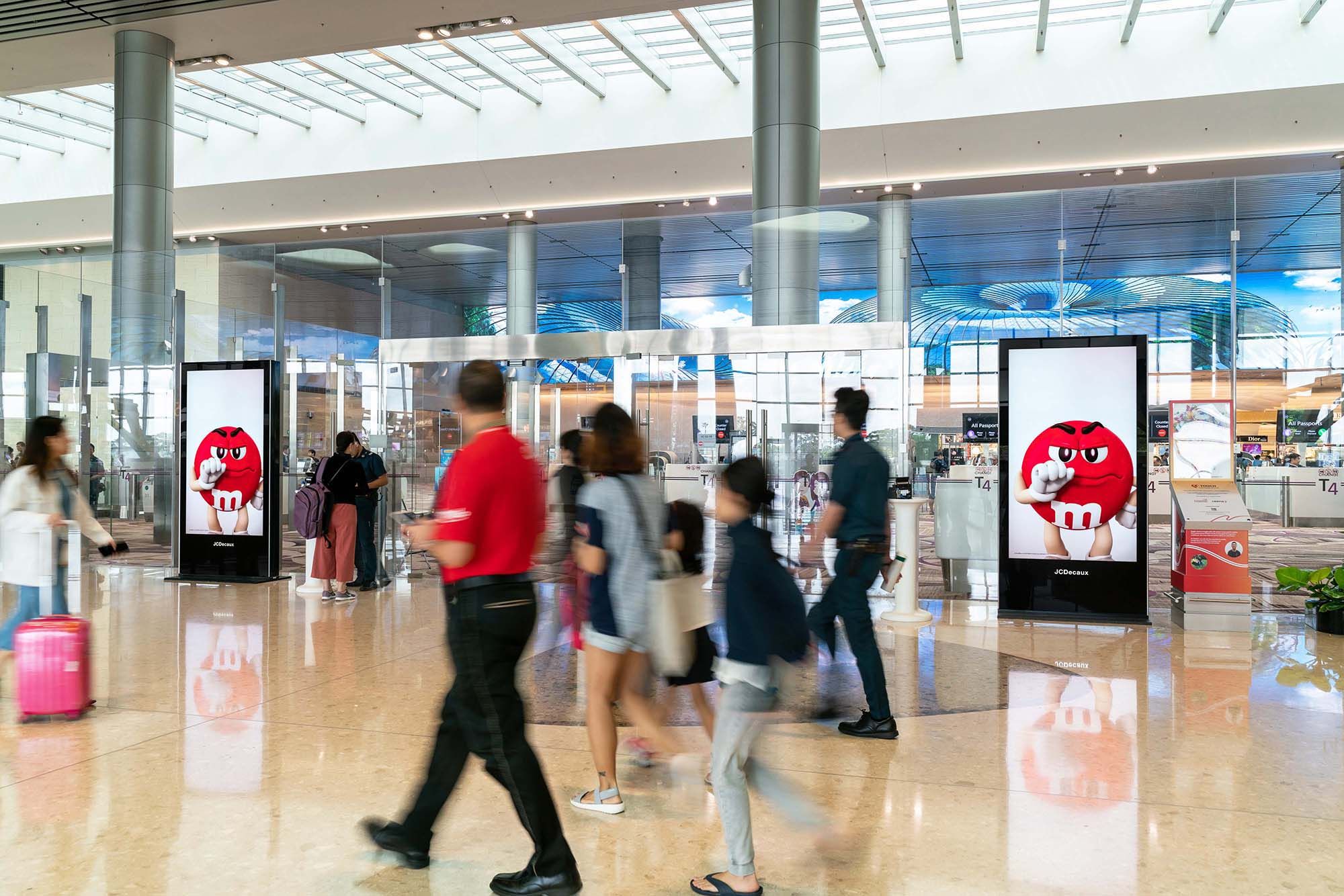 Seeing red: A pre-flight message from the most famous M&M's character builds brand awareness and consumer engagement
That mismatch – and the need to rebalance it – lies at the heart of the revamped MITR approach, says Rekhi.
"I see three legs to our strategy going forward. One is to develop and execute a portfolio that meets the needs of travellers who are quite different. The needs of the traveller in emerging regions like India, China, Latin America and Africa are going to be quite different to the needs of travellers who reside in Europe.
"We've tried to bring recognition of that fact to develop a portfolio that meets those needs by creating price points relevant to those travellers. If I think about certain Asian travellers, for example, they probably have a very different willingness to spend on luxury categories and a very different perception of value than with non-luxury categories like confectionery.
"So, basically, just saying, 'Well, they buy a lot of Cartier watches' or 'They buy a lot of perfumes from some of the big labels, so therefore they should be open to spending €10 on confectionery' isn't resulting in the kind of outputs that we would have liked. We've tried with our portfolio – and our competition has as well – and we aren't quite seeing the level of conversion that we'd like to. That's an indication that we haven't quite targeted the right value-drivers. It's not solely about selling cheap; it's about giving them something they value, and we need to understand that first.
"So, that's one leg of our strategy, which is around innovating our portfolio based on what travellers are seeking in the markets that are driving growth today."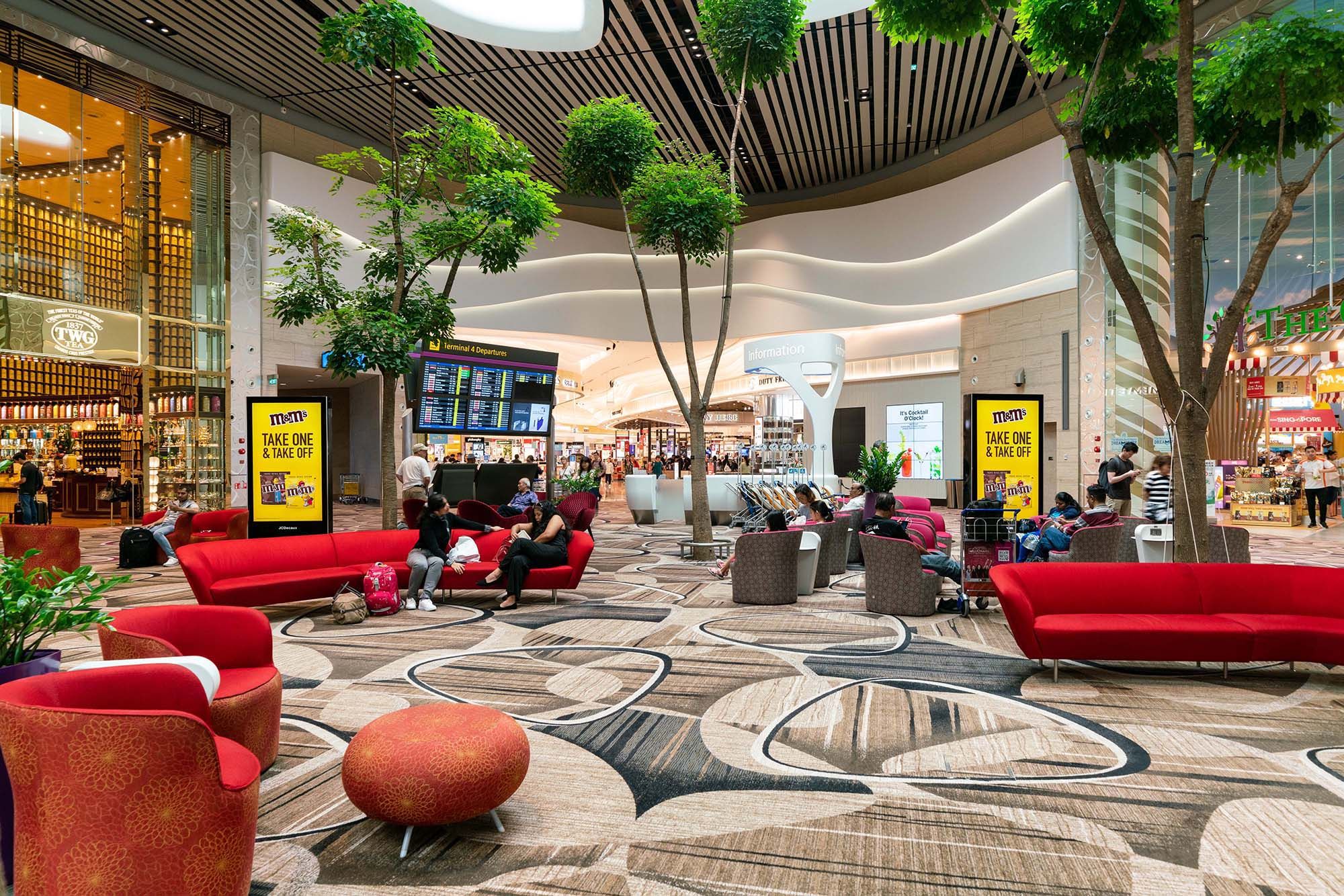 "Take one and take off." The M&M's message becomes part of the traveller journey at Singapore Changi Airport.
Towards the portfolio of tomorrow, today
So to the second strategic principle. Rekhi talks passionately about creating "the portfolio of tomorrow", based on answering some fundamental questions.
"With the portfolio in hand, how do we really make our category more exciting? How do we bring more innovation? We've done a really good job, I feel, as a category in sign-posting the category through key brands –whether it's M&Ms from us or whether it's Ferrero or whether it's Lindt.
"But it's been done by putting brand iconography up. And I don't think that's enough, because travellers need to be entertained and engaged more than a shopper in a typical retail environment. There's a good reason for that… they're spending so much time commuting and in transit. That's reflected in the kind of investments that airports such as Dubai International and Singapore Changi are making in recognition of the need to entertain and engage travellers."
It isn't about "just putting product in their faces", says Rekhi. "How do you lead with confectionery? Because I think we could really attract more travellers into retail spaces by giving them something to have fun with. To me, it starts with fun and entertainment, to engage them."
Creating airport entertainment zones
Rekhi says that the airport experience has been revolutionised in recent years by the likes of Dubai Airports and Changi International – and that retailers and brands must keep pace. "I've spoken to people who opted to fly Emirates because it will help allow them to transit in Dubai. Singapore Changi and Dubai International have for many people become airports that they want to spend time in. What a success! Who would have thought 20 years ago that people would actually want to spend more time at an airport?
"So how do we feed that? People want to enjoy their time on their journey. Most journeys are happy journeys. Most people travel for leisure and those are happy moments. How do we become a part of that happiness? How do we engage, how do we bring fun, how do we bring excitement?
"And, again, I'm not just talking M&M's – I'm talking about the category. We have the biggest brand, but my primary job is to grow the category by making it more attractive.
"I want people to come in and have fun. And you know what? If they have fun and they make a purchase, it might be one of my products, but it might be Ferrero, it might be a bar of Cadbury – I really don't mind. I want to see the category grow faster than it's growing."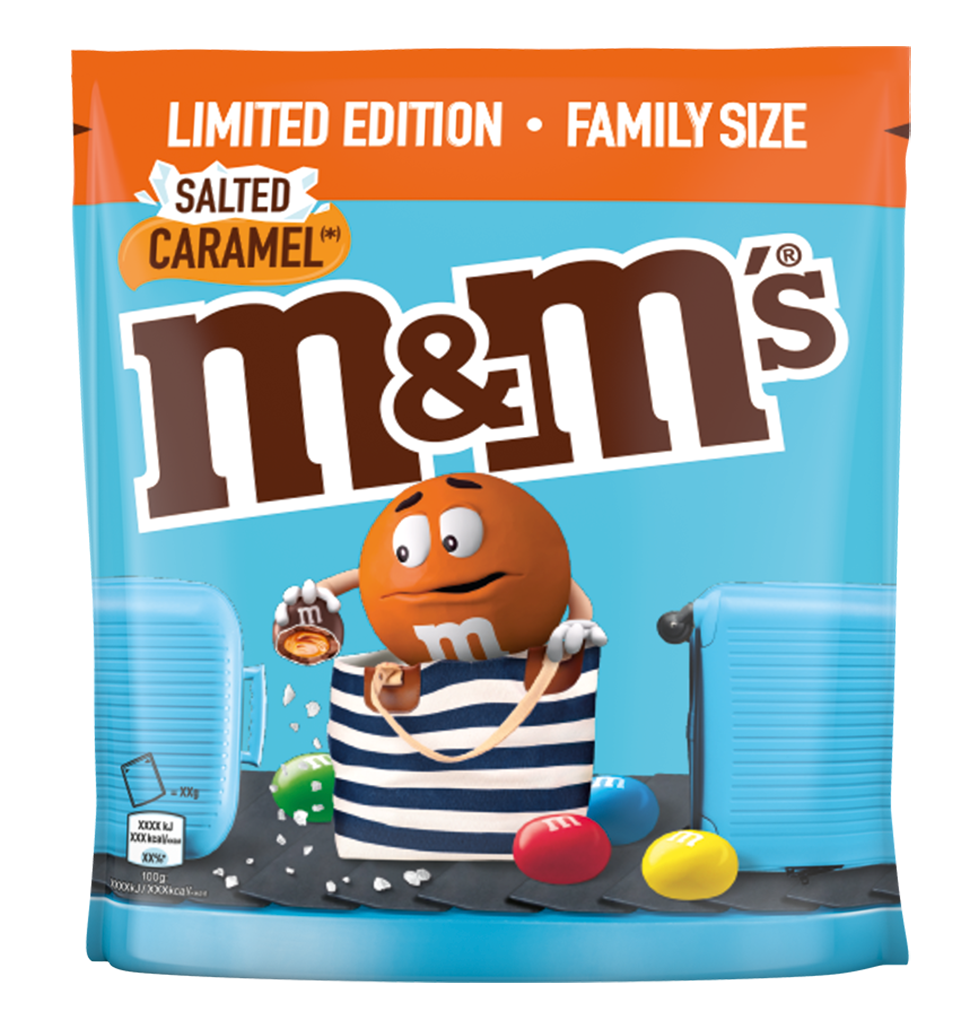 Driving awareness through media
It's a positive, non-parochial message but Rekhi knows that more must be done to make all the elements come together. Which brings him onto the final leg of the strategy – to use media to drive awareness of the confectionery sector in an exciting way.
"Our category, versus any other, is the one that people look at and expect to have fun with. Every morning, I have breakfast with my boys, and they say, 'Dad, what chocolate are you making today?' In their young minds, they think I come in and make M&Ms one day and Snickers the other.
"I get a similar sort of emotion when I speak to adults. They say, 'You work for Mars. That must be so much fun.' Well it is! But how do we spread that fun? And that's where I see the link with media. From a confectionery standpoint, I feel we don't leverage media at all. In over 20 years of being involved with the travel retail industry, we've never run a mainstream media package."
"When I have conversations with our retailers… they say, 'traveller numbers are going up but conversion isn't'"
That has now all changed. On the eve of the TFWA Asia Pacific Exhibition in Singapore, MITR unveiled an ambitious media campaign that will eventually feature across the world's top ten international airports this year.
"Why media? Is it because we want to drive brand awareness? Not really. Our domestic markets do a great job of that. You put on the TV, you'll see M&Ms advertising and Snickers advertising. We aren't really doing this to strengthen brand equity for M&Ms, or tomorrow if we decide to advertise Snickers. Absolutely not.
"Globally, Mars spends about two billion dollars on A&P. So they do a good job in driving brand awareness and equity development. But I think there's a real opportunity for us to drive awareness as travellers are making their way through their journey or on their path to purchase – because they're purchasing for very different reasons.
"How do we put in place a fun call to action that makes them want to enter the retail store? So they see a consistent message that cuts through and gets noticed? So that they see something [in-store] that's fun and engaging and gets noticed more because it's already top of mind based on the advertising?
"They're going to say, 'Oh, look at that! Let's go have some fun with it.' So now there's a connect. We are going to use media in a way that's fun and engaging with clever call-to-actions in place that then relate to what we're bringing to life in the retail environment, which is disruptive, fun, and engaging."
Rekhi recalls a meeting with JCDecaux a few weeks ago in London. It was an exciting encounter, he says, his first experience of developing a major digital campaign, by definition without sound. "It's a very different creative challenge but one that can be overcome without over-complicating it."
Together with JCDecaux, MITR evaluated what peer companies do in a similar space, and how they overcome that challenge. "It's about using media in a way to drive top-of-mind awareness of the category that really gets people to turn their heads and say, 'Wow, that looks like fun.'"
It's not just about embracing media airside but through the 'path to purchase' – the whole traveller journey. "How do we leverage that in a way that meets our over-arching objective of making our category more attractive and attracting travellers to it? When I have conversations with our retailers, I get the sense that it's resonating with them, because they complain about the same things, to say, 'Well, traveller numbers are going up but conversion isn't. We aren't getting as many people proportionately into our retail stores as we used to and those who come in don't buy as much as they used to."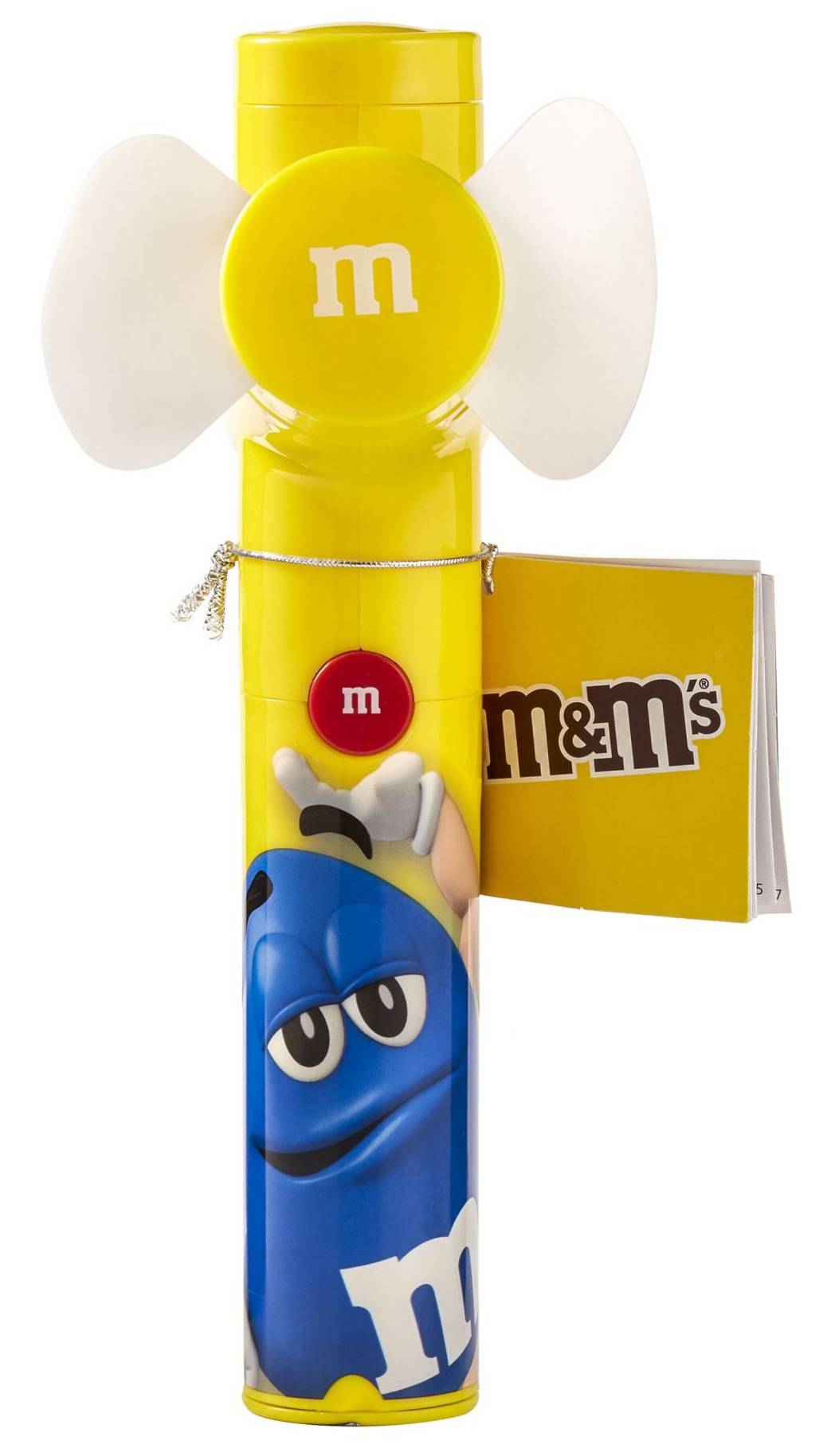 How to stop the rot? While the value proposition for low cost or full service airline passengers might vary, it ultimately comes down to creating an engaging retail environment featuring categories and brands that consumers are interested in and trust, Rekhi says.
"So the challenge for us is 'How do we make it more attractive?' And that's the role of media. How do we use it? How do we leverage the technological capabilities that are very quickly coming in through digital media?
"We're talking to companies now that offer us that. It is dynamic, it is video, and we're coming up with interesting and fun creative, that gets noticed by travellers. It's nice, sharp, 5-10-15-second looping content that will deliver a core message."
MITR is also working hard to make such campaigns more interactive, embracing technology that allows the consumer to capture a QR-type code embedded in the advertising on their phone, bringing the brand experience to life in an innovative and fun way. This is likely to be trialed in Q3 and rolled out fully next year. "That will even bring static media to a new level of engagement that I don't think you can otherwise reach.
"I'm probably going to deliver the most efficient, cost-efficient reach for Mars Wrigley anywhere in the world"
"For me, the magic words are fun and engagement," continues Rekhi. "How can we be first movers? How can we use the opportunity of a very sophisticated retail channel to give travellers the opportunity to engage and have some fun that they can't really do in domestic retail? Because they don't really have the time and they aren't looking to have fun when they go to a Tesco or Walmart or a Carrefour. But when they're in airports they're looking for a little bit more."
The advertising mechanisms will vary according to what platforms are in place at the selected airports. The big digital screens at Heathrow Airport Terminal 4, for also, will provide dramatic impact, while at Bangkok Suvarnabhumi Airport a more traditional static media is being used.
Mobile offers further potential. "There's a lot of opportunity between Wi-Fi and Bluetooth for us to communicate directly with travellers. They come from different backgrounds, different nationalities and use different languages. The moment you start communicating with them on their mobile phones, you can tailor it to the language of their choice, which makes your communication that much sharper.
"How can we link that with an opportunity to then draw them into the retail environment and help drive conversion? That is our over-arching objective for the industry and the area that I really want to be able to crystalise our thinking and strategy around."
How will Rekhi and his team measure the effectiveness of this hugely ambitious programme? "We're doing it in different ways," he replies.
"We'll be speaking to travellers on how they are responding to it. Do they enjoy it? Do they find it fun? And, of course, there are more traditional metrics that corporations look for around purchase intent, top-of-mind-awareness of the brand and so on.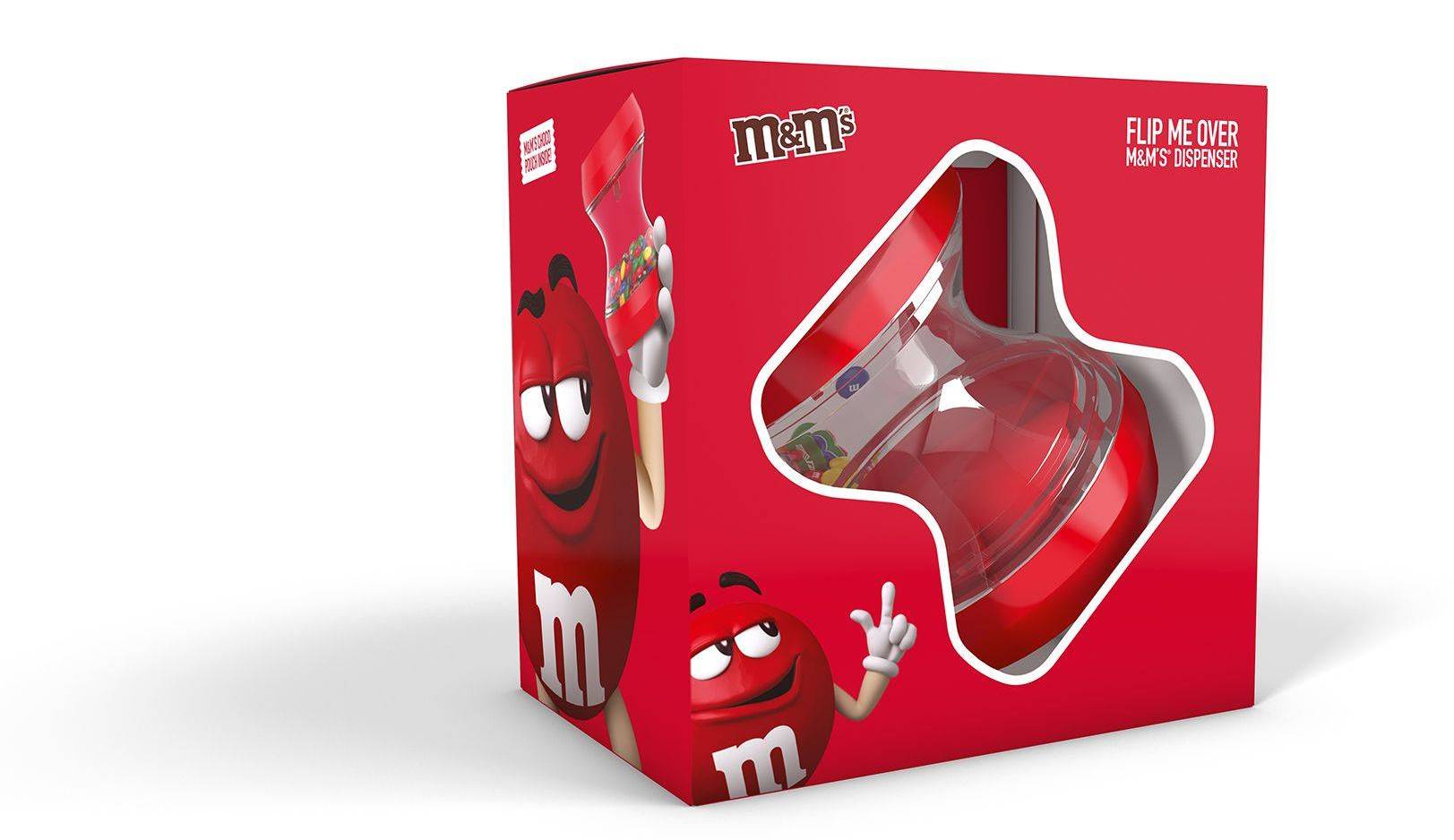 "My personal point of view is that I'm probably going to deliver the most efficient, cost-efficient reach for Mars Wrigley anywhere in the world. I've developed domestic market advertising and I know what that costs to produce and to air. The reach delivery in traditional markets is a lot more expensive than reach delivery in airports.
"The sheer scale that we have and the number of eyeballs that we can hit in a month at a very efficient cost – that doesn't necessarily need new ads being filmed and shot on location – makes it very attractive."
Creating a world of happy engagement
There is plenty of precedent within the Mars Corporation for creating the kind of engagement that the current campaign is targeting, Rekhi points out.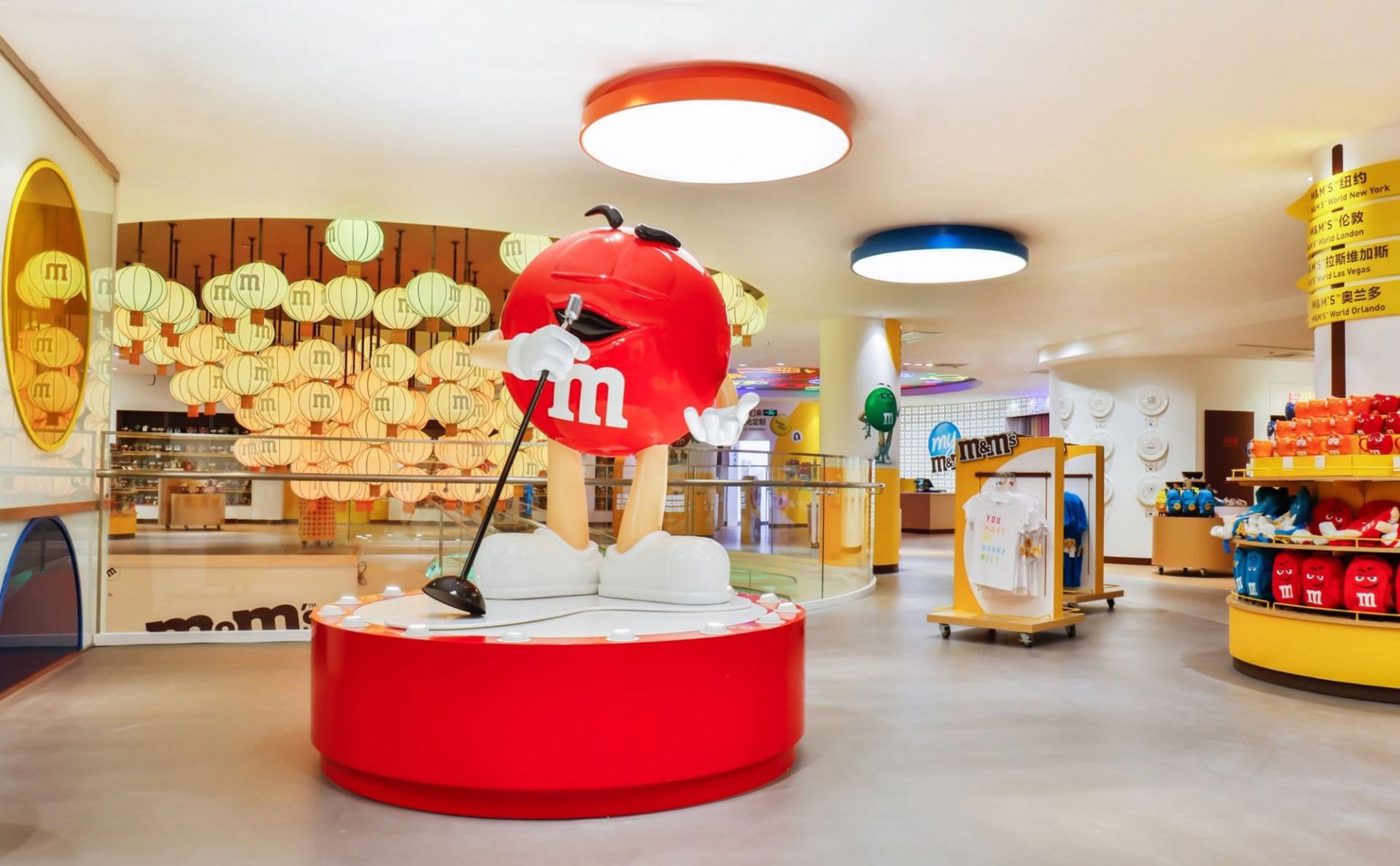 M&M's World in Shanghai (pictured above and below) has been a roaring branding success since its opening in 2014
Over 20 years ago, a new operation was created within the global business called the Mars Retail Group. Its key aim was to open new avenues for consumers, initially in North America and later in the UK and Asia.
It was called 'M&M's World' and was conceived as a means of driving consumer engagement and fun. It turned out to be a roaring success, culminating in the building of major standalone stores in Las Vegas (1997), Orlando (2005), New York (2006), London (2011) and Shanghai (2014).
"We saw that not as a traditional selling opportunity, although of course we do that too, but as a way to get people to have greater engagement with the brand and, speak to our brand credentials and it's worked incredibly well," says Rekhi. "We don't have too many, we're very selective. I've spent time with the teams who run those operations to understand what it takes to engage shoppers as opposed to sell to shoppers, because we understand that quite well.
"The learnings have been crystalised into a few key insights that MITR will be rolling out next year to bring fun and excitement to the retail environment – just to get people to enjoy their time in the retail space more. We want them to engage with the confectionary category and if they buy a little bit more, we'd be very happy. But it isn't simply another distribution opportunity… if they engage, they'll buy eventually."