SIGHT LINES: Interview
---
Jean-Charles Decaux's great airport passion play (Part 2)
The launch edition of Sight Lines carried the first part of a compelling interview with Jean-Charles Decaux, co-CEO of JCDecaux (along with his brother Jean-François Decaux) and one of the world's most influential advertising and communications figures. In it he talked of the company's financial and creative vibrancy; its growing focus on China; and of the need for greater collaboration between airport sector stakeholders.
In part two, he tells Martin Moodie about the convergence of traditional and digital advertising; about how a market leader can still be a disrupter; and about the "healthy paranoia" that keeps him awake at night.
Martin Moodie:

You once said that a brand's OOH campaign is "about the here and now – enabling the public to interact with brands wherever they are, whether on the move in a city, a transport hub, an airport". Tell us more about that interaction.
Jean-Charles Decaux: The passenger has changed in many ways and has become more connected, informed and empowered, and as a result has higher expectations of the airport and their experience of the brands.
More than ever, the airport has become a place of real dialogue between the audience and the brands through emotional and impactful experiences, including real-time experiences as well as one-on-one and personalised interaction.
We believe that advertising that is anchored in the moment resonates with passengers' immediate experiences. So we offer brands the ability to deliver targeted messages to passengers while simultaneously advertising their products.
Airports offer brands the opportunity to capture passengers' attention and to engage with them through a truly immersive and one-of-a-kind experience. Audiences that are on the move, and airport passengers in particular, have time to engage in a deeper dialogue with brands.
Inviting passengers to escape to a brand immersion – such as the Tiffany experiential tunnel at Guangzhou Baiyun International Airport –increases the passenger's enjoyment of their journey. Rather than delivering a one-dimensional advertising message, outdoor advertising gives advertisers' target audiences a deeper, more contextual and even poetical context which resonates with their mindset when they enter the airport.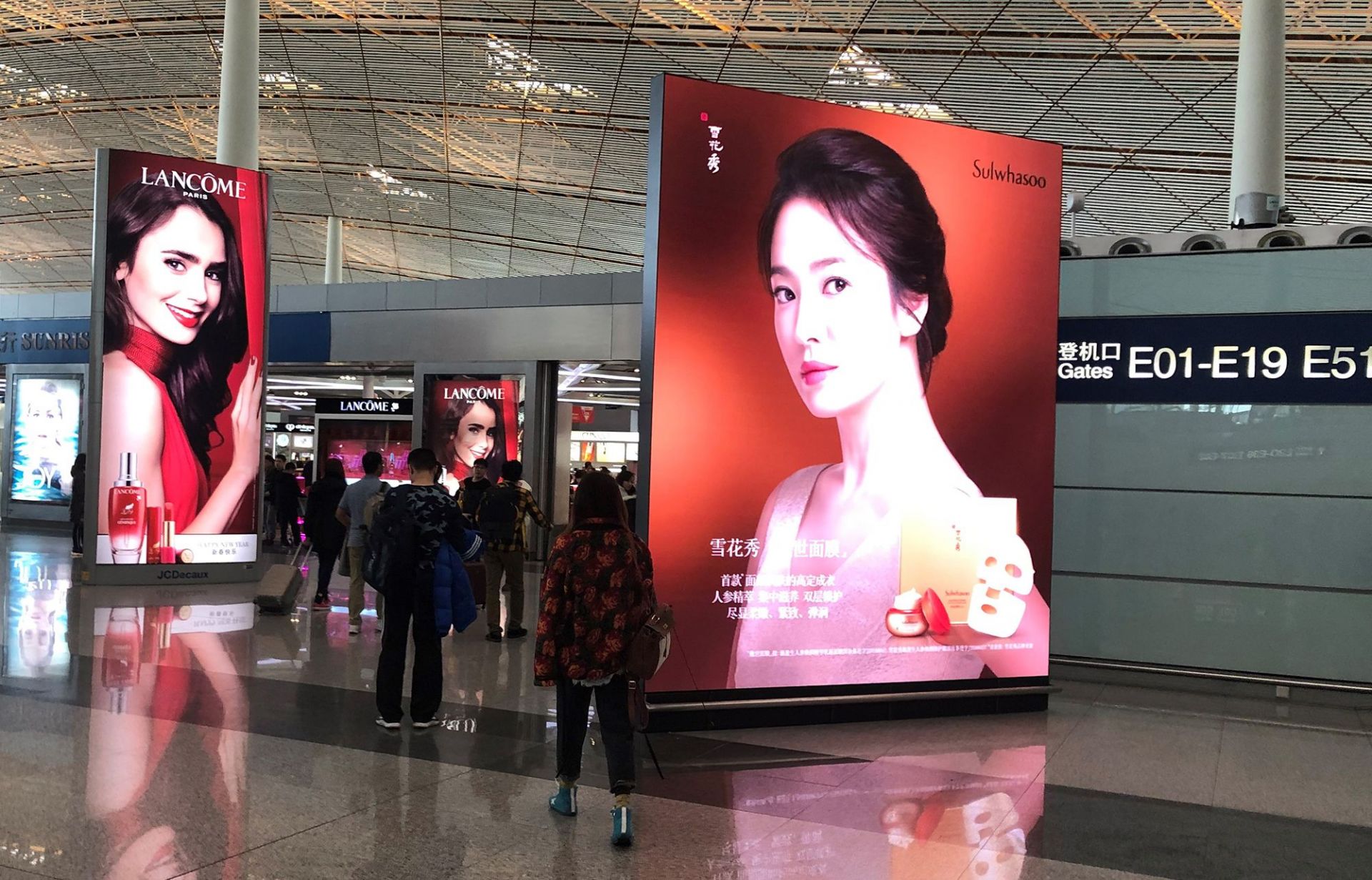 French beauty brand Lancôme and South Korea's Sulwhasoo are showcased by JCDecaux at Beijing Capital International Airport T3
Let's talk digital vs traditional advertising

. I want to offer you a case study – Hong Kong International Airport. There are some great digital executions, but equally the Departures zone is currently dominated by a series of giant Shiseido visuals – traditional billboards if you like – that have tremendous impact. How do you see the fusion of digital and traditional going forwards?
Globally JCDecaux Airport's portfolio of large format and advanced communication solutions are leading the way. Although digital has gained more weight and is a growth driver, the large static formats remain an important part of JCDecaux revenues, and they represent an inseparable complement to our digital assets.
Once again, the maturity of the local advertising market and communication objectives of advertisers have to be considered when you develop your airport strategy. Our long-term partners (including HSBC, Total, LVMH, Chanel and L'Oréal) deploy a mix of static and digital media depending upon their objectives: long-term brand strategy, tactical messages or driving footfall to store.
Shiseido is a great illustration of this strategy, as it is deploying both solutions. Last year Shiseido had a global brand image campaign and deployed a digital drive-to-store campaign at Singapore Airport.
"We have to be very focused, and at the same time very forward-looking, to make sure that if there is disruption in our industry, we are the disrupter"
You've said you are convinced that OOH can compete with the wider digital advertising market by transforming its whole offering through optimised campaigns using data and technology.

Why you are so confident?
It means delivering the right message, to the right audience, at the right time. To achieve this objective, we have developed our own dynamic real-time and data-driven management platform and signed a major exclusive partnership with NPD Travel Retail. The agreement gives every JCDecaux airport direct access to the global passenger and traffic information of 550 airports.
In the context of the significant evolution of air traffic, this data will be enriched and given greater application through the integration of traveller segmentation and detailed shopper profiles. JCDecaux will also have access to a powerful 'Time of Day/Day of Week' module. This module provides a detailed forward-looking knowledge of the number of passengers by terminal, by nationality, by day of week and by time of day.
Obviously, travellers' data comply strictly with personal data protection rules to safeguard passengers and users. In Europe these rules will be strengthened by the introduction of the General Data Protection Regulation.
Once again, the maturity of the local advertising market and communication objectives of advertisers have to be considered when you develop your airport strategy. Our long-term partners (including HSBC, Total, LVMH, Chanel and L'Oréal) deploy a mix of static and digital media depending upon their objectives: long-term brand strategy, tactical messages or driving footfall to store.
Shiseido is a great illustration of this strategy, as it is deploying both solutions. Last year Shiseido had a global brand image campaign and deployed a digital drive-to-store campaign at Singapore Airport.
By utilising the intelligence within the system's forecasting module, our airport division can deliver contextually relevant campaign messaging in environments of high dwell time, enhancing the passenger experience while providing optimal visibility for advertisers and their brands. This underlines how JCDecaux is developing new methods of media planning that are aligned to its different businesses.
Data and technology also play a major role in providing campaign measurable metrics. Recently, JCDecaux launched the first international audience measurement system for the airport industry: AAM (Airport Audience Measurement). Developed to offer advertisers and agencies standard metrics throughout the world, this unprecedented and innovative methodology has been designed in collaboration with Veltys, a company specialising in complex data analysis, processing and modelling.
As well as including the main OOH audience measurement standards and rules, AAM also takes into consideration the specific features of airports in terms of frequency of contact and audience reached to deliver an unrivalled level of granularity and accuracy in the results produced.
Deployed initially at Paris and Singapore airports, the international airport audience measurement will gradually be launched in the main hubs operated by JCDecaux and will also feed into the VIOOH programmatic platform.

JCDecaux organised this distinctive installation for Korean consumer technology brand Samsung at Riga International Airport
Talking about a revolution
JCDecaux recently extended its exclusive DXB (Dubai International) advertising contract by ten years. At the time Dubai Airports Chairman H.H. Sheikh Ahmed Bin Saeed Al Maktoum talked of "positioning Dubai Airports at the forefront of the airport advertising digital revolution".

How do you define that revolution?
Our subsidiary JCDecaux Dicon will place DXB, the world's leading international airport, at the forefront of an airport advertising revolution after extending its contract until 2028. Building upon a successful collaboration that began in 2008, this new phase of the partnership, signed recently in Dubai, covers all the exclusive advertising concessions at DXB.
To support Dubai Airports in its strategic ambitions, JCDecaux will implement an in-depth media transformation plan, including the introduction of iconic digital media opportunities, which will elevate the passenger experience while offering an unbeatable communications platform for brands.
JCDecaux will deliver state-of-the-art LED screens and other advertising opportunities located across the airport's three terminals and four concourses, including a curved digital screen of 70sq m and eTrees offering interactive communication.
We are committed to engaging passengers in the world's busiest international airport. We plan to deliver enriching and uplifting experiences that will transform the concourse – making DXB a destination in its own right.
JCDecaux's new comprehensive advertising offer will be based on a data-driven ecosystem, enabling clients to take full advantage of the unprecedented power of DXB's audience. This shift to DOOH with the ability to identify and target specific audiences will facilitate engaging, rich-media campaigns that reach sophisticated and discerning travellers. It will also connect the airport advertising industry to programmaticwhile increasing advertising revenues for Dubai Airports.
JCDecaux will also co-create with Dubai Airports an open innovation programme to test and develop new ideas by creating a lab for start-up companies.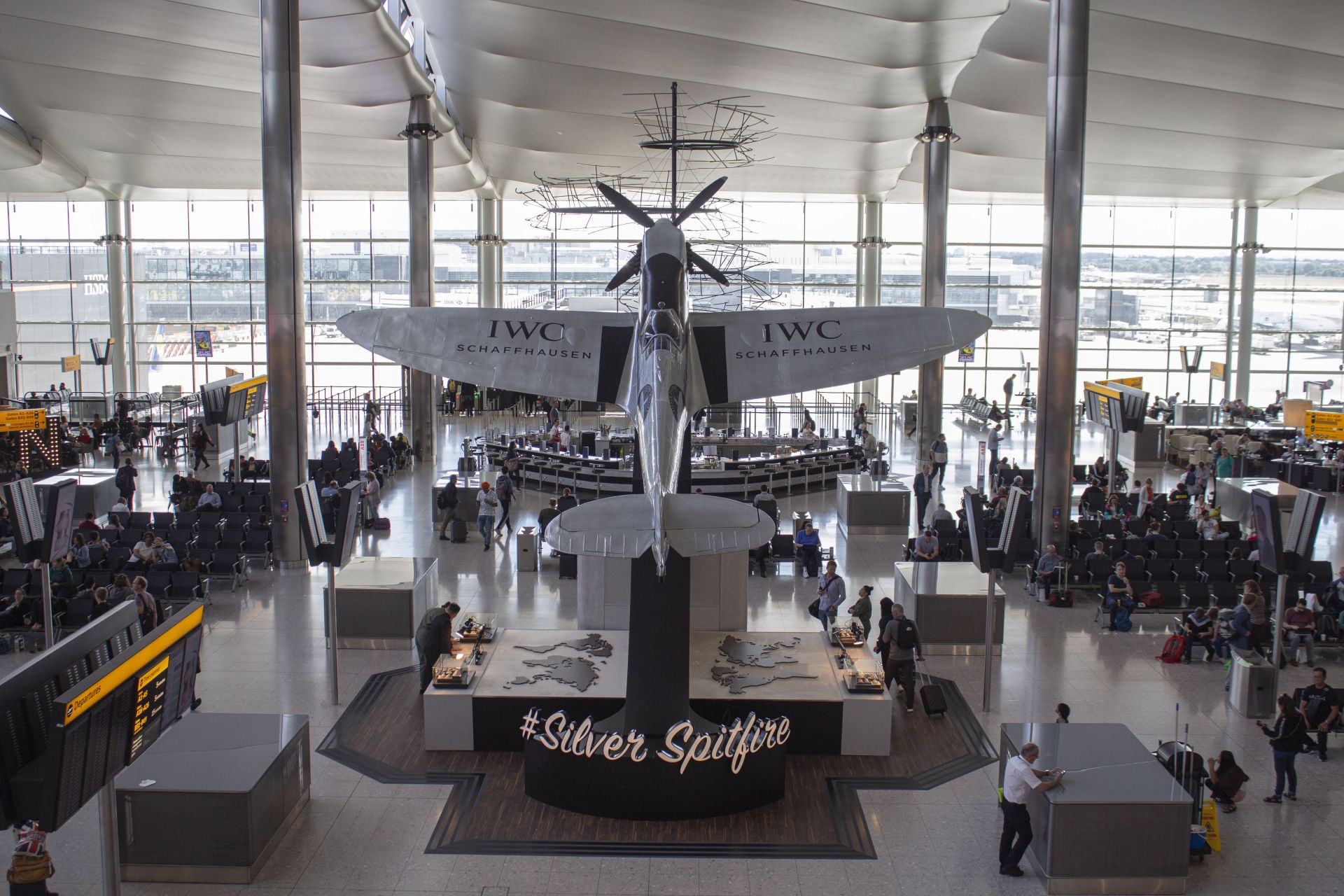 Perhaps one of the most impactful airport brand communications campaigns of all time from JCDecaux Airport and retailer Harrods, for luxury Swiss watch house IWC Schaffhausen currently running at London Heathrow Airport Terminal 2. The pop-up installation celebrates the brand's support of a special around-the-world mission, 'Silver Spitfire – The Longest Flight'.
At the ACI Europe Airport Commercial & Retail Conference & Exhibition in March your company presented the JCDecaux partnership with Dubai Duty Free to introduce a 'Drive-to-store, data-driven advertising offer'.

What does that mean in reality?
This is the first worldwide collaboration between airport authority, advertising and travel retail operators, offering a new advertising value proposition to the market.
JCDecaux Dicon, operating advertising assets strategically located along the passenger journey, will join forces with Dubai Duty Free to operate part of their existing digital assets located in point of sales.
This unprecedented collaboration aims at building a new eco-system based on advertising, airport and travel retail data in order to deliver an optimised advertising scheduling system and boost campaign efficiency. Data is currently changing the selling process. It also becomes a key element in defining the value of the media proposition.
Advertising messages are much more efficient when customised and targeted. JCDecaux will offer brands the opportunity to use 'Dynamic Content Solutions' across this network, allowing them to adapt their artwork to a specific data feed (including retail data, language, time of the day and flight destination) in order to provide relevant content.
In an interview with The Moodie Davitt Report about your new concepts at Paris CDG in March 2018, you talked about wanting 'a seamless experience, not a bombardment of messages – a dynamic and impactful execution'.

Is that the key to how you communicate at airports today?
It's not about how we communicate at airports, but about which media strategy we develop for advertisers that also offers benefits to passengers and airports.
The digital advertising strategy implemented by JCDecaux Airport Paris is based on ambitious and consistent media planning. This ranges from outstanding iconic digital sites delivering amazing impact at the best locations, to standard digital formats located at the key touch-points along the passenger journey.
These provide strong performance KPIs as well as dedicated rich-content channels aimed at delighting passengers in the waiting areas, and geo-located online solutions within terminals. This model is true in the top hub airports we operate across the world.
Let's look forward.

How is JCDecaux future-proofing in a deeply uncertain world where technology is evolving at the bewildering speed we spoke about?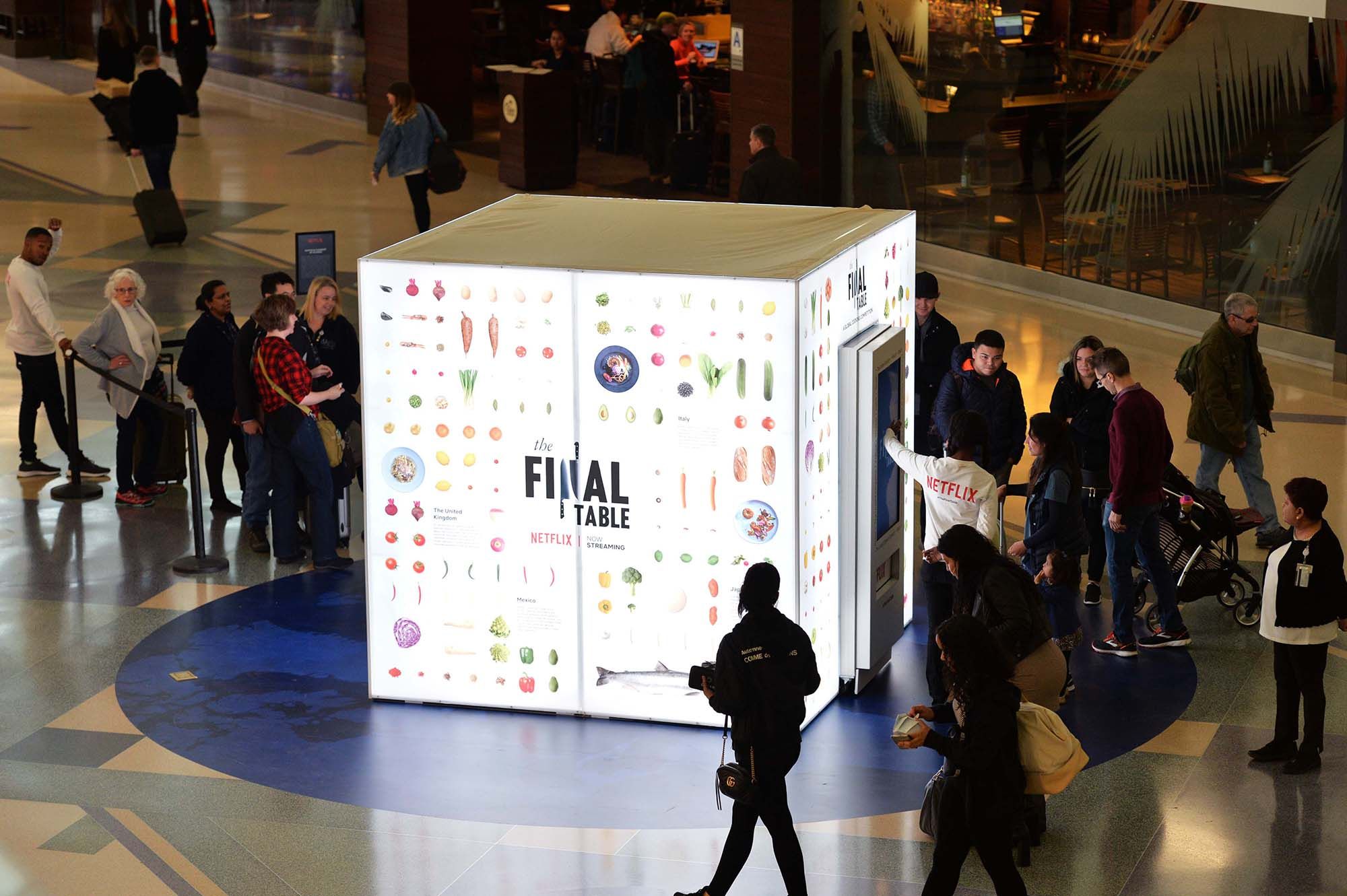 Box set: An innovative podium exhibition stand for media services brand Netflix at John F. Kennedy Airport in New York
Since JCDecaux's inception the company has been at the very heart of cities and their ecosystems as a driver of their transformation. Its constant objective has been to make the world's cities ever more welcoming, comfortable and attractive for their dwellers by providing high-quality services. By combining its technological and user-based innovations with the unique experience it has acquired from a range of urban environments, JCDecaux offers a focused and relevant vision of the city of tomorrow.
That's why we are not afraid of technology: we are fully aligned with its evolution, and our teams are ready for the challenges and opportunities technology brings.
In 2018 we launched JCDecaux Labs, the Group's collaborative platform for discussing and testing innovation. It is aimed at identifying and discovering new trends and habits so that we can anticipate and leverage the changes that are affecting our sector more effectively, while 'disrupting' our business models, products and ways of thinking.
We want it to become an innovation facilitator, testing uses, services or business models by mobilising internal and external stakeholders around a common objective – placing JCDecaux firmly and effectively in the future.
"OOH needs to transform its traditional offering by optimising campaigns using data and technology which media buyers can build in seconds"
What are your top priorities for the next five years?
As other media continue to fragment, Out-of-Home advertising's strength is underlined. OOH ad spend is expected to increase, driven by DOOH.
DOOH is the second media in terms of ad spend growth behind mobile Internet. As the number one outdoor advertising company worldwide, our top three priorities are in line with this evolution of our media:
Firstly, to continue to outperform the advertising market.2018 was another record year for JCDecaux with revenue at €3,618.5 million. JCDecaux is currently ranked 17 among the top 30 media companies globally. It's the only French company and the second European company in the top 30. Our objective is to enter the top ten global media companies in the coming years.
Secondly, to keep investing in digitisation.According to Warc's forecasts, DOOH growth should reach +10% per year between 2019 and 2021. Our prime DOOH media assets delivered a revenue increase of +28.4% and represent 20.4% of Group revenue, with five countries (UK, US, China, Australia and Germany) delivering 68% of our DOOH revenue worldwide.
JCDecaux's investment policy is focused on the digital transformation of its media to develop its attractiveness, by pursuing the digitisation of its assets in premium locations (62,000 digital screens in 44 countries to date) and investing in programmatic & data to deliver the right message, at the right moment, to the right public at the right place (creation of a data division as well as the platform VIOOH).
And finally, to keep developing an ambitious data policy, as it's a milestone of our development model, and value proposition for cities and for transport companies, agencies and brands.
We created a Data division last year. We need to build a strong team of experts to deliver growth.
By developing new technologies, JCDecaux is changing outdoor advertising, making it more accessible and more relevant with its new data-driven platforms. In June 2018 JCDecaux launched VIOOH – a global independent automated planning and trading platform designed to accelerate growth of OOH and connect the industry to the programmatic digital ecosystem, all with full transparency.
The aim of VIOOH is to drive digital transformation and make OOH easier to access by combining data and technology to automate the planning, trading and serving of content to screens.
As I said, OOH must be able to compete with digital advertising (mobile, search and display). Therefore, it needs to transform its traditional offering by optimising campaigns using data and technology which media buyers can build in seconds and encourage existing and new media buyers to increase their investment in the medium.
Programmatic trading will welcome new media buyers into the trading world of OOH and encourage brands to include OOH screens into digital budgets. Its mission is to be able to offer the platform and service to buyers and sellers across the globe.
"This is a concern for us: how can we avoid being overtaken by a rival who comes up with an idea before us?"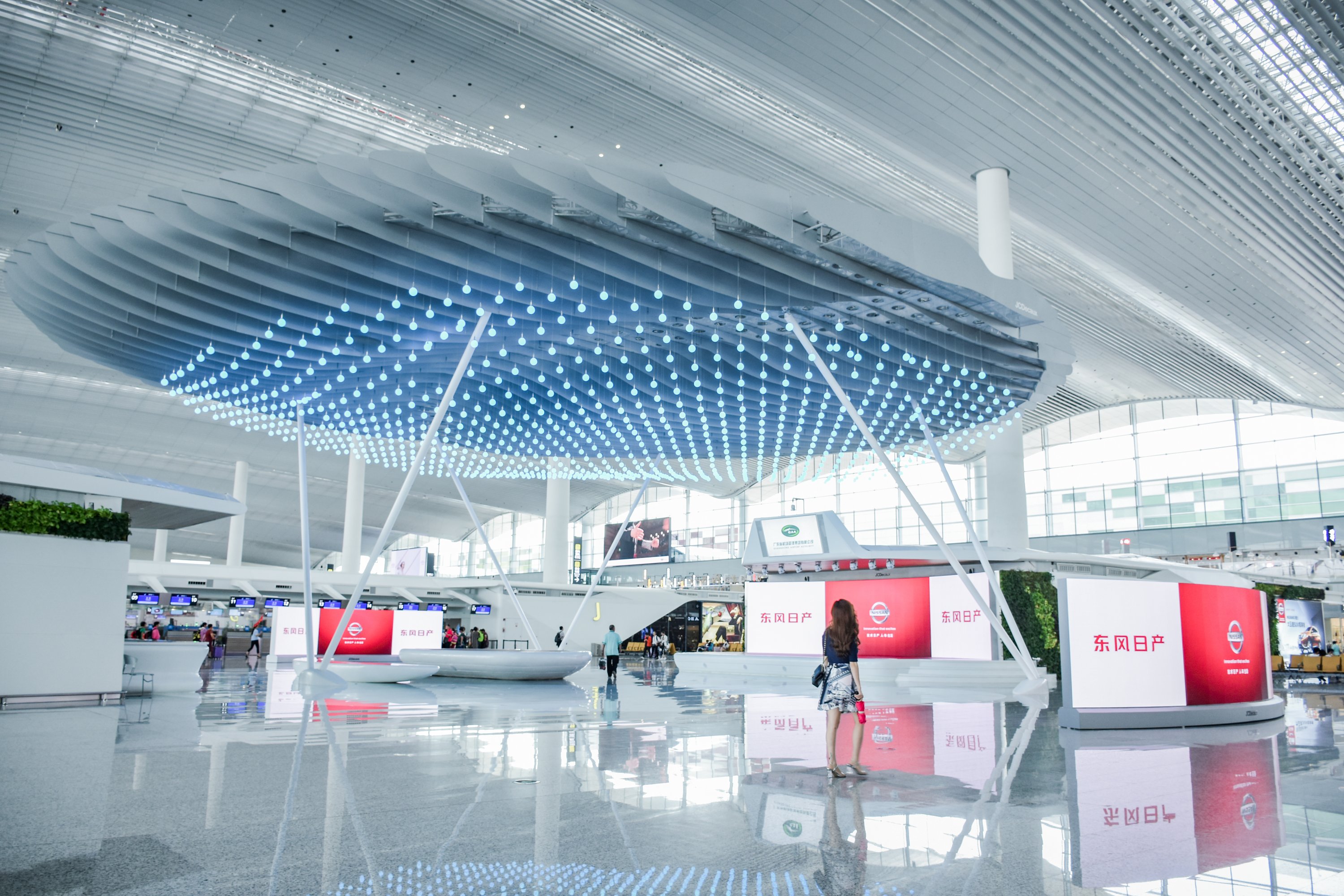 Both in your reported numbers and in everything you've said today, JCDecaux is clearly in a very good place. But you once told me of the healthy paranoia of the entrepreneur that can keep him awake at night. Your single concern back then was how to avoid being overtaken by a rival who comes up with an idea first. I suspect you work hard on not letting that happen.

Is that the key to keeping the devil – the disrupter – away?
Yes, it is. But what also keeps me awake is always thinking through and looking at things that you can't even imagine now, because I've seen so many industries disrupted in the past by some very clever people.
We try to be very down to earth in the way we execute our strategy and deliver our promises to our clients – airports, organisations and brands – around the globe. At the same time, we also try to establish a forward-looking environment in which things continually become more and more disruptive in many ways.
So, yes, that's exactly the kind of healthy paranoia that keeps me awake, stopping me from becoming complacent. That's where we must be very focused, and at the same time very forward-looking, to make sure that if there is disruption in our industry, we are the disrupter.
In what sense the disrupter?
That's why we created VIOOH in June last year. This new independent and automated programmatic platform – which is open also to some of our competitors – is designed to generate new revenues from digital and potentially disrupt how we sell our inventory.
I think we can take this industry to the next level in the next five years. Our ambition at JCDecaux is to take the industry into a much more technology-led industry in the future – in terms of products and devices, but also in terms of our approach. That's what we are trying to do with our team.
Within half a century JCDecaux has gone from a French start-up to a group with operations in more than 80 countries across five continents. Our capacity for innovation has helped to propel us to the number one outdoor advertising company worldwide, radiating French excellence around the globe.
Our founder created a unique business model in 1964, but it has been a while since we were the sole operators on the market. Competition is fierce in street furniture, mobility and smart cities alike. This is a concern for us: how can we avoid being overtaken by a rival who comes up with an idea before us?
For this reason, our teams are mobilised day after day to create proposals for the various tenders around the world that we compete in. Our R&D department is always working to create ever more innovative services for the displays developed by them, with the primary objective of integrating them into the urban or indoor environment.
So, that's what keeps you awake at night.

What is the one thing that makes you love coming to work in the morning?
To continue carrying through our mission with passion.
In an interview in 1977 Jean-Claude Decaux said: "Outdoor advertising can only endure if it provides a twin service: firstly, provide information to the public, and
secondly, offer the service of a bus shelter, telephone kiosk or another service devised not by me but by my colleagues and indeed our rivals."
He created JCDecaux with one idea in mind: to improve the lives of his fellow citizens. That is the goal I strive for when I get up each morning; my brothers and I have a duty to instil this mission in our 13,000 employees around the world by embodying our chief values: quality, innovation and excellence – with passion!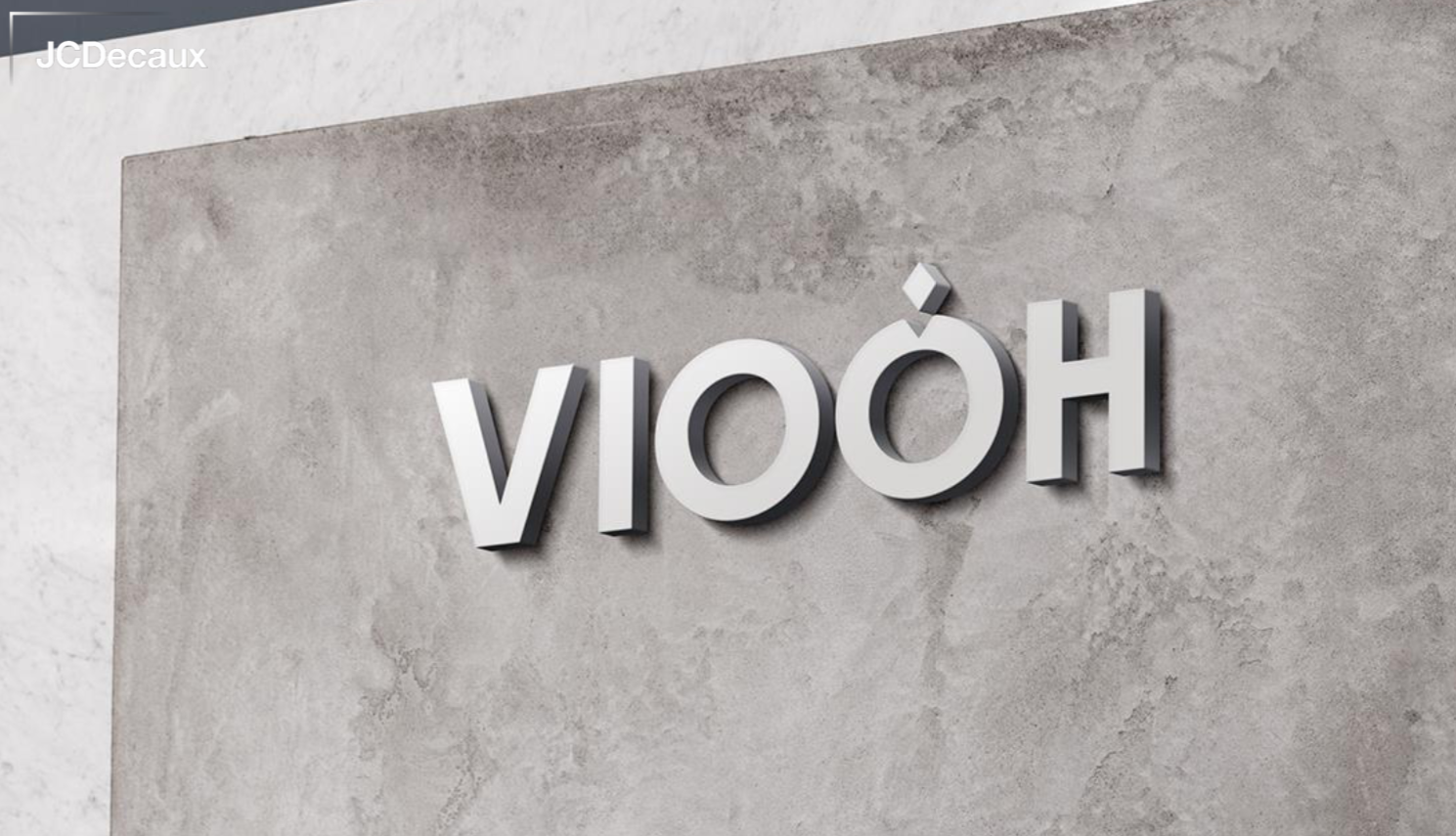 Engaging and
experiential
When Dubai Airports and JCDecaux (through its subsidiary JCDecaux Dicon), signed the deal last October to extend their existing DXB contract to 2028 last October,Dubai Airports CEO Paul Griffiths said: "As the industry landscape changes, it is important we partner with a company that can align with our future vision as an airport. And that vision is not only to be the biggest international airport in the world, but to be the best. This agreement will elevate engagement and generate revenue to invest in delivering an even better customer experience."
How does airport advertising enhance the customer experience? Jean-Charles Decaux says that both Out-of-Home and Digital Out-of-Home platforms play a key role. He cites the following key principles and developments:
Contextualisation of campaigns: the content can be delivered in the passengers' language and personalised according to the destination they are flying to.
The development of exclusive and immersive displays. At Guangzhou Baiyun International Airport, for example, JCDecaux has installed two digital "immersive tunnels".
The development of unique brand experiences. For example:
• For Guangzhou's inauguration ceremony Nissan installed its Intelligent Mobility Gallery.
• At Heathrow Airport, Jo Malone recreated the brand's Georgian townhouse in London, decorated with oversized Jo Malone London gift boxes piled high (Travelling Townhouse).
• At New York JFK, Netflix promoted 'The final table', dispensing mini-meals from all over the world.
The development of sponsored services: at Riga Airport Samsung sponsored a relaxation area where passengers can sit, relax and recharge their personal devices.
"All these recent achievements illustrate how advertising is a key player in enhancing the passenger experience, and we are planning to develop unique and innovative concepts in key hubs," Jean-Charles Decaux comments.
Japanese milestone
In January this year, MCDecaux, the Japanese subsidiary of JCDecaux, was awarded the exclusive ten-year digital advertising concession at Kansai Airports, which operates Kansai International Airport, Osaka International Airport and Kobe Airport.
"This new contract is a key milestone that will help to establish JCDecaux's reputation in high-profile international airports in the Asia Pacific region," comments," says Jean-Charles Decaux. "JCDecaux will contribute to their vision with an innovative offer that will benefit passengers as well as advertisers and their brands.
A local team composed of local experts with a deep knowledge of the market is fully committed to the airport activities. The deal, the first of its kind in Japan, will see MCDecaux reaching a passenger base of over some 44 million (2017 figure) at Kansai and Osaka alone.
Acquisitional vs
organic growth
JCDecaux has not ruled out bidding to take over its US rivals Clear Channel or Outfront Media but Jean-Charles Decaux is on record saying that there are no plans to do so in the immediate future.
What's the latest on the company's view of acquisitional opportunities? And surely, we asked him, in a concession-driven business, acquisitions are limited in value by the fact that the buyer is largely acquiring contracts which could be won anyway?
"It has been an ongoing question for some years," he replies. "We have always said that we will look at an M&A opportunity in the US that could be a transforming opportunity for our business as well as for the industry. It may concern our main competitor, Clear Channel, which is the second-largest group in the world, or Outfront, which is the second-largest player in the US. We have already said that the family is open to becoming further diluted in order to seize this opportunity, but not below 50%.
"As the worldwide leader, we want to continue taking advantage of the tremendous growth of the outdoor industry. At the same time, we are obviously carefully monitoring the situation with our US competitors because, for different reasons, they are both in the spotlight at the moment."
Decaux points out that company has been able to build – mainly organically – a very strong experience for brands in airports and metro and railway stations in under 15 years.
"This is a huge business now – over €1.5 billion in sales – which is bigger than our number three competitor in the world," he points out.
"So, we want to continue to take advantage of the organic growth that we can create without leaving out potential consolidation."