CASE STUDY
---
Screening Las Vegas
As Las Vegas McCarran International Airport makes a concerted move towards all-digital advertising, Mark Lane finds out more about a major installation.
Digital display manufacturer NanoLumens has replaced all the static advertising in the Terminal 1 baggage claim area of McCarran International Aiport with 60 Engage Series and Performance Series LED displays.
"As the initial purchase price of LED displays continues to become more and more competitive, the enormous revenue-generating, creative and production efficiencies the format offers have become more and more compelling," commented McCarran International Airport Director Rosemary Vassiliadis.
"After a careful review we decided that the return on investment opportunity was very real, which convinced us that the time was right to undertake a complete renovation of the baggage claim area advertising displays to meet the needs of our advertisers for years to come. Lamar partnered with us to make the project a reality."
According to Lamar Airport Division Vice President and Senior Director Brig Newman, those advertiser needs include better engagement and greater advertising recall coupled with the ability to target arriving passengers with specific messages.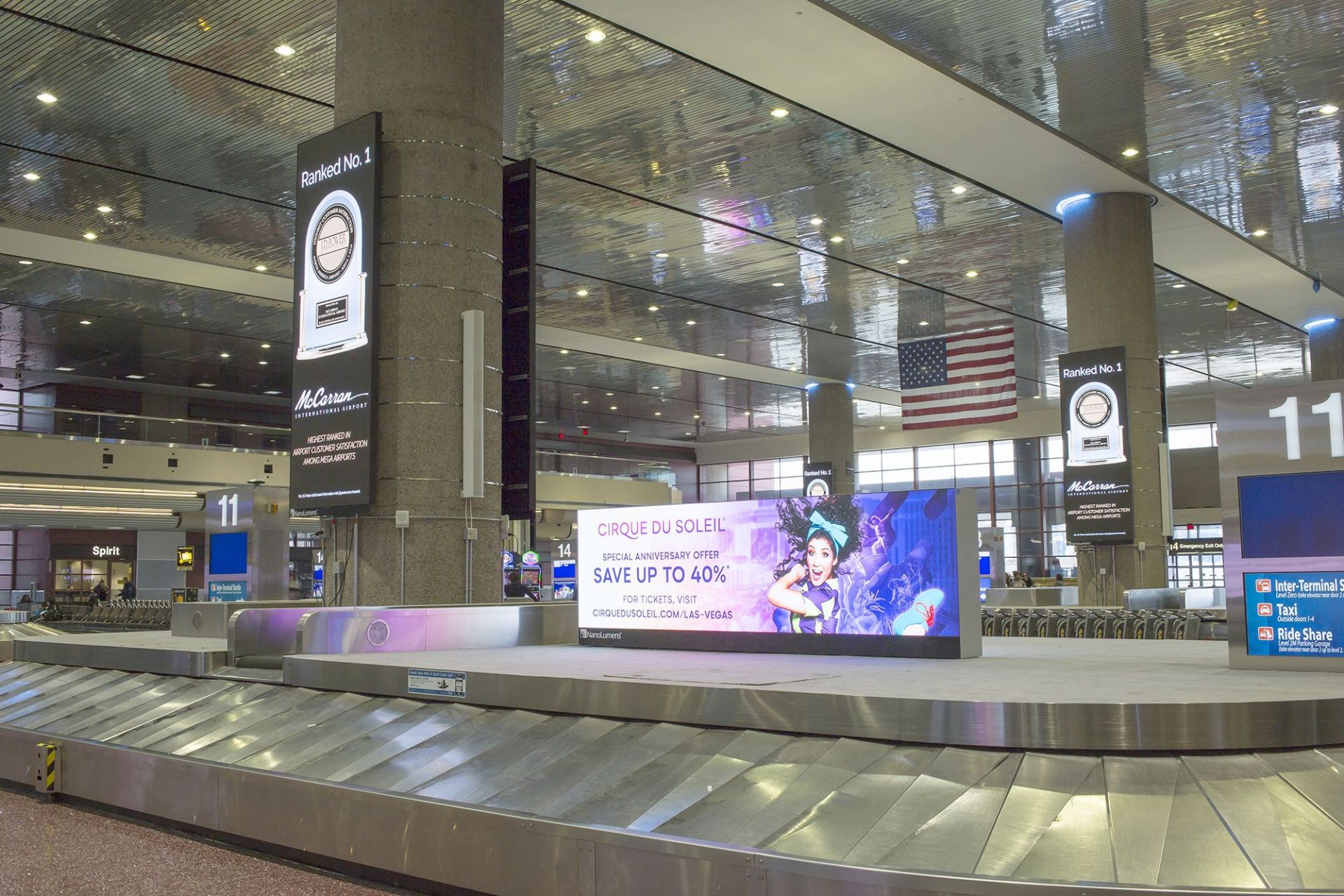 Luggage belt areas offer prime advertiser visibility
"Today's generation of travellers and consumers are completely digital-centric," Newman said.
"They respond to digitally delivered ads in a way that they never will to static display ads. It's a generational shift that is here to stay. Our advertisers understand the shift and they want to be able to leverage it in their campaigns, complete with audience analytics and targeted messaging."
This would seem to be supported by a growing body of research. Recent studies by Arbitron and Capital Networks confirm that consumers engage more completely and more often with digitally delivered ads than they do with static ads.
Furthermore, according to the Outdoor Advertising Association of America (OAAA), out of the top 100 OOH advertisers, 37 doubled their spending on digital ads from the third quarter of 2016 to the third quarter of 2017.
The change also brings some direct, practical advantages.
"Most of the advertising that Lamar had in that baggage claim area needed to be constantly updated as the shows and events in Vegas frequently change,'' said NanoLumens Vice President of Sales Dave Merlino. "Removing static banners and sign graphics and putting up new ones was an additional cost for Lamar's advertisers.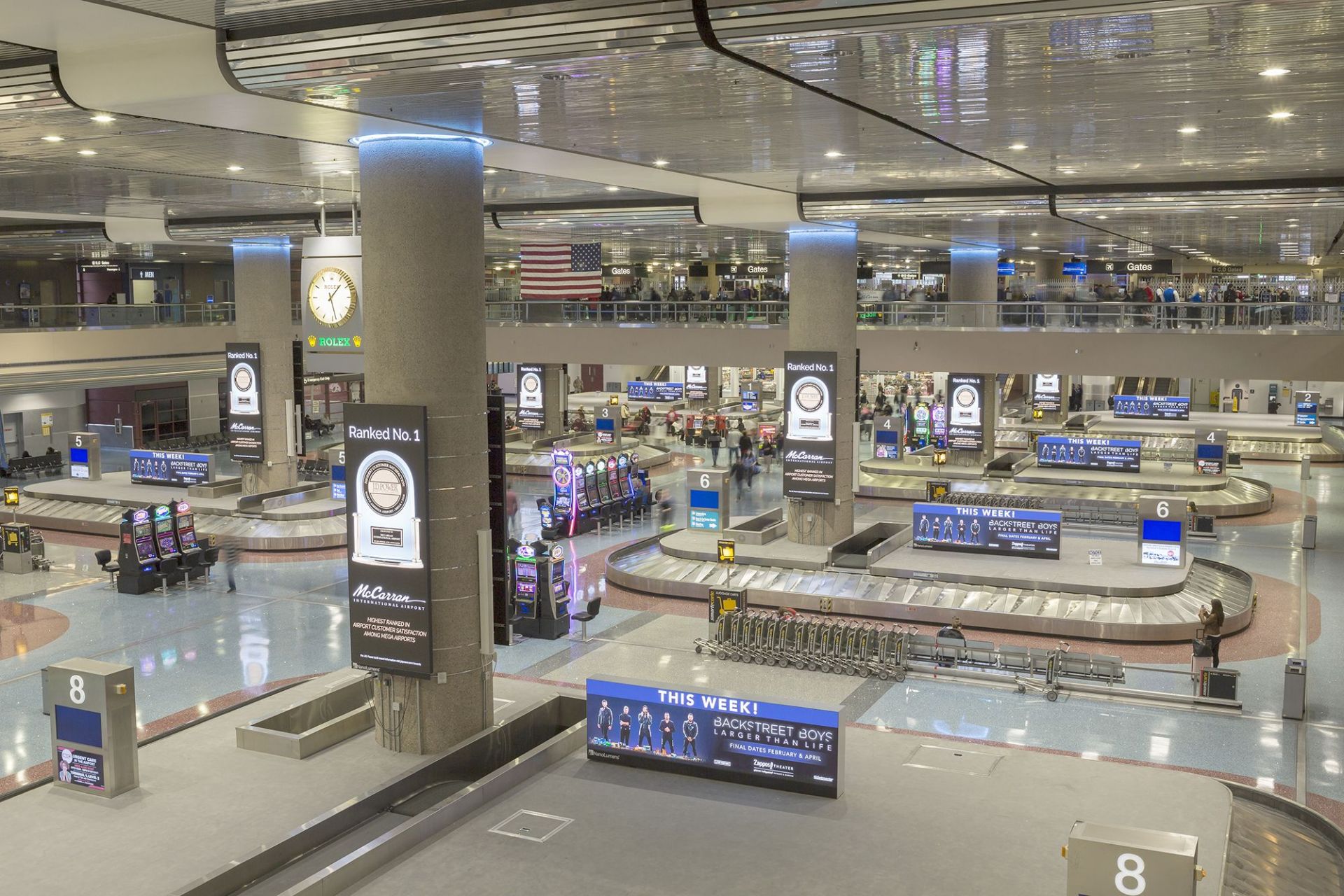 This striking panorama underlines the collective impact of multiple installations at McCarran International Airport in Las Vegas
"Replacing those banners with NanoLumens LED displays empowers Lamar to offer their clients a world-class digital advertising platform whose content can be changed instantly to meet the needs of its advertisers."
Replacing the static signs with the displays was a major logistical challenge as 60 static signs had to be replaced with NanoLumens displays while the baggage claim area continued to operate around the clock. 
"The project often took place as travellers were passing through the baggage claim area in what is a 24/7/365 airport," Merlino pointed out.
"This was a huge project considering the number of displays we were replacing," added Newman. "Time was of the essence as well as we needed to replace the static signage with the NanoLumens displays in a timely fashion to meet the needs of our advertisers. The flexibility we were offered working with NanoLumens, along with their incredible six-year warranty, removed a lot of the issues we were concerned with."
Local Las Vegas integrator Vision Sign handled the installation. 
"There is a lot of ambient light coming through surrounding windows in the Terminal 1 baggage claim area which really lends itself to LED, so NanoLumens was ideal for this install," said Vision Sign Vice President Jeff Quintana.
"Lamar Advertising wanted to bring the space to life and switching from the static ads to NanoLumens LED displays did exactly that."
Lamar and Vision Sign also had to handle the provision of the necessary power to run the NanoLumens displays as well as finding the room for a rack system that would power all the content.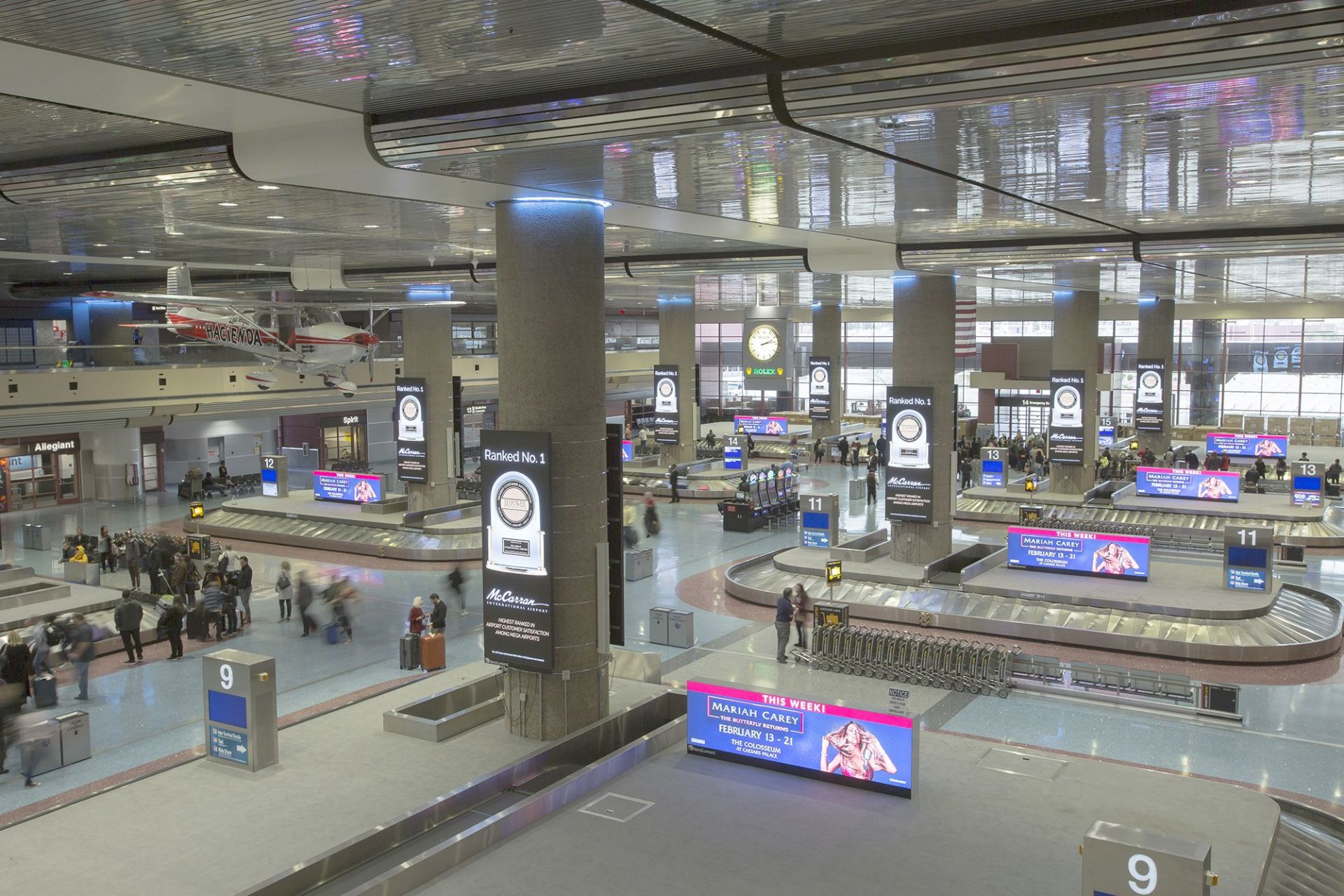 "NanoLumens specifies the power requirements ahead of time, so that's a huge help and their displays work with any media player and software platform so the powering content part of the equation is simplified as well," Quintana explained.
Lamar engaged OSSI to design and install the software platform that runs the new system. OSSI also designed and manages the network operations centre (NOC) that powers all the digital signage at McCarran.
Tech spec of the 60 screens installed
Six 4mm Pixel Pitch Performance Series soffit displays measuring 64ft x 9ft
Four 4mm Pixel Pitch Performance Series soffit displays measuring 32ft x 9ft
Two 4mm Pixel Pitch Performance Series soffit displays measuring 32ft x 5ft
Two 4mm Pixel Pitch Performance Series displays measuring 32ft x 18ft (replacing the old video system)
22 2.5mm Pixel Pitch Engage Series displays measuring 5ft x 13ft (tall structural columns)
Eight 2.5mm Pixel Pitch Engage Series displays measuring 5ft x 9ft (lower structural columns)
14 2.5mm Pixel Pitch Engage Series double-sided displays measuring 12.5ft x 3.5ft (tops of baggage claim carousels)
Two 2.5mm Pixel Pitch Engage Series single-sided displays measuring 12.5ft x 3.5ft (tops of baggage claim carousels)