CASE STUDY
---
Media Frankfurt and 'the triumph of the moving image'
Frankfurt Airport, Germany's largest gateway, is driving advertising revenue growth on the back of a sustained innovation and investment programme, as Mark Lane discovers in conversation with Martin Korosec, Managing Director of Media Frankfurt.
"Airport advertising was and still is something rather special in the overall advertising universe, and irreplaceable as a touchpoint for global brands – just for the tremendous reach and size of many advertising installations alone. These have a unique impact on the brand that is quite impossible in any other medium.''
The words of Martin Korosec, Managing Director of Media Frankfurt, neatly set the scene for a fascinating, in-depth insight into the world of advertising at Germany's leading airport. Media Frankfurt, a subsidiary of Fraport set up in 1971, ranks as Germany's leading advertising platform in the aviation sector. Unusually, it operates in partnership with JCDecaux, the international Out of Home advertising market leader, which operates services in over 200 airports worldwide (that alliance, struck in late 2000 saw JCDecaux acquire a 39% holding in Media Frankfurt).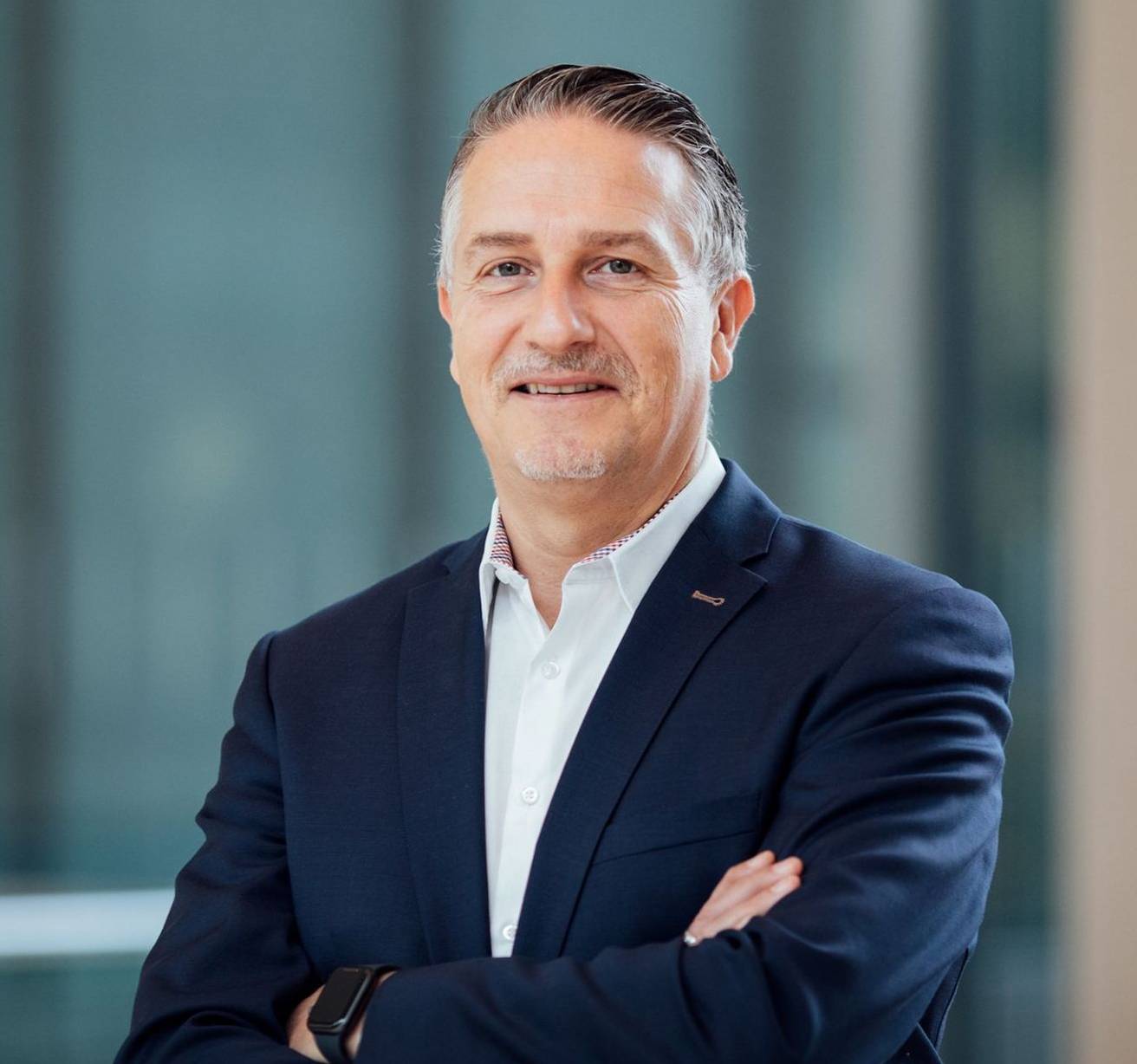 Martin Korosec says airport advertising has "a unique impact on the brand that is quite impossible in any other medium"
Media Frankfurt, which has about 50 staff and is the exclusive marketer for the advertising spaces at Frankfurt Airport, is expecting double-digit revenue growth – and an all-time high – for 2019. This momentum is being driven by digitalisation, particularly through new large digital indoor installations. This is in addition to winning new business in classic Out of Home (OOH) advertising, POS strategy and omnichannel marketing.
In a nod to the kind of partnerships we can expect to see more of in the airport advertising sphere, Media Frankfurt recently ran an innovative campaign for Absolut vodka along with Singapore Changi Airport.
For the launch of the limited-edition Absolut World, consumers all over the world were invited to share their own favourite locations by way of selfies. These "global selfies" were linked with flight plan data and customised accordingly.
"A direct interface in our content management system enabled these insider tips to be presented to the relevant target groups on their way to the gate. No travel guide can be more up to date than this,'' says Korosec.
Korosec is steeped in the advertising world. He was once Managing Director of the W&V Werben und Verkaufen (A&S Advertising and Selling) trade journal and spent a two-year spell as Vice President of Advertising, Marketing & Media at Munich International Airport, Germany's second-largest gateway.
An omnichannel universe
During his time in the sector, Korosec has witnessed a constant evolution of the business, one that he believes is gathering momentum.
"Airport advertising is becoming more and more digital and one of the strongest innovation drivers today," he comments. "Its transformation has increasingly accelerated over the last five years. The first digital walls were added to the analogue spaces as time went by. This then allows ever more connection, creating a cross-media system.
"In our omnichannel universe, you can effectively connect everything these days – from analogue via digital, POS, promotion and mobile right through to retail. This is also the reason why data analysis is so important now.
"By intelligent networking with FIDS [Flight Information Display System] schedule data, we can also use programmes to customise the advertising to destinations. No other airport in Germany is currently able to replicate this.''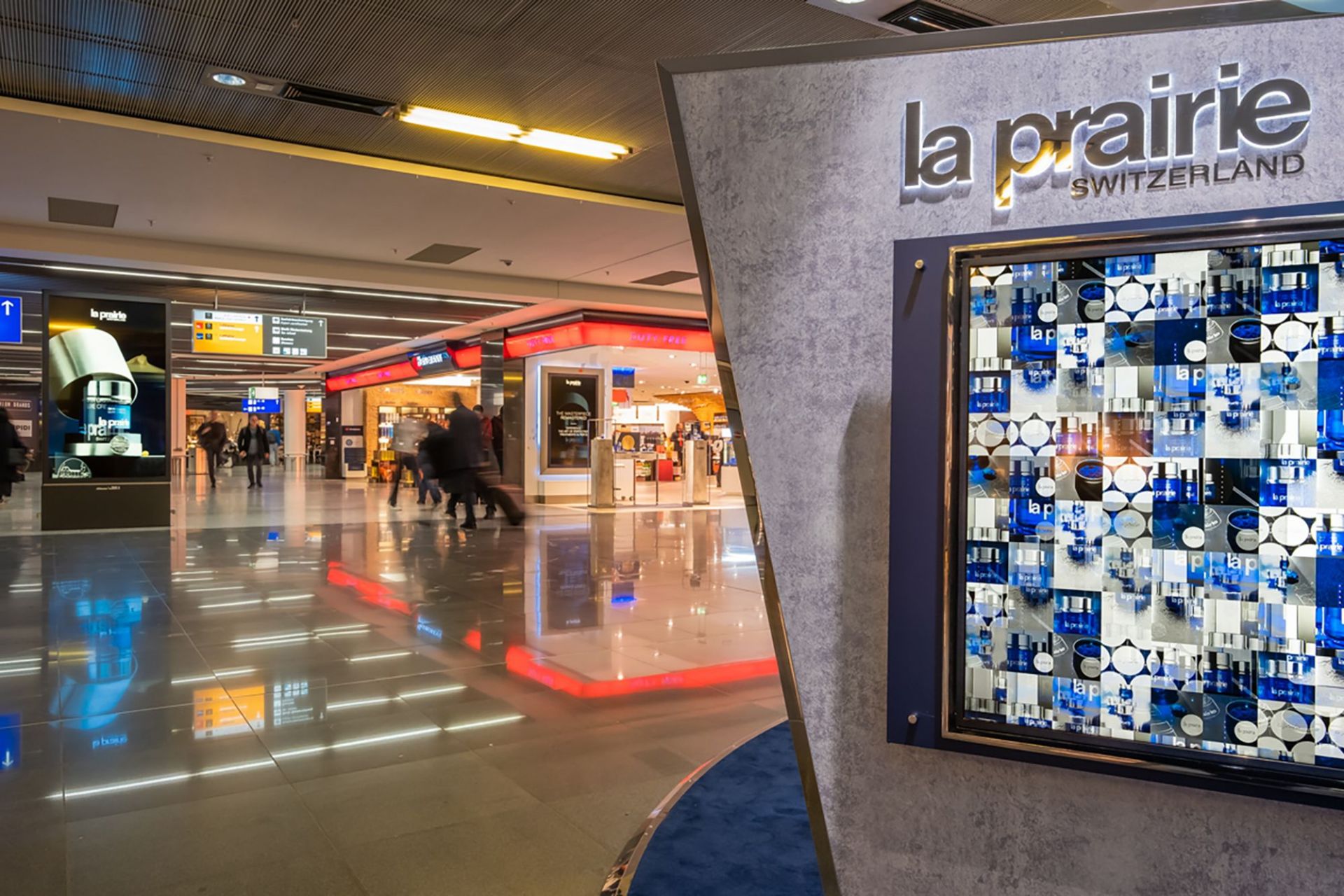 Bespoke advertising installations are designed to draw the traveller's attention as part of the recent campaign for La Prairie
Mixing in-house control with external expertise
Commenting on the unusual combination of in-house control in partnership with an external advertising specialist, Korosec comments, "As an exclusive marketer, we are able to put together individual offers for our clients independently from sub-contractors. But the partnership with JCDecaux is extremely important for us as it enables us to also offer international campaigns and use various channels.
"Our team provides comprehensive consultancy that caters to the campaign objectives and client expectations. The client is given information on the various analogue and digital products and locations along the customer journey – terminals, duty free, market places, baggage claim, security areas, and so on – on the reaches, and on their advantages for the target groups to be addressed. Our clients greatly appreciate this.''
Media Frankfurt offers those clients a wide range of options with a portfolio that currently includes over 2,000 advertising media opportunities in and outside the terminals. Many more advertising spaces will become available with the future opening of Terminal 3 (scheduled for 2023), which will vastly increase capacity at what is already by some distance Germany's largest airport,in addition to the POS spaces and a variety of high-profile installation options.
"Our analogue portfolio includes decals on the floors or baggage conveyors, for example,'' says Korosec. "With networking by wifi, Bluetooth or geo forcing, airport visitors and passengers can be reached by way of their mobiles. But customers can also be addressed before that by newsletter campaigns and e-mail marketing – due to omnichannel marketing. Frankfurt Retail, Media Frankfurt and Fraport closely cooperate for this to ensure the best possible success for the customer approach.''
Analysing competitive media strengths
Apart from this range, what are the strengths of Frankfurt Airport for airport advertisers over and above other airports? Korosec outlines what he sees as being the crucial points.
"First place is obviously taken by the high quality of the target groups. Around 70 million, mostly international, passengers make Frankfurt airport the third-largest transport hub in Europe and give it the greatest reach in Germany. Our visitors have an above-average household income – around 36% of the passengers are business travellers.
"Frankfurt is additionally also an absolute transfer hub with a share of 55%. Just one example: the airport is used by more than two million guests from the Asian region annually. In particular, this attractive, international clientele, the global potential, and their long dwell times additionally boost our attractiveness for advertisers.
An example of an Absolut World 'global selfie', which formed part of a major campaign at Frankfurt Airport
"Our advertising clients also appreciate the high networking potential with mobile in the realisation of their campaigns, which can really boost the effectiveness of brand presentations. Practically all of our passengers and visitors use their mobiles at the airport at least occasionally, after all. Last but not least, we also offer a great variety of advertising vehicles and customisation options with our integrated omnichannel approach.''
Korosec points out that the advertising locations have been considered in the planning of the new T3, a far cry from the commercial 'retro-fitting' that has been necessary in so many aging terminals around the world.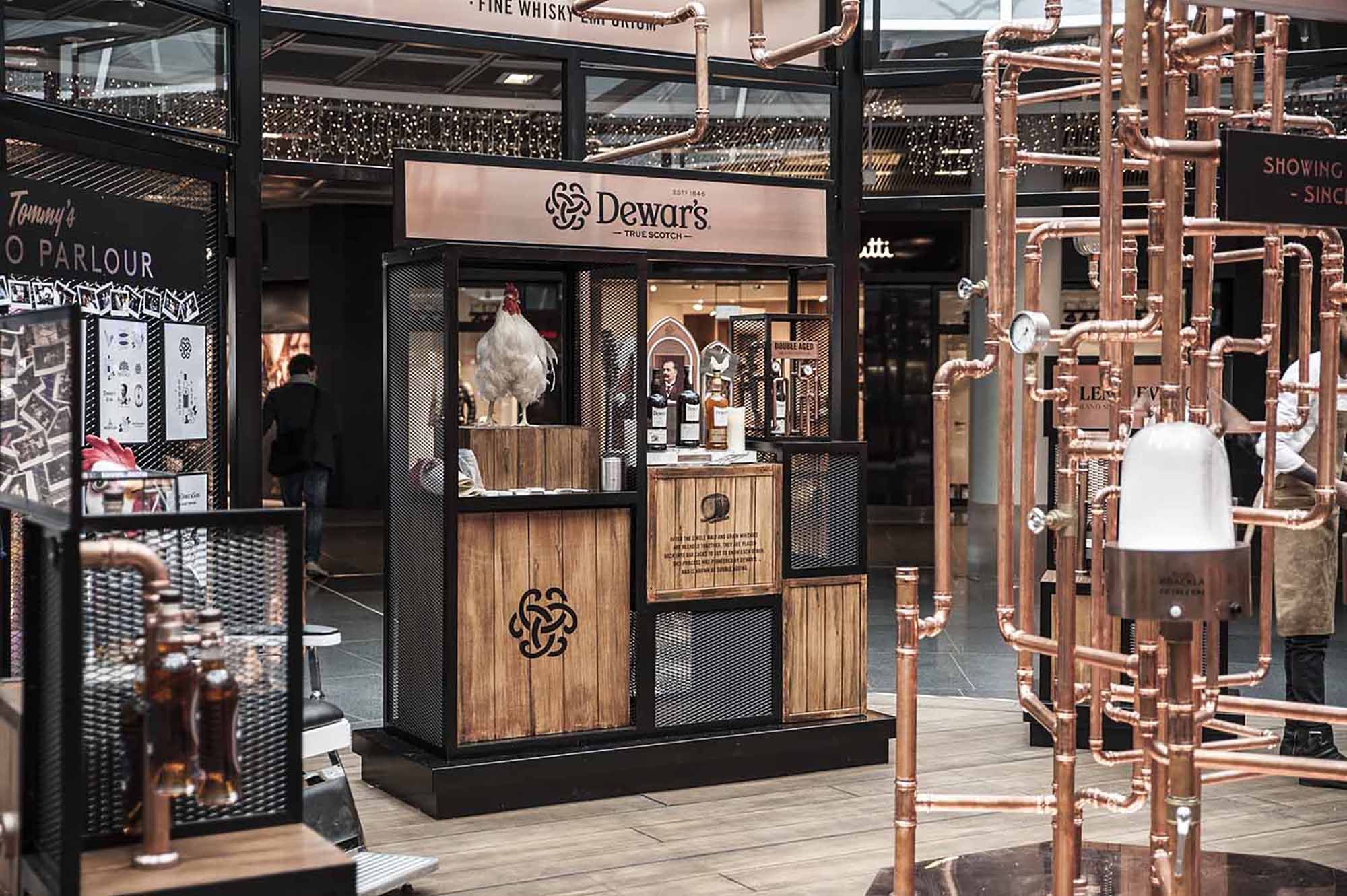 Part of the sophisticated and highly interactive customer journey concept delivered for Scotch whisky brand Dewar's
"This means that the architecture of the new terminal also takes the installations and their advertising impact into account," he notes. "In addition, we are continuously optimising the airport's existing infrastructure. There will be a great many digital screens, for example – also to improve the infrastructure for mobile advertising. This will be attended by the digitalisation of virtually all the advertising spaces.
"Analogue advertising spaces are still popular amongst advertisers despite the digitalisation, which means that they will continue to be there, in smaller numbers but bigger. We know from many surveys and analyses where the advertising spaces need to be to attract the greatest possible attention. Based on the passenger data, the advertising can then be tailored to the passenger's customer journey.''
Taking a multi-dimensional approach to communications
Korosec believes successful campaigns are distinguished by powerful visuals – be they analogue or digital – and he lauds the value of multi-channel initiatives. He cites an innovative campaign with La Prairie campaign (see panel).
"The customer attention was drawn to the range beforehand by way of newsletters. The promotion areas provided locally after this were real eye-catchers. The advertising spaces were fed various visuals in parallel. The brand was also highly present in the duty free store as well as the online shop.
"Addressing the customer individually over various channels will lead to a recognisable enhancement of the brand loyalty as well as the buying intentions, while the brand image also benefits,'' Korosec adds.
Technological innovation is a constant at Frankfurt Airport. For example, the airport has recently installed a new fire extinguishing system in its new digital and LED boards with 'extinguishing bulbs' (e-bulbs). This means that fires can be extinguished upon outbreak. Ingeniously, the boards are turned into digital advertising materials with integrated fire protection systems.
"Furthermore, our Digital Welcome Network at the baggage claim in Terminal 1 has also been given a facelift,'' adds Korosec.
"The new design is a proprietary development and transmits LED lighting accents to the screen's glass edge. The combination of glass, metal and LEDs makes for a modern and elegant impression, underscoring the quality of the displayed advertising campaign in an innovative fashion.
"Another innovative highlight is our Digital Roadshow in the outdoor area. The environment of the LED hoarding can be provided with an individual colour design by indirect LED lighting installed in the floor directly fronting it. This will let the advertising shine accordingly.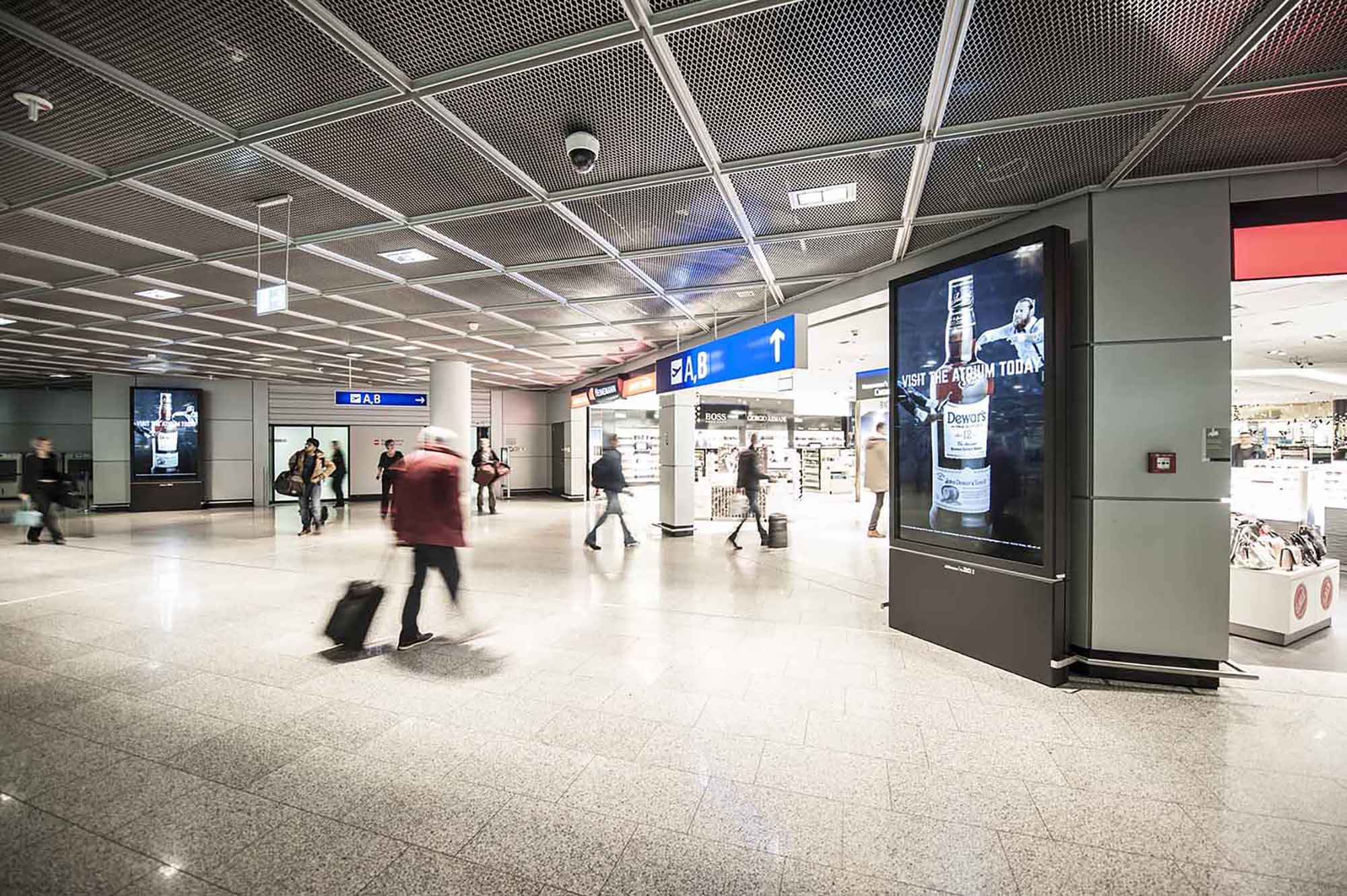 This digital site, just outside the store, helped give the Dewar's Scotch whisky campaign high visibility at Frankfurt Airport
"All clients attach great importance to the advertising impact as the advertising's proven efficiency is one of the decisive reasons for booking campaigns on our advertising spaces. So, this subject is consistently pushed in a category sense – that is, by general market research such as passenger surveys, but also with trackings on a campaign level.''
Korosec explains how Media Frankfurt also recently developed a 'Digital Airport Walk tool' in cooperation with Media Analyzer, which enables the advertising impact to be measured. He says that surveys show that a very high proportion (85%) of passengers like the airport advertising. Three quarters of the respondents also note the brand presentations near the point of sales shortly before they do their shopping.
"The programmatic customisation, especially, offers highly effective options for reaching target groups dynamically, and addressing them situationally,'' he says.
Looking up or looking down?
How does Media Frankfurt deal with airport passengers spending more and more of their time looking at smartphones? And how can advertising take advantage of such widespread consumer behaviour?
"The average stay at the airport runs to more than two hours with us,'' Korosecsays. "In this time, passengers come across our advertising media in all manner of ways. Merely trying to reach customers by the classic channels or by only serving one channel will obviously no longer suffice these days, which is why we are consistently banking on an omnichannel approach.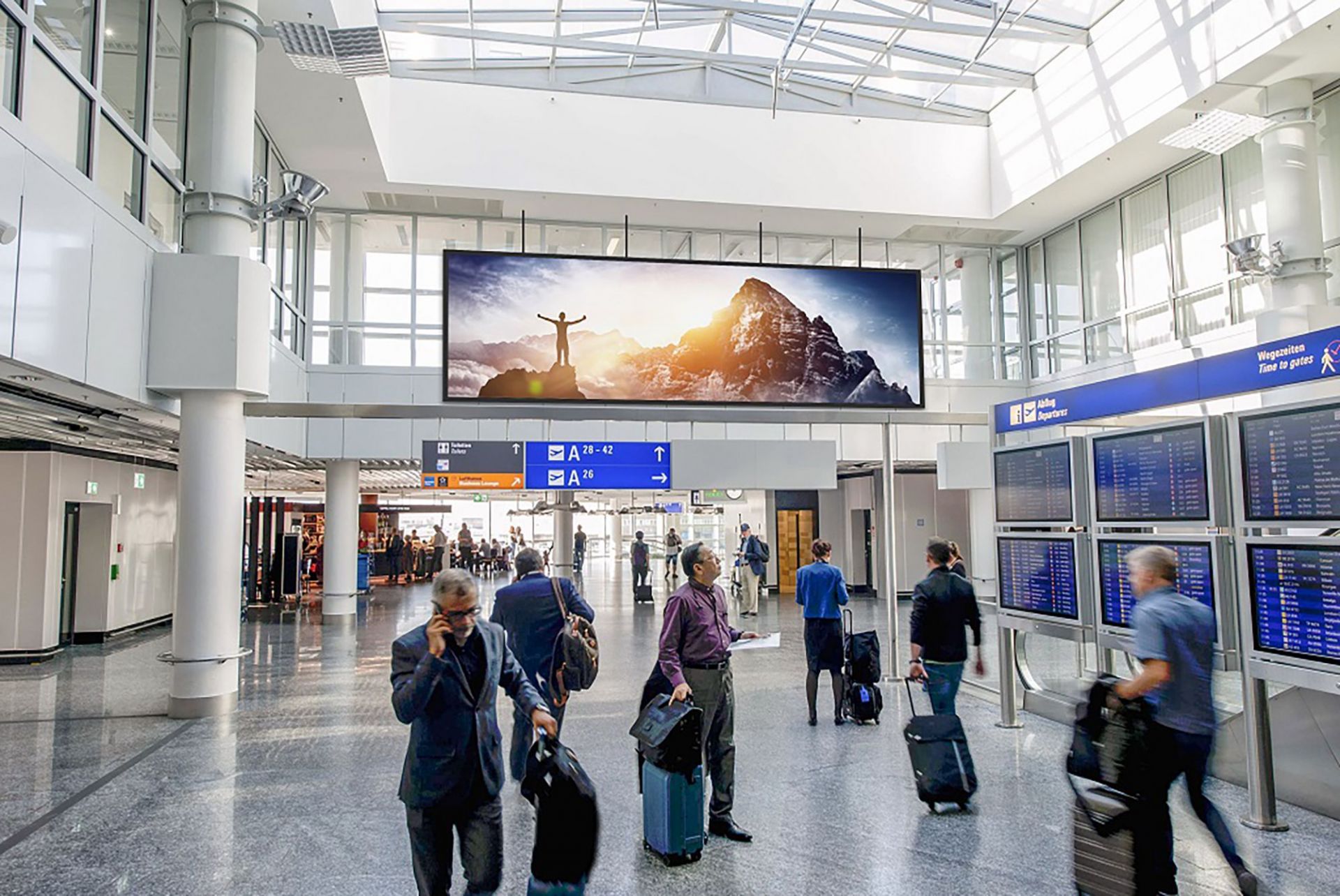 Media Frankfurt offers over 2,000 advertising media opportunities in and outside the airport's terminals
"We are offering an experiential space with a high interaction factor and special advertising networks for various target groups, to accompany them on their customer journey while taking their travel background and specific affinities into account."
Korosec adds that these options have already been put to highly creative uses by several clients for their brand staging. He highlights a "particularly sophisticated and highly interactive customer journey concept" delivered for Bacardi-owned Scotch whisky brand Dewar's.
The campaign led from the security area via the duty free area right into the Atrium. The highlight was an attention-grabbing installation complete with tattoo studio, whisky tasting and 'chicken bingo'.
He also cites the example of Global Blue, the global market leader for tax free shopping, which banked on a combination of mobile, analogue and DOOH in a campaign addressing Chinese tourists. Discounts in the airport's stores could be activated using China's leading social media app, WeChat. Information on this was also provided by way of various decals and digital screens along the target group's walking routes.
"The tendency is up"
Korosec and his colleagues believe that openness to new alliances is a central factor for the future success of airport media. "Joint ventures of this kind have been common practice in the automotive industry and other sectors for a long time already, but are still rather rare in the media industry," he says. "Advertising clients could certainly draw a sustainable benefit from
By embracing such innovations, airport advertising's future looks bright, he says.
"Out of Home is one of the most innovative forms of advertising these days. This is indicated by the two-digit growth rates in this sector in recent years and proven by us again and again with the formats we develop for ourselves. A lot is conceivable here, and realisable in a flexible manner.
"The advertising at the airport is becoming ever more digital, naturally. Digital advertising is already making up nearly half of all sales. The tendency here is up. This development is driven by the triumph of the moving image. More and more advertisers bank on it to charge their brands emotionally. Additional convergence potentials are realisable here by networking our digital formats flexibly.
"But programmatic is also clearly on the rise as the data-based customisation is so cost-efficient and target-oriented. We are very much driving this theme ourselves at the moment with intelligent creative content solutions."
These are important touchpoints for the Out of Home advertising sector worldwide. 'The triumph of the moving image' is indeed what is being played out at Frankfurt Airport.
La Prairie's 360 degree success
A prime example of innovative airport advertising is Media Frankfurt's new '360 degree' marketing package at Frankfurt Airport – developed in conjunction with Fraport Advertising Unit and Frankfurt Retail. This omnichannel programme is aimed at the 15 million-plus passengers that pass through the airport each quarter.
The package, which combines on-site promotion, conventional advertising and online tools has been described by Fraport as "the most comprehensive and holistic in airport retailing to date".
Swiss luxury skincare brand La Prairie was the first brand to take advantage of the new concept.
"La Prairie enjoyed a remarkable advertising impact from this 360 degree approach,'' claims Korosec. "A powerful advertising impact could be achieved by analogue and digital reaches in combination with the physical product presence at the POS and individual address in the online channels."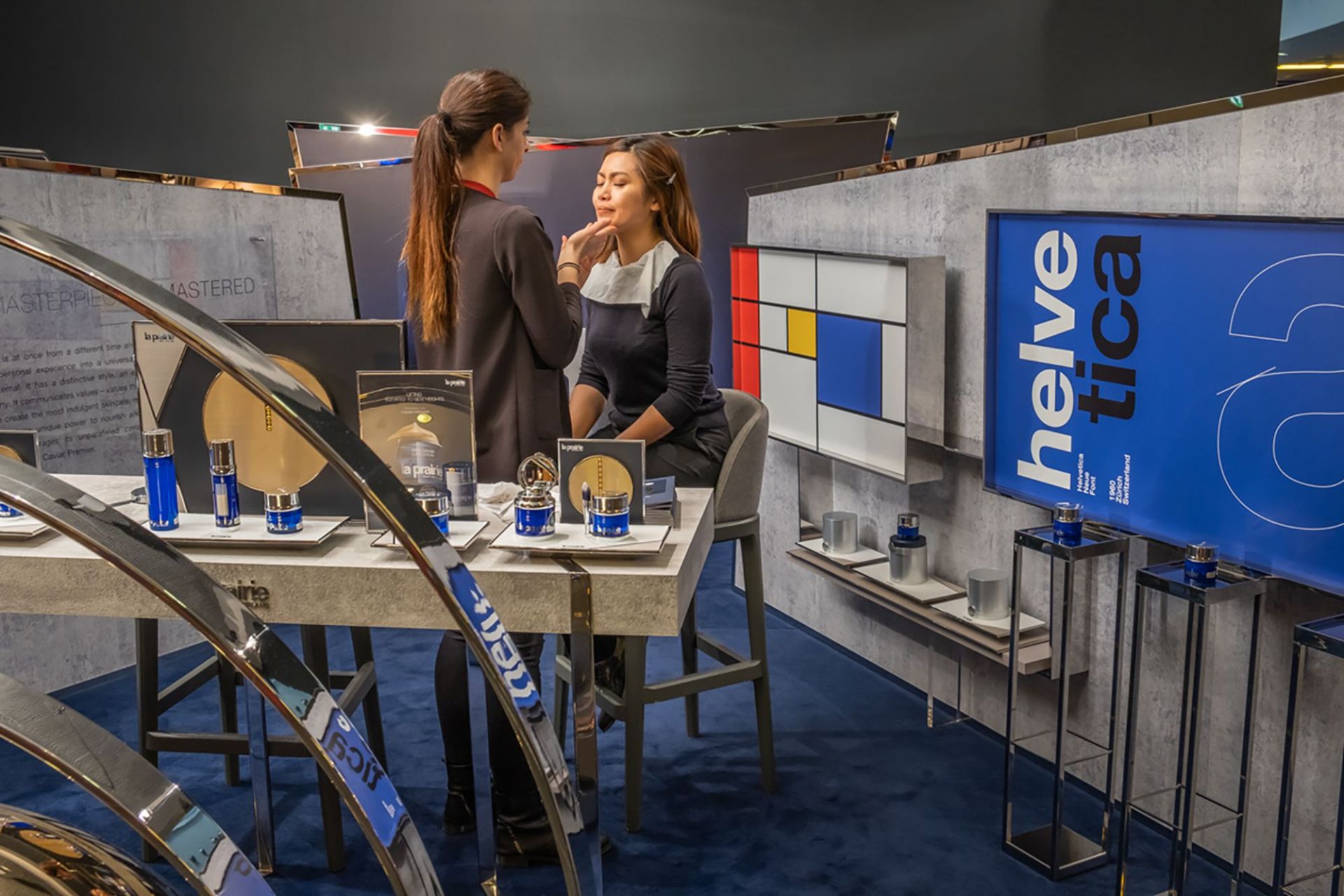 This promotional La Prairie luxury skincare demonstration formed an interactive part of the marketing mix