NEWS ROUND-UP
JCDecaux turns 360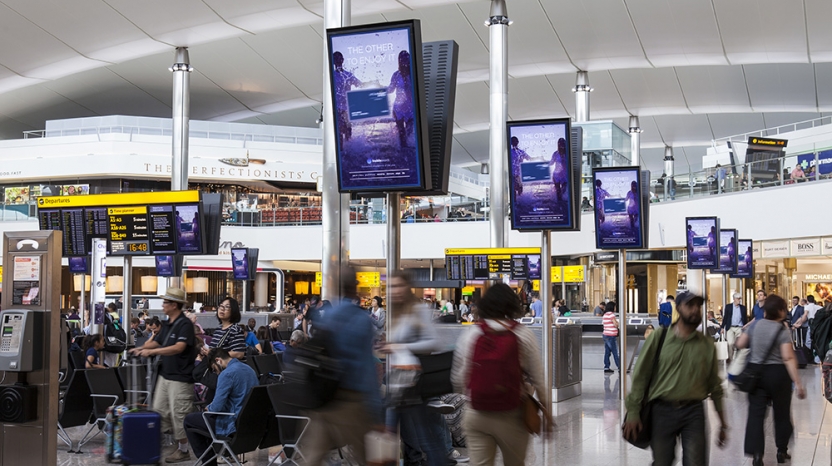 UK. JCDecaux Airport UK has developed an immersive virtual reality airport environment to measure advertising engagement. The OOH advertising giant has created a full 360-degree virtual reality airport environment, based on Heathrow Airport Terminal 5, to conduct research into gaze behaviour and engagement with advertising.
The company claims that this represents a level of immersion previously untested in a fabricated environment. The study, conducted in partnership with Spinview and Tobii Pro, was built on the eye-tracking methodology which JCDecaux Airport first deployed 15 years ago.  
Respondents were recruited to reflect typical airport audience demographics and were unaware that the research was related to advertising. The research, which included implicit and explicit responses, revealed that advertising screens in the airport deliver a valuable and engaging presence for the unique airport audience. 
Almost three quarters, 73%, of respondents recalled advertising screens as one of the first three elements they could remember from the VR airport terminal and 60% believed that advertising added to the overall airport experience. In addition, 71% of respondents recalled seeing the specific brands advertised. 
The study also demonstrated that dynamic copy promotes higher engagement rates, with a 17% uplift in the engagement of respondents looking at dynamic as against standard advertisements. 
JCDecaux Airport UK concluded that dynamic copy offers brands a prime opportunity to communicate complex brand messages. For a simpler branding message, advertisers that used standard copy were recalled more than those using dynamic versions. The company added that this is useful learning for brands wishing to achieve a longer-term presence. The research also showed that creative copy using vivid colours and motion saw an increase in engagement. 
JCDecaux Airport UK Marketing Director Steve Cox said he was proud to have taken an existing research project to the next level using modern VR technology. He added: "The full 3D model was built in-house by our expert design team to ensure all aspects of the airport were visualised as realistically as possible. The learnings will enable us to service and advise our clients better, giving them key direction on how best to achieve a high impact and engaging creative campaign."
Tobii Pro Head of Marketing Research & UX Ali Farokhian said: "The integration of Tobii eye tracking to HTC Vive's VR headset has opened up a whole new dimension for marketing research. Attention is a key indicator of what engages people and we are extremely pleased to have been part of gathering actionable insight for JCDecaux on the future of Heathrow Airport's OOH [out-of-home] advertising and their media placement strategy."
Spinview CEO Linda Wade said that her company is continually focused on developing the application of VR to deliver insight which can be applied to real world business challenges. She added: "We are extremely excited about the findings of 'In Plane Sight'. Working in partnership with JCDecaux Airport and Tobii Pro represents the gold standard in using VR to produce highly accurate measurements of customer behaviour which, in this case, will enable advertisers to make informed decisions based on tangible data."