AIRMAGINE
---
Challenging the status quo
Airmagine is challenging some of the biggest names in the airport advertising business with its own revolutionary software, Advision, which it claims gives airports and brand advertisers game-changing returns on their advertising investments. Mark Lane finds out more from Director Jesper Høyer Andersen.
Airmagine's mission is to change the world of airport advertising as we know it. The Scandinavian company, which has advertising concessions in several Danish airports including Copenhagen, also sells its software Advision as a licensed product to airports that manage their own ad sales and to other suppliers.
It is a business that held big ambitions right from the outset. Airmagine Director Jesper Høyer Andersen (pictured) says that Airmagine was established in 2014 to "challenge the status quo in the airport advertisement industry". He explains: "At that time, and mostly even today, airport advertisements are sold on the basis of location and perceived value, not utilising the tremendous amount of data available in an airport environment."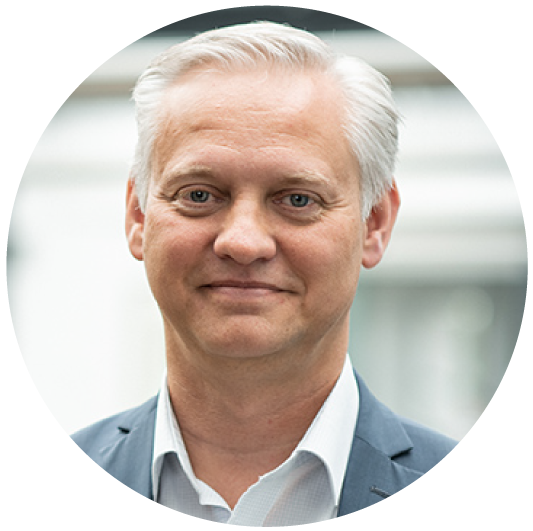 Airmagine uses several sources of relevant data. One example is flight information (gates, flight times, luggage belts), and another is flow data from throughout the airport. In addition, the company uses surveys and variables that are specific for each ad position, such as angle, screen size and direction.
The benefit of this is that Airmagine can accurately identify the number and type of passengers, hence delivering advertisements that are targeted towards those that are in the vicinity of each advertisement position. For the airport it means fewer positions, more available inventory to sell and less digital clutter. Crucially, for advertisers, it means higher hit rates.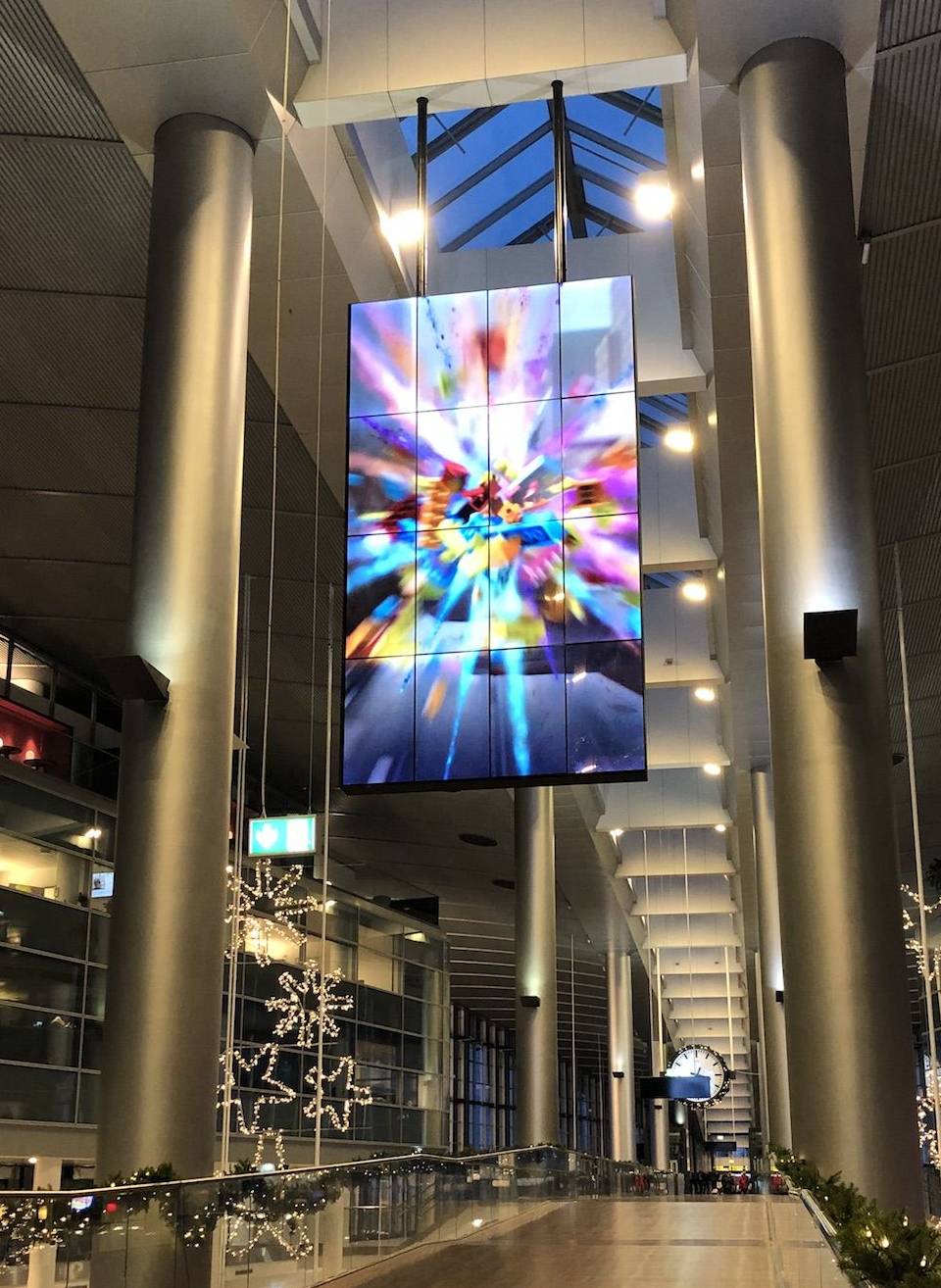 A highly impactful digital position for Lego in Copenhagen
In most airports, advertisers pay to reach their target audience and for the number of times their advertisement is shown. In contrast, the Airmagine method allows advertisers to be more creative in their ads as they know more about who they are reaching.
Andersen claims that all this makes Airmagine "the true original data-driven airport advertisement provider".
He continues: "Through our contract with Copenhagen Airport we have both proven our concept but more importantly proven the profitability and relevance of such advertisement parameters.
"Our main product offering going forward is our in-house built software and its capabilities. We are looking for even more airports and advertisement providers to further grow our – and their – business.''
In addition to Copenhagen, Airmagine has the concession to sell advertising in Esbjerg and Roskilde airports, and it has a contract with Nordic Seaplanes, which operates a niche route between Copenhagen and Aarhus.
But it is the Advision software which Airmagine believes will underpin its future growth. London City Airport is an example of an airport already successfully using the software to drive its advertising revenue.
"By onboarding Advision, London City Airport has managed to drastically reduce the hours spent on administrating their campaigns,'' Andersen claims. "Furthermore, because there is complete handling of everything from pre-sales to invoicing and reports, we have minimised the risk of any mistakes, forgotten invoices and so on.
"The way we optimise playback in five-minute intervals based on passenger and flow data makes us top of the class for targeting the audience the brands are trying to reach, and, by doing so, maximise returns on investment for the client. This leads to a very high repurchase rate, as we can provide the buyers [with] tangible data on what they achieved during the campaign period.''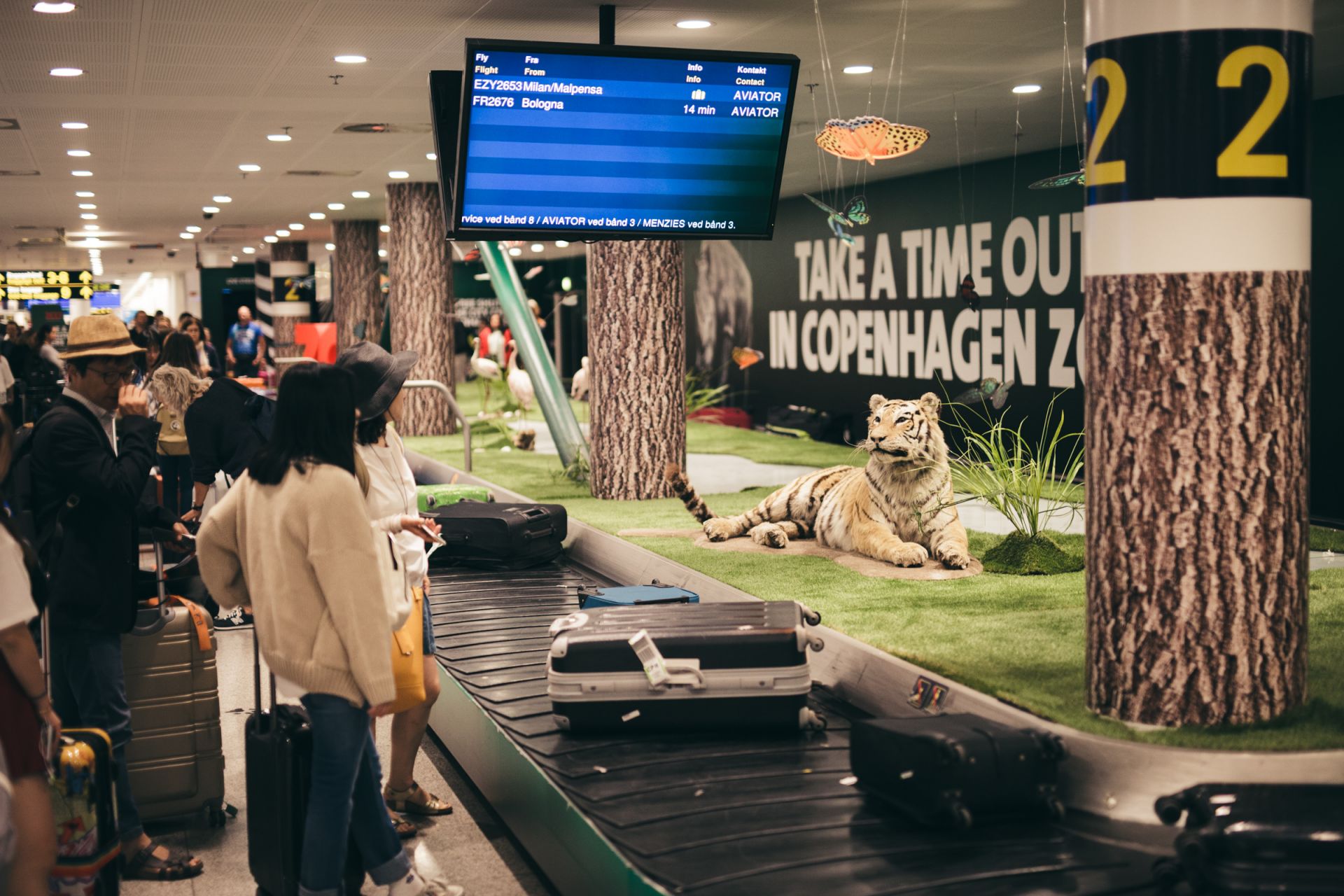 Roaring success: The campaign for Copenhagen Zoo in 2017, which involved a full themed take-over around two of the main luggage belts, is Andersen's favourite campaign
Airmagine's offer is about much more than providing digital screens. For the company, the full opportunities of digitisation come from the smart use of available data to understand who the advertiser is trying to reach, where they are and when.
Andersen explains: "By using complex calculations and algorithms, we can automatically target very specific passenger groups within a very narrow time frame at each unique advertisement position throughout the airport.
"This gives us a competitive advantage. Where others operate in two to four-hour time windows, we live in five-minute intervals to ensure our advertisers get the highest possible return on investment."
Andersen says Airmagine has essentially merged online advertisement dynamics with physical out-of-home positions.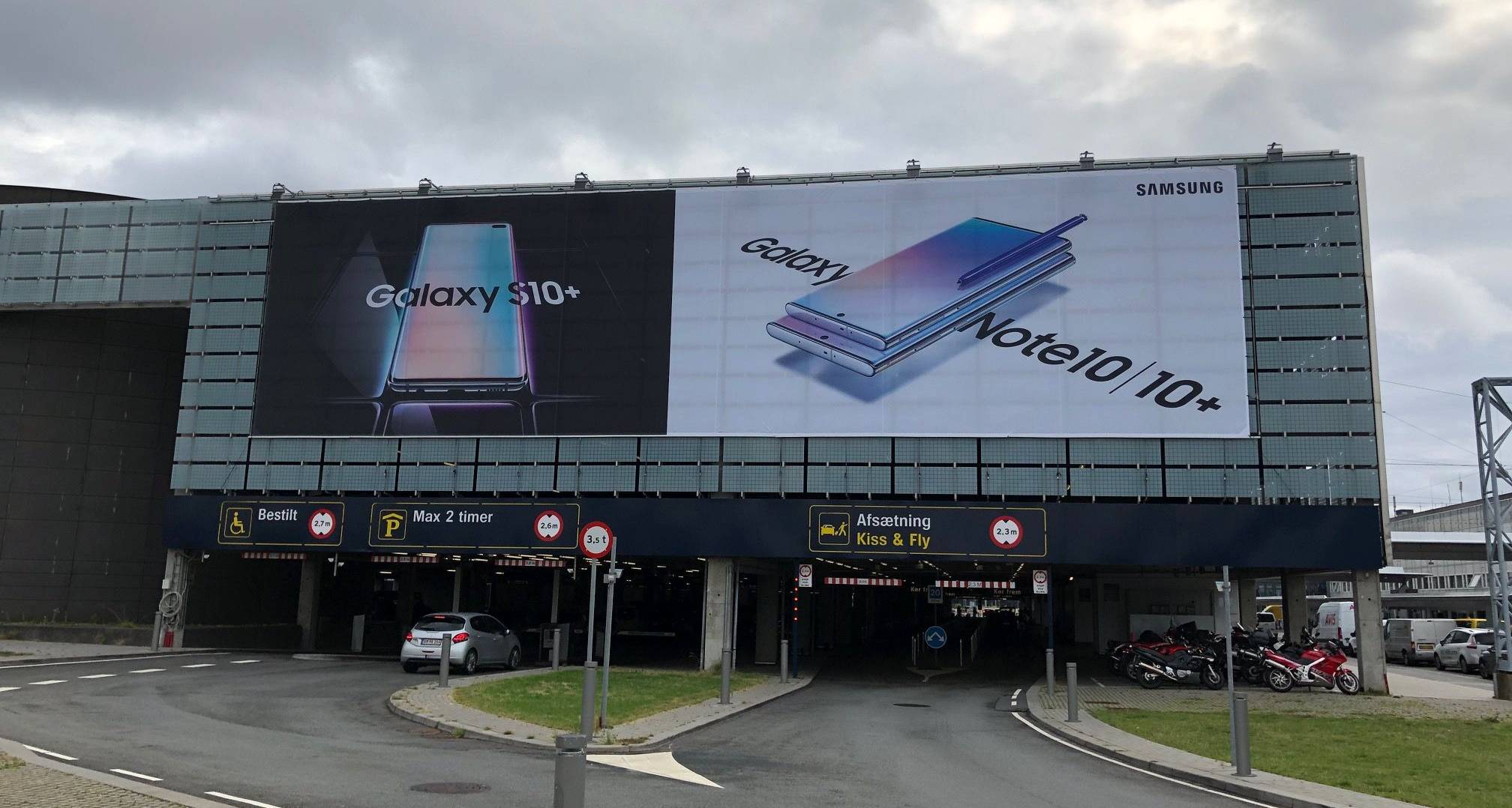 Striking Samsung: A large outdoor banner advertising the mobile phone company's latest products at Copenhagen Airports
He continues: "In regards to convincing the media market of this business model, not much work was needed. Most of the agencies and brands operate in an online world already, but they appreciate the documentation we provide.
"This is the first time airport advertisers have provided them with a validated documentation report after each campaign, and this measurement is tremendously important in ensuring trust but also repurchases. The main message is this: the advertisers' ultimate goal is to reach a certain set of possible customers and we can do this for them in a very accurate way.''
Airmagine sells its software capabilities as a licensed software to airports such as London City, which have their own in-house advertising teams.
"By using complex calculations and algorithms, we can automatically target very specific passenger groups within a very narrow time frame at each unique advertisement position throughout the airport"
"We are currently investigating many opportunities with airports for them to grow their advertisement business,'' says Andersen. "An added benefit for these airports is that, as we understand the fundamentals of our software and its capabilities, we can offer cost-effective solutions based on the synergies between different needs and operation throughout the airports, such as FIDS/GIDS [Flight/Gate Information Display Systems], digital wayfinding and so on. This is very exciting and offers a definite way for airports to optimise their operations."
Recent major advertising campaigns that Airmagine has completed at Copenhagen Airport include BMW with its new M8 and M330 cars; luxury wear Kari Traa, a promotion in combination with digital screens; Omega; Fed-Ex and Tiger of Sweden – all in Airmagine's exclusive branding zones, and including foil and digital large screens. It has also undertaken campaigns for Carlsberg, Lego, Samsung and Huawei.
Jesper Høyer Andersen's favourite was a campaign for Copenhagen Zoo in 2017, involving a full takeover around two of the main luggage belts at Copenhagen Airport. He recalls: "This was a first-class example of involving all our media types to create a spectacular universe that put the brand in focus, told a story and entertained the passengers. From foil and 3D floor graphics to promotion and digital take-over, it felt it like you were actually in the zoo."
Airmagine uses data from different sources to predict passenger numbers and movement patterns. It validates these predictions throughout a campaign period to ensure it delivers on objectives. These validations come from flight information data, data from within the airport and more than 70,000 interviews carried out in the airport annually.
"Furthermore,'' adds Andersen, "we are constantly looking into several ways to further widen our methods to make predictions better, make post-advertisement behaviour analysis possible and to ensure our product is the best on the market. We also provide the customers with documentation reports in which they can access key data from the delivered campaign, which is very helpful for them when presenting the results within their own organisation.''
The business pays attention to what others are doing, but Andersen says Airmagine is careful not to let that corrupt its own creative process.
"We do not want others to interfere with our thinking of how to innovate, even though we are clearly inspired when seeing something that is really well made,'' says Andersen.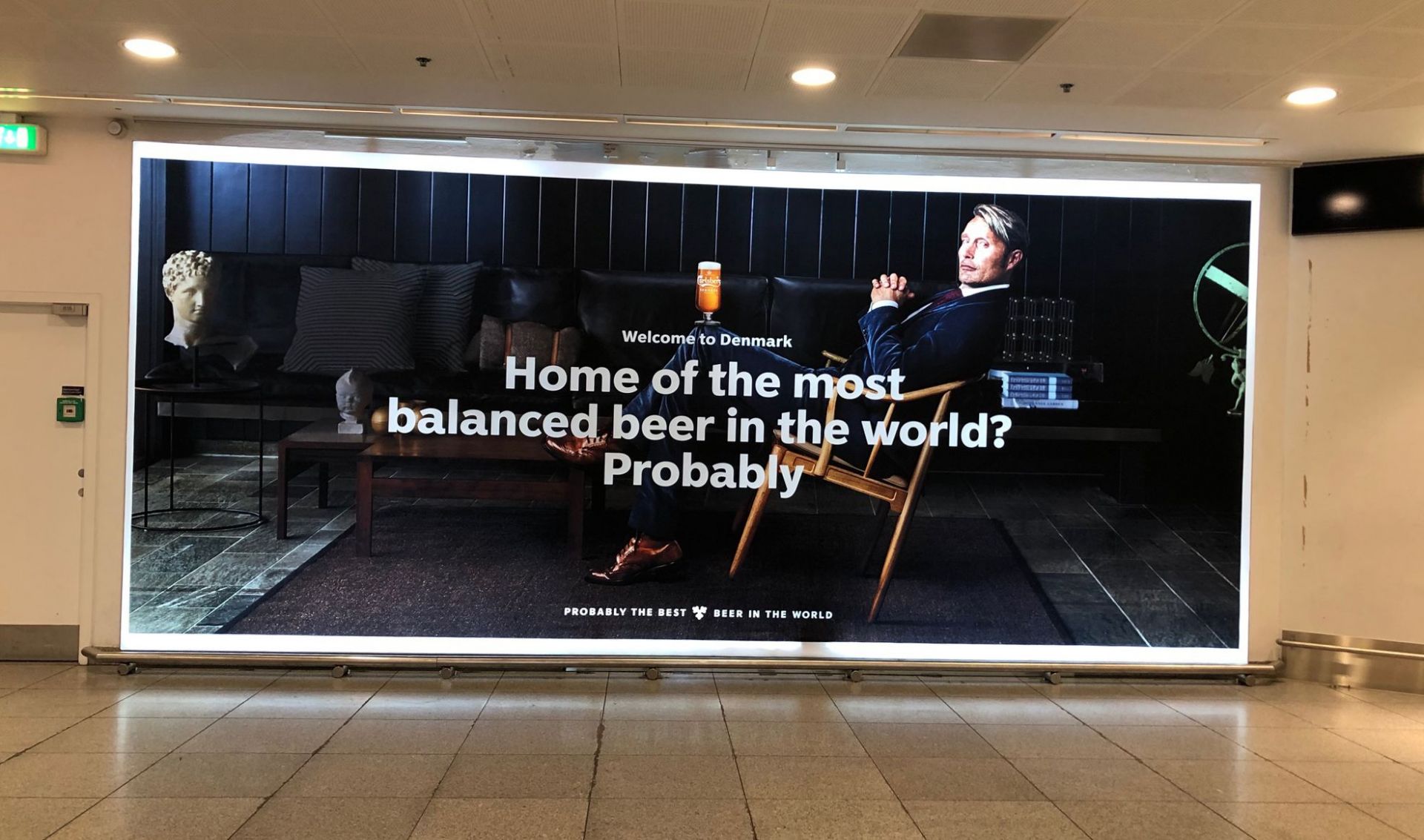 Well-balanced advertising: An Airmagine LED campaign for Carlsberg at Copenhagen Airport
With passenger behaviour constantly evolving, particularly with increased use of mobile devices, Airmagine has to always be looking at new ways of developing its software.
"We constantly look into new and exciting ways to improve and differentiate our product offering, and currently we are looking into a number of opportunities that will offer some competition to the use of mobile,'' says Andersen.
Looking ahead to what the future holds for airport advertising, he adds: "Airmagine strongly believes that the airport advertising business is changing. After years of decline, and neglect from bigger players, the airports need and deserve more attention and someone who is willing to fight alongside them.
"With non-aeronautical revenues being more important than ever, advertising represents a low barrier opportunity. We believe we will see more cross-selling between airports, more smaller airports entering into partnerships to strengthen their negotiating power, and a market that will tighten."
But the fact remains that Airmagine is a small operation when compared to some of the major players in the airport advertising market. Asked how Airmagine can realistically compete against bigger companies and deliver the rise in revenues that the company is forecasting, Andersen says: "Our software approach differentiates us from the rest of the competition in that our understanding of data and its value means we have been able to supply the market with a superior product, which in return means higher returns for the airport."
He concludes: "We are flexible and try to find solutions for the airports where the bigger players wouldn't, we value transparency with our documentation and reports throughout the value chain. We work together with our customers to find new and better ways of doing things.''
Sight Lines is published by The Moodie Davitt Report (Moodie International Ltd) six times a year.
© All material is copyright and cannot be reproduced without the permission of the Publisher.
To find out more visit www.moodiedavittreport.com and to subscribe, please
e-mail sinead@moodiedavittreport.com