Airport Ads

aims to mirror increasingly sophisticated African airports through refreshed identity
Airport Ads has unveiled a new corporate identity. Launched in May 2012, the standalone division of Provantage Media Group (PMG) has won a major share of the South African airport advertising sector and is now extending its footprint across Africa and the Middle East, where it delivers advertising solutions at 25 airports.
Its new minimalist logo – which was developed by the Airport Ads marketing team in partnership with an external agency – draws on elements of aircraft design with a colour palette of gold, black and white and a tagline of 'Limitless Solutions'.
Airport Ads Head and Deputy CEO of PMG Mzi Deliwe says: "This brand rejuvenation emphasises both exclusivity and attention to detail – it speaks to our ability to offer unlimited opportunities to brands of distinction, through both impressive inventory and exceptional service. It also contributes additional sophistication and global reach."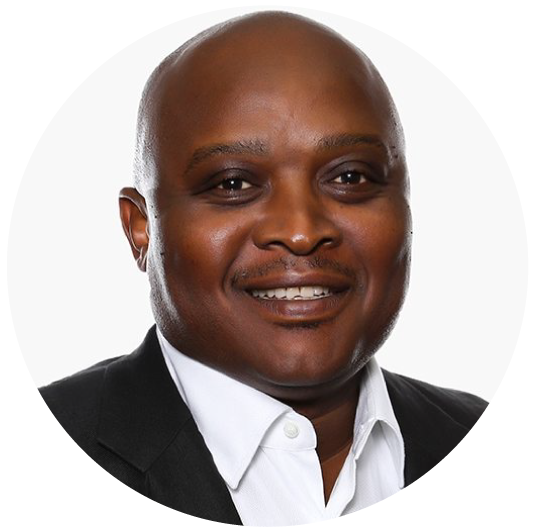 "Airports are sophisticated environments
and Airport Ads has sought to emulate this through its brand identity."
Airport Ads Head and Deputy CEO of PMG Mzi Deliwe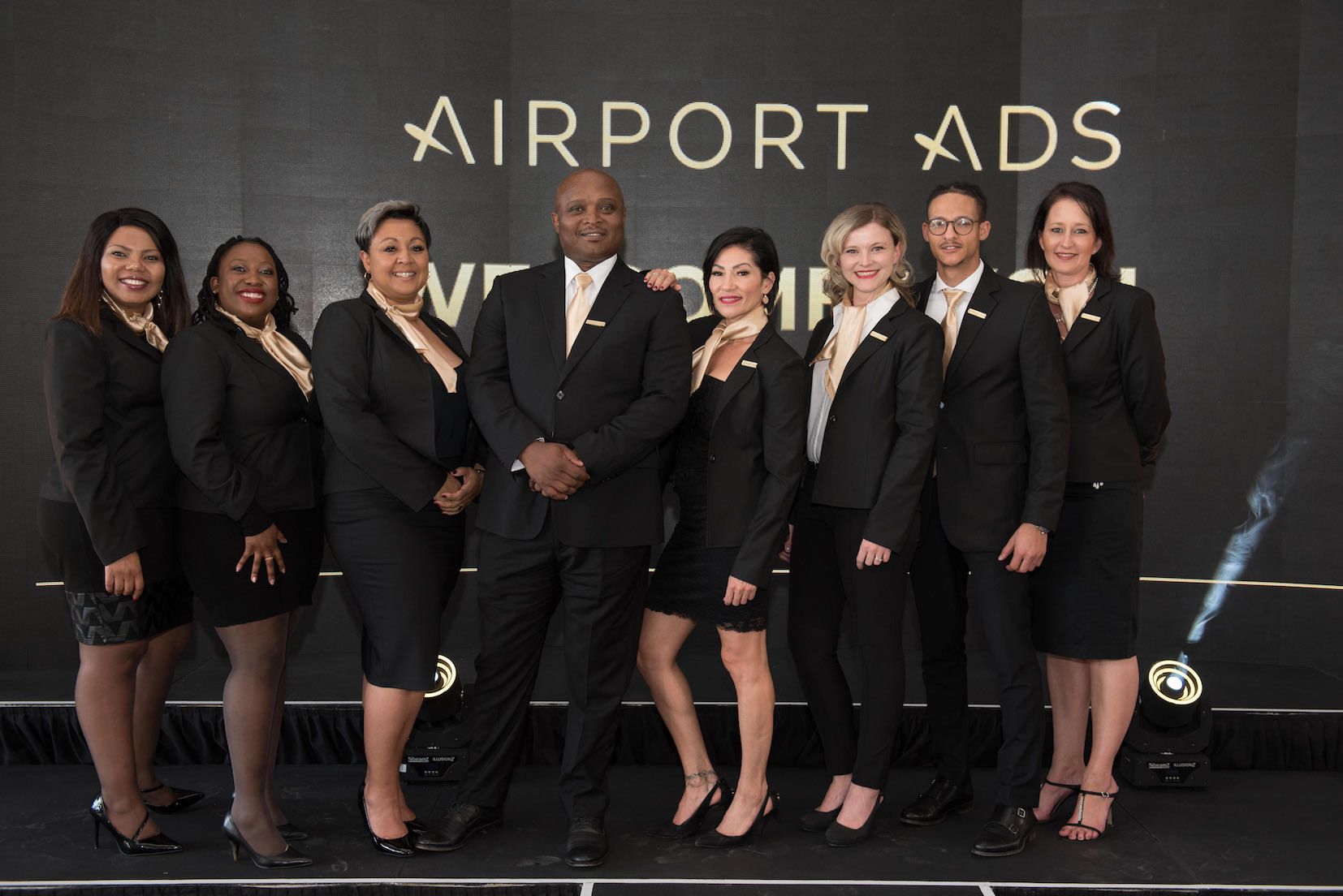 Mzi Deliwe (fourth from left) and members of his team pose with the new Airport Ads logo
The brand refresh mirrors changes throughout the airport advertising sector, as Deliwe explains: "Most airports around the world are being rebuilt and upgraded, and this is particularly true within Africa. These are large investments that governments and parastatals are making; they are sophisticated environments and Airport Ads has sought to emulate this through its brand identity."
African airports are increasingly dependent on non-aeronautical income streams, including advertising. With several new airports being constructed in Africa, there's a parallel growth in advertising revenues, driven by the introduction of digital media formats.
Passenger numbers in Africa grew by 6.3% in 2017 and, with current total annual traffic numbers at 195 million passengers, the African airport advertising market is becoming significant.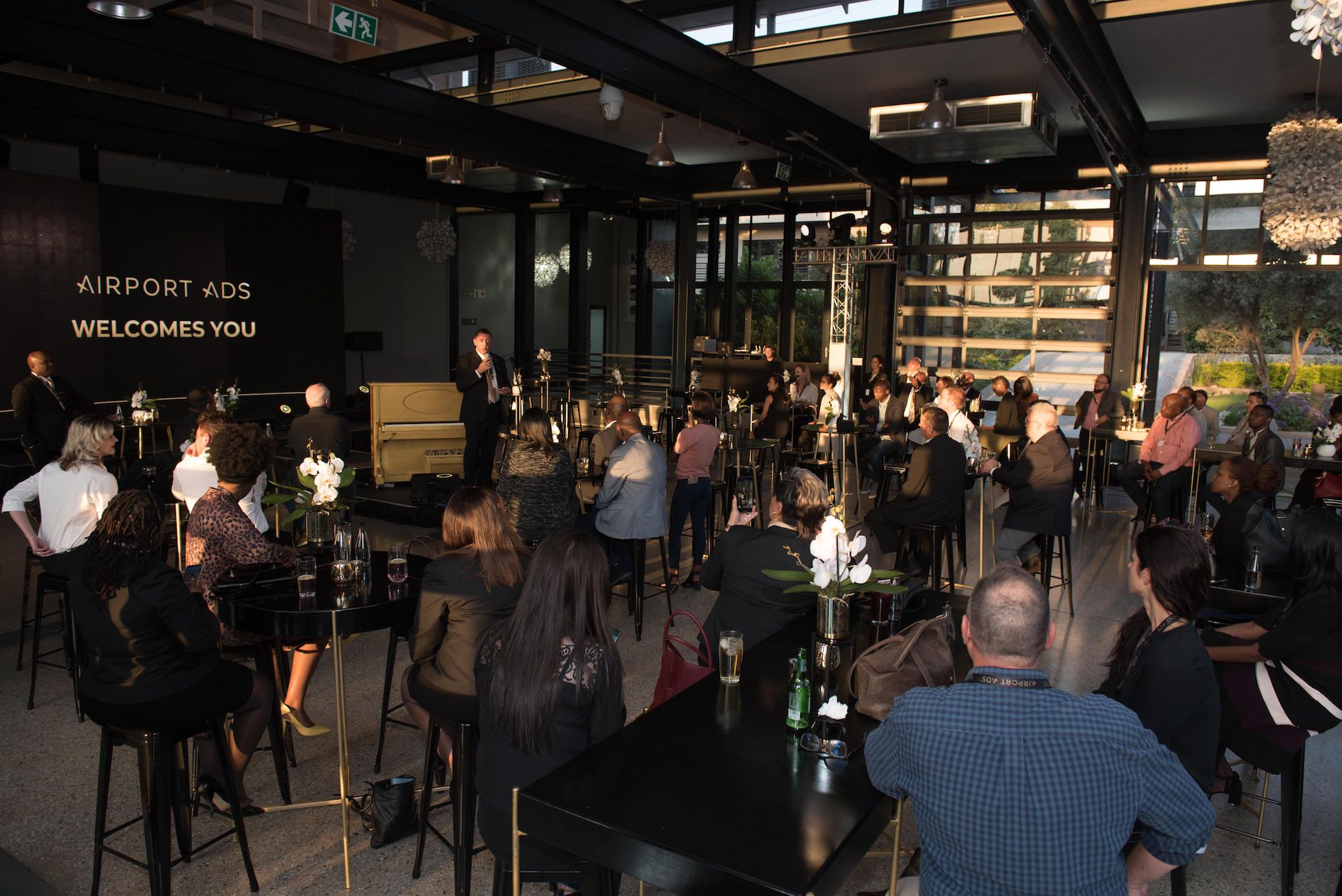 Jacque Du Preez, CEO of Provantage Media Group, presents the new Airport Ads branding to clients and staff
"Due to the fact that African airport infrastructure was lagging [behind] the rest of the world, we believe that advertising revenues will grow much faster than in developed markets as brands want to be present at the new airports,'' says Deliwe.
But, he argues, media owners must evolve and become increasingly sophisticated.
"The days of being a media owner at an airport and simply offering static sites are long gone. Digital media types, sophisticated static sites, activation ability and branded services, combined with strong research and inventory management and reporting systems are now entry-level requirements."
He explains that the integration of smartphones and online media with out of home media will be a major trend. Deliwe believes geofencing and reserving of advertising will increase advertising effectiveness and attract more revenue.
He concludes with a rallying call: "The lack of enough audience data for airport passengers, as well as the lack of media efficacy data, is still a major problem that needs to be urgently addressed. We believe that airport authorities and media owners need to collaborate a lot closer in this regard and provide this data in order to attract additional advertising revenues."
Sight Lines is published by The Moodie Davitt Report (Moodie International Ltd) six times a year.
© All material is copyright and cannot be reproduced without the permission of the Publisher.
To find out more visit www.moodiedavittreport.com and to subscribe, please
e-mail sinead@moodiedavittreport.com