INTERVIEW
---
International knowledge for individual travellers: PSI's new Managing Director Ben Milne on the evolving airport environment
Posterscope International (PSI) has over the last three decades developed an impressive understanding of location-based marketing and predicted consumer behaviour.
The company's new Managing Director Ben Milne, who assumed the role in September, has spent recent years bolstering PSI's analytics capabilities in the Asia Pacific region. He tells Sight Lines Editor Liam Coleman about how he will apply his global approach to taking the company forward in a global airport environment.
Liam Coleman:

Let's start by talking about your career before becoming the new Managing Director of PSI.
Ben Milne: I have worked in the out of home industry, holding various roles across the spectrum of investment, planning, innovation and management, for the last 20 years. I have been fortunate in that time to have had the opportunity to experience the breadth of the industry and what it has to offer across the time I spent living in the UK, Russia, China, and most recently Japan where I spent the last four years.
With my most recent role being focused across Asia Pacific, I also travelled extensively in that region in order to ensure that the Posterscope offices got the most from the investments we have made. In just a few short years since taking on that responsibility, working with the global technology and Liveposter team, we expanded the footprint of ECOS, our award-winning proprietary analytics, planning and trading platform, across the entire region and launched a dynamic digital out of home hub in Singapore to bring the benefits of our ECOS and Liveposter technology offerings to advertisers and agencies in the region.
How do you think your prior experience – especially as Posterscope's Head of Platforms and Partnerships in Asia Pacific – will help you in your new role?
Travelling has brought me a number of benefits I intend to bring to bear for PSI's continued success.
Working with our clients, vendors and partners across the Asia Pacific region has given me a real on-the-ground appreciation and understanding of the areas where similarities across markets exist. For example, you can clearly observe that markets with existing mass transit systems are on a programme of improving or expanding them, whilst markets without are investing huge sums in building them, and alongside this, the quantity of high-quality out of home inventory is increasing, as are passenger numbers. This is echoed in the airport environment; just look at China's ambition to increase from 235 to 450 airports by 2035, a move that is likely to see it handling around one quarter of all air passenger traffic by the same year.
Conversely, it also has given me a rich appreciation of the individuality of each and every country and culture and the absolute importance of this to the way in which we plan and execute. We need to ensure that we continue in our pursuit of relentless relevance in our work.
My deep involvement with our data & tech platforms and approaches in this area has also given me an unwavering belief in the power of the right technology and data, in the hands of the right people, to make incredible improvements to our business. This is something I am really looking forward to driving forward with our clients at PSI as I believe the global travel corridor represents one of the ripest opportunities for digital transformation in the out of home sector right now.
"The ability to be able to react to a changing and volatile environment when planning global travel campaigns, as opposed to purely extrapolating historic data to predict future travel patterns, allows PSI to stay one step ahead of the game"
PSI's Managing Director Ben Milne
How did you find working in China and Japan and how did it differ to working in the West?
In China I think the lessons I took away were about speed, ambition, dynamism and a focus on execution and getting things done rather than sitting around in endless meetings about meetings. This attitude was pervasive and infectious, and it energises you into truly believing anything is possible if you just try, which given the fast pace of business in China is important in keeping your team and yourselves motivated.
In Japan I learnt the importance of the minutiae and details along with a relentless focus on quality and continuous improvement (kaizen 改善) that permeates not just business but society as a whole. For anyone who knows me, they will appreciate that this focus on the details is a much needed and welcome addition to my skillsets.
I thoroughly enjoyed the strong bonds within teams and business that the collective culture brought, in both China and Japan, despite occasionally bemoaning the lack of individual responsibility and accountability that it inevitably brings. One of the unexpected benefits this brought was in regularly taking my full lunch hour with colleagues out of the office eating great food and having great conversations around a big round table – it made a welcome change from a quick sandwich at the desk, even though the trade-off for this was the longer hours culture.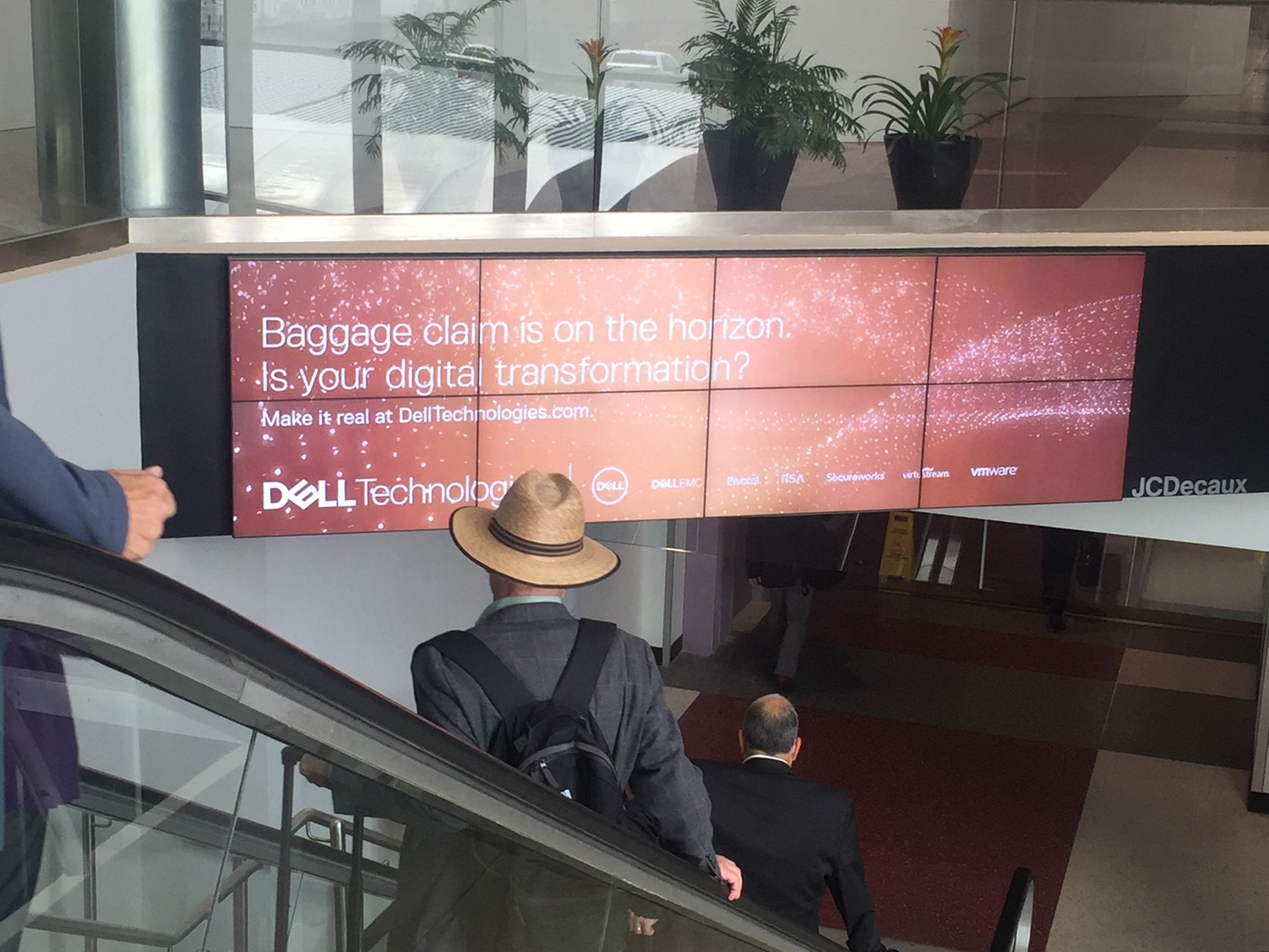 The DellTechnologies campaign sought to drive awareness of the brand among a hard-to-reach business decision market
What are your priorities as Managing Director?
My priorities are our clients, our people and all our valued partners. PSI has a wonderful and well-deserved reputation as one of the best places to work in advertising, and I intend for that to continue.
The product at PSI is world-class and the clients we work with recognise this. However, I feel there is an opportunity to be out there telling our story in a bolder and louder fashion so that more agencies, advertisers and brands can benefit from the full range of services and products PSI provides.
What does PSI's partnership with global travel trend analysts ForwardKeys entail?
In 2017, in recognition of the importance of integrating data and insight into our planning to deliver more effective and innovative solutions for our clients, we agreed a deal with ForwardKeys. Our partnership gives us direct access to the most comprehensive air travel database globally, analysing over 18 million booking transactions daily, and with the ability to predict future travel patterns.
The data can be broken down by a host of variables, such as point of departure or arrival, business vs. leisure, group bookings, seasonality, length of stay. When overlaid with our own proprietary data and insight, this enables us to advise partners on the best solutions to target business and leisure audiences as they fly between, and spend time in, the world's busiest urban centres.
We are also able to overlay ForwaydKeys' event database information on top of travel patterns. This allows us to help our clients build context into their planning and understand how real-world events, such as the recent protests in Hong Kong, impact the travel patterns of audiences around the world.
The ability to be able to react to a changing and volatile environment when planning global travel campaigns, as opposed to purely extrapolating historic data to predict future travel patterns, allows PSI to stay one step ahead of the game.
When overlaid with PSI's outdoor consumer survey travel data, we are able to understand the most relevant touchpoints of an audience's journey that we should be looking to engage. This allows us to plan in a much more holistic way taking into account the entire end-to-end journey for our audiences.
In addition to campaign planning, we use travel data to help measure effectiveness for some of our global travel brands. In 2018, we ran a campaign for Diageo's Johnnie Walker to understand which audiences were purchasing the different Johnnie Walker products (Red, Black & Blue). We used Johnnie Walker sales data across the airport and mapped it against passenger data to build a 3D picture of which departure and arrival flights were driving sales of which products. For example, we had the potential to see if flights from London Heathrow to Chengdu were more likely to drive more Johnnie Walker Blue sales, as opposed to flights to Delhi.
Ben Milne on his airport advertising favourites…
Airports: "Most modern airports are doing a wonderful job at effectively engaging consumers, creating contemporary, spacious environments with increased digital infrastructure and new retail and experiential layouts that are making them desirable and attractive retail and leisure destinations. Obvious examples are Terminal 2 and Terminal 5 at London Heathrow or Singapore Changi Airport."
Campaigns: "One of my favourite campaigns is actually one that we did at PSI for DellTechnologies with the aim of driving awareness of the brand among a hard-to-reach business decision market.
"To gain a complete understanding of this VIP audience and how they navigate an increasingly competitive landscape, we used a
multitude of data sources such as city location heat-mapping, OCS media consumption behaviour, ACI and ForwardKeys. This enabled us to build a bespoke travel corridor across the US as well as on a global scale across Europe, the Middle East, Africa and Japan.
"To maximise engagement, the campaign used PSI's Liveposter platform to serve relevant, reactive and dynamic messaging during key stages in the target audience's travel journey.
"Dynamic triggers used included six weather triggers, two event triggers – PGA tournaments and UEFA Champions League games – and, in a global media first in airports, three sets of flight data based on pre-determined destinations triggered to airport, terminal or gate-specific screens."
What else is PSI doing to harness data in an airport environment?
We use data in both the planning of campaigns – identifying the target audience, understanding what they are doing and how we can reach them – as well as in the actual delivery of content, where we are increasingly using data to maximise the relevance and engagement of our advertising campaigns. This is done via our content platform, Liveposter, which enables us to deliver dynamic content in real time. For example, serving multiple creative advertising executions in local languages to specific relevant departure or arrival gates based around flight arrivals and departures.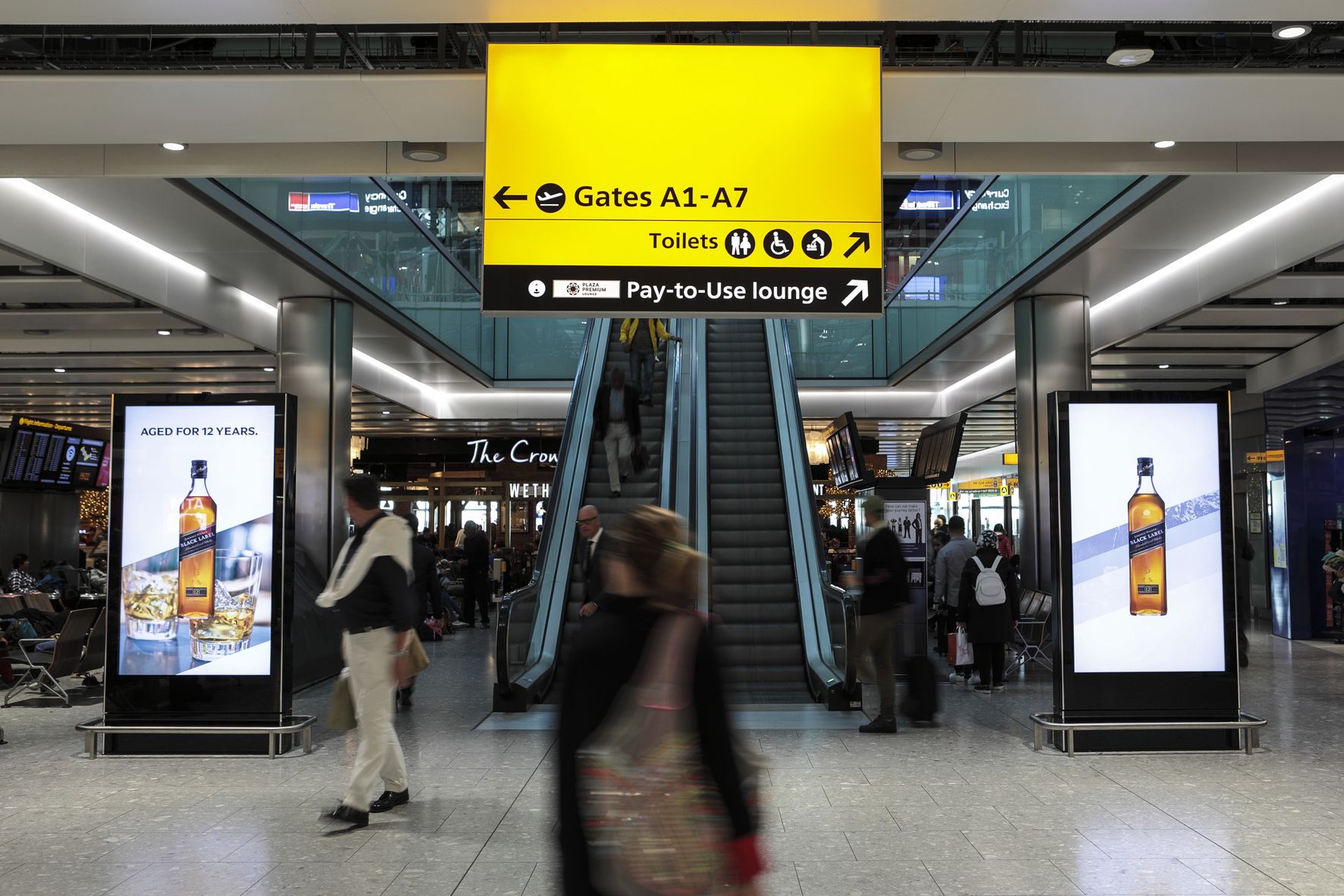 This campaign for Diageo allowed PSI to use sales data across the airport and map it against traveller data to establish which passengers would be more likely to buy a particular Johnnie Walker blend
What do you think have been the major disruptors for airport advertisers in recent years and how do you think stakeholders can overcome disruption?
Digital has completely revolutionised the way that people navigate through their journey. Mobile phones have moved from being an aid to an integral part of the travel experience, offering the opportunity for more streamlined and personalised passenger engagement. This new digital frontier has given rise to more travel providers vying for consumer attention at different stages of their journey, which is opening new enhanced media touchpoints. But this can make the experience feel more fragmented and disjointed at a time where there are increasing opportunities to make travel more seamless and connected.
New digital touchpoints and more enhanced data capture methods are allowing traditional travel brands to leverage insights and analytics to build up more complete profiles of their audiences, ultimately leading to more effective communication. The focus for brands must now be on the end-to-end engagement of audiences throughout the entirety of their journey — it no longer begins and ends at the airport — and advertisers need to adopt a much more omnichannel approach.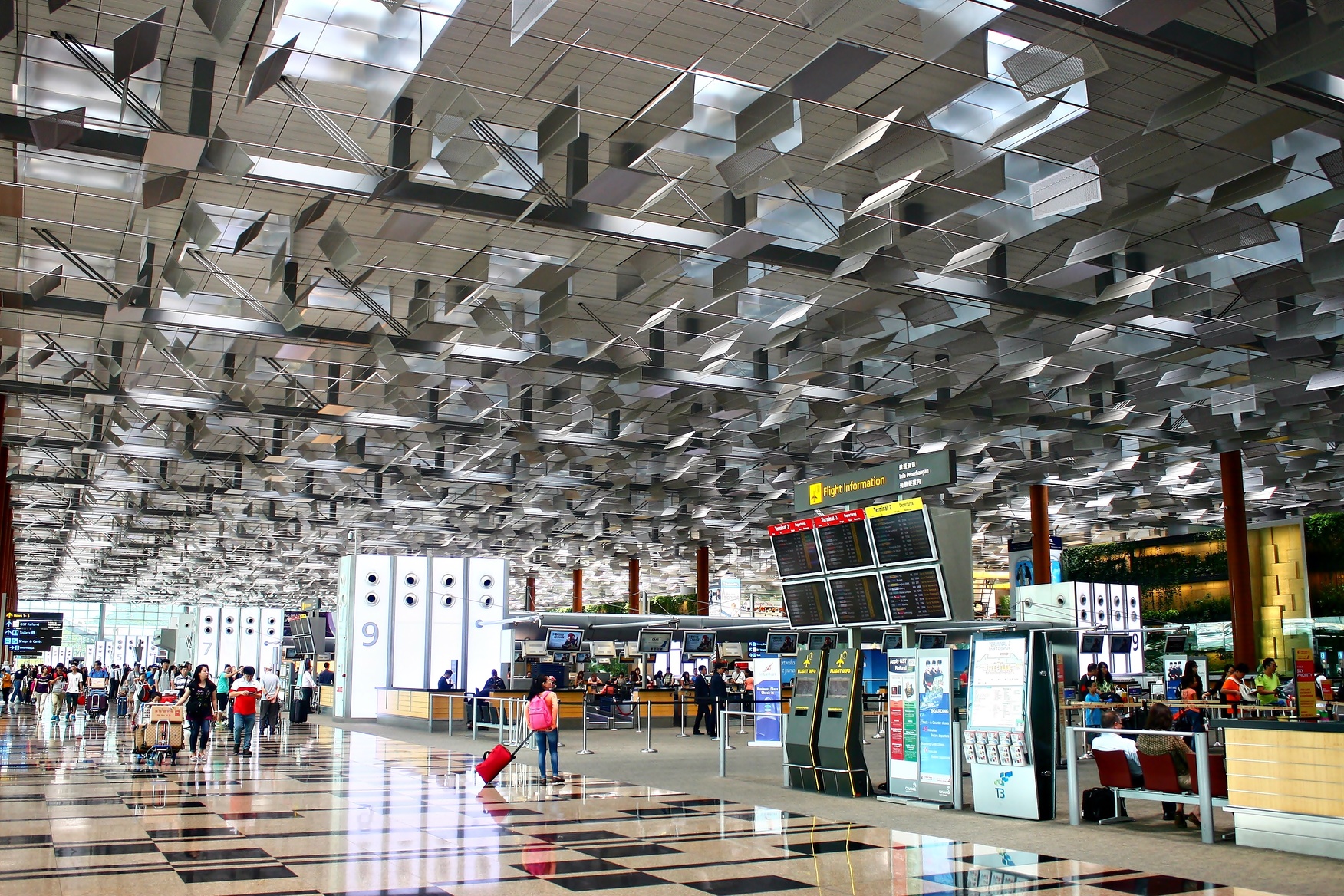 Singapore Changi Airport was identified by Milne as one of the world's most sophoisticated advertising environments
How do you see the world of airport communications evolving in the future?
There are two significant factors in how communication with the airport audience is evolving: technology and data.
New digital touchpoints and more enhanced data capture methods are allowing brands to leverage insights and analytics to build up more complete profiles of their passenger audiences, ultimately leading to more effective communication. Geolocation and beacon technology, still in its nascent stages within the airport community, allows for enhanced targeting, enabling segmentation of passengers by language and country and tailoring of messaging to the specific area of the terminal they find themselves in.
Traditional touchpoints will become more personalised and onboard connectivity will soon be ubiquitous giving rise to new media opportunities inflight. Increased interaction with travellers through mobile devices and apps will see more opportunities for brands to target travellers as they embark and move through their journeys. These days, effective campaigns will be those that communicate with travellers at numerous offline and online touchpoints across the global travel corridor.
Sight Lines is published by The Moodie Davitt Report (Moodie International Ltd) six times a year.
© All material is copyright and cannot be reproduced without the permission of the Publisher.
To find out more visit www.moodiedavittreport.com and to subscribe, please
e-mail sinead@moodiedavittreport.com