AIRPORT PROFILE
---
Schiphol goes it alone
Mark Lane, in conversation with Schiphol Media Sales Director Arthur de Groot, finds out why Amsterdam Airport Schiphol keeps its advertising function completely in-house and the benefits that brings to brands, particularly those operating in the airport's extensive travel retail environment
Many airports across the globe have committed the delivery of airport advertising services to big players in the industry such as JCDecaux and Clear Channel. Perhaps the most compelling reason for doing so is to become part of a network of airports that is offered to advertisers with a big media brand behind it.
Airports that keep advertising in-house can miss out on campaigns from brands who like to deal with one company that covers a lot of airports or because there are volume deals between agencies and the media vendor.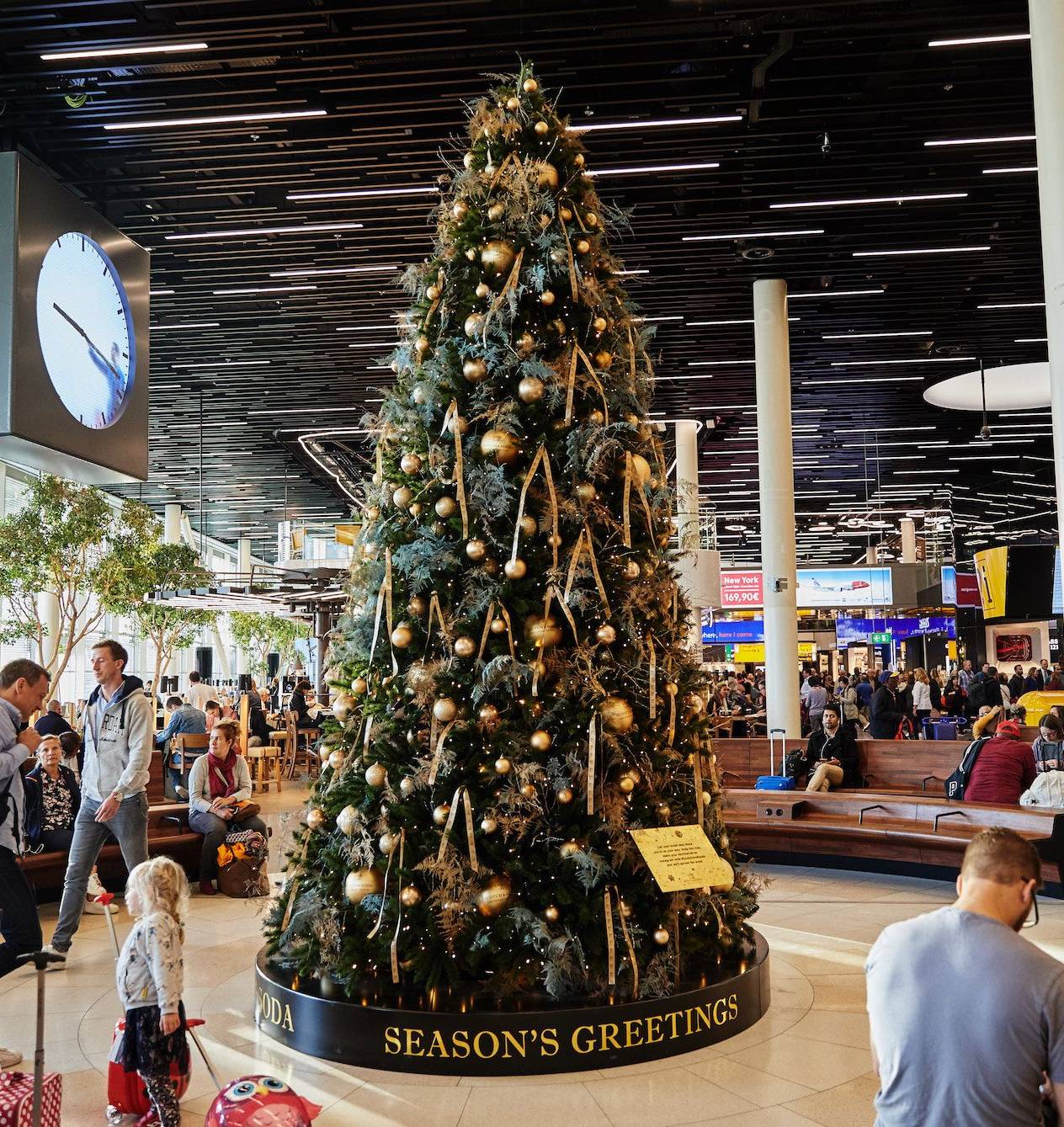 Scotch & Soda branding for a festive campaign at Schiphol
But some of the major airports do retain their advertising independence, and there are some very compelling reasons for doing so. One great example can be found at Amsterdam Airport Schiphol, the third busiest airport in Europe with 71 million passengers in 2018 and direct flights to 327 destinations. It has its own in-house media operation, under the guise of Schiphol Media, to take advantage of this hugely powerful audience on behalf of its clients.
Schiphol Media Sales Director Arthur de Groot sets out some of the pros for retaining independence: "Media offers a very important complementary revenue stream in the changing retail landscape. Airports are perfect high traffic, high quality and high dwell time locations for brands. This means that media fees are becoming a part of the retail proposition and the fact that we are selling our own media enables us to maintain direct contacts with travel retail brands, and that makes it much easier for us to offer hybrid contracts in which we include media value."
De Groot, whose department employs 11 people full time, says that Schiphol Media is in direct contact with all of its travel retail business partners and brands and as such can maximise the synergy through coordinated 'drive-to-store' campaigns and flexible pop-up stores. "Our two main goals in this are to generate more sales and maximise brand exposure," he explains. "External media vendors will tend to focus on maximising media fees only."
Advertising independence also ties in nicely with modern thinking in non-aeronautical revenue generation, providing further persuasion for the in-house approach. De Groot adds: "As an internal department we also believe that we can better maximise the synergy with the operations departments of the airport by creating omnichannel sponsored experiences that add value to the passenger journey by exciting them with digital content.
"Apart from our revenue targets, we also have net promoter score targets that incentivise us to contribute to this. This is much harder to accomplish with an external vendor.''
He points to a further crucial advantage for the advertisers: "Another benefit of the in-house approach for clients – especially travel retail brands – is the fact that we look further than generating media revenue. One of our KPIs is to also maximise the sales of the client, which very much aligns us with the goals of our advertisers.''
Of course, there are many advertising opportunities for clients at Schiphol, not least in the physical form of 1,300 digital screens, 115 lightboxes with 250 faces, 15 giant banners and 10 promotional spots.
That hand will be strengthened this summer, when the airport installs a new Astrovision screen in its outdoor central square. It is replacing the current screen with a larger, sharper, HD version with a digital banner underneath.
This will follow the recent installation of new screens at the gates of Pier G, placed in the seating areas. The screens will be used to show different kinds of content, including flight and boarding information, news, and sport, as well as branded content.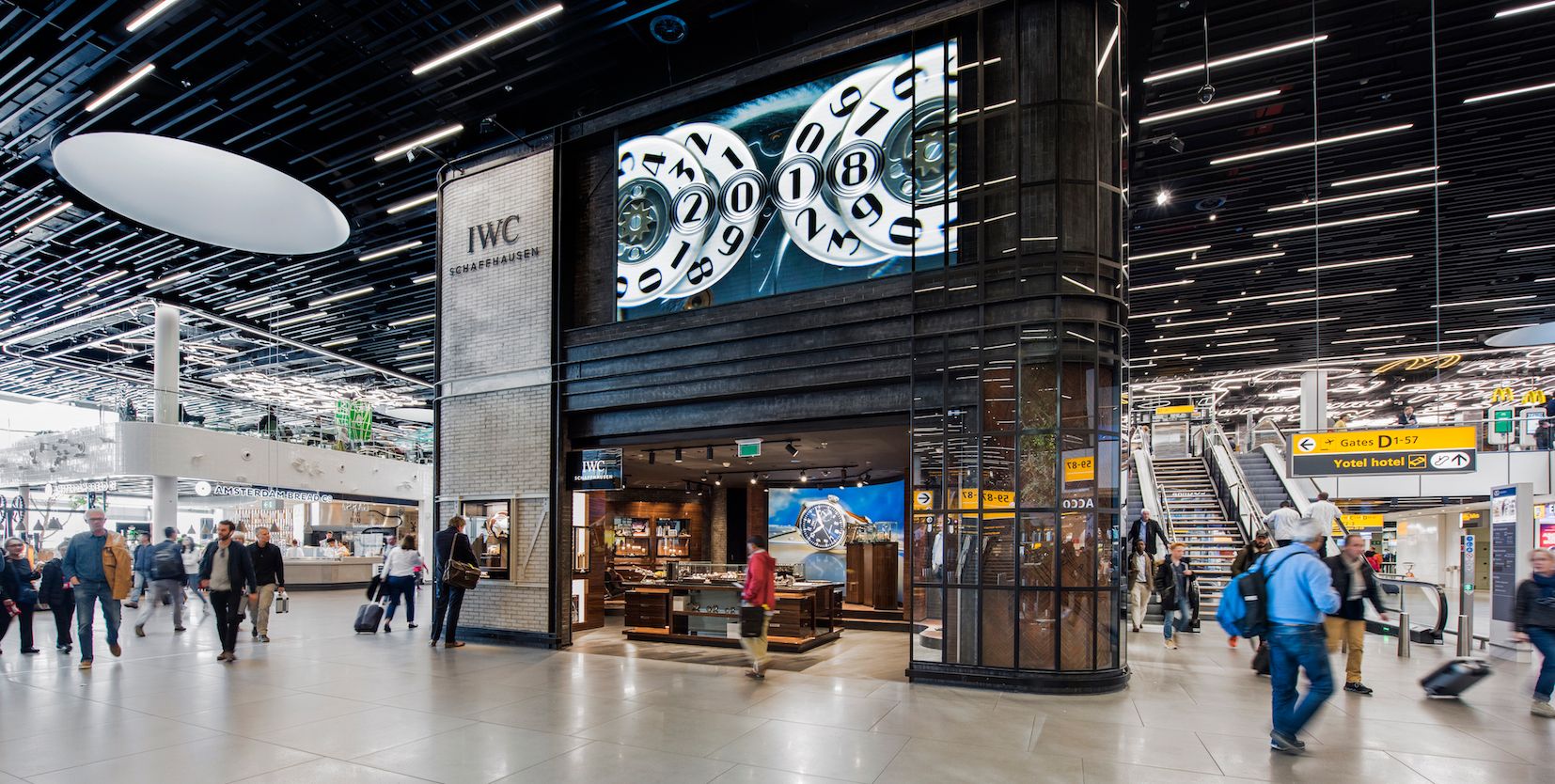 This IWC store at Schiphol incorporates digital advertising
"Destination content powered by brand X and other content powered by brands can add value to the passenger journey, such as content about points of interest in New York at a gate with a flight to JFK," says De Groot. "Over the next two years we will be installing these screens at all the non-Schengen gates.''
Schiphol Media is currently exploring ways of engaging with travellers through their mobile devices and social media with "careful" targeting.
"Mobile is becoming more and more important and we have several ways in which we will use mobile to enable brands to reach the right passenger at the right moment,'' says De Groot. "For example, we have a special Chinese landing page that is being used by most of the Chinese passengers. On these pages, we offer selected brands the opportunity to reach this highly attractive passenger group."
Schiphol is also reaching its Chinese passengers (more than 500,000 departed through the airport in 2018) via its dedicated WeChat channel. Its focus on serving Chinese passengers in the best possible way has been recently reflected by Schiphol becoming the first WeChat Pay 'Flagship Smart Airport' in Europe. This offers Chinese travellers advantages, including tailor-made shopping services at the airport, again giving great advertising opportunities to brands selling products at Schiphol.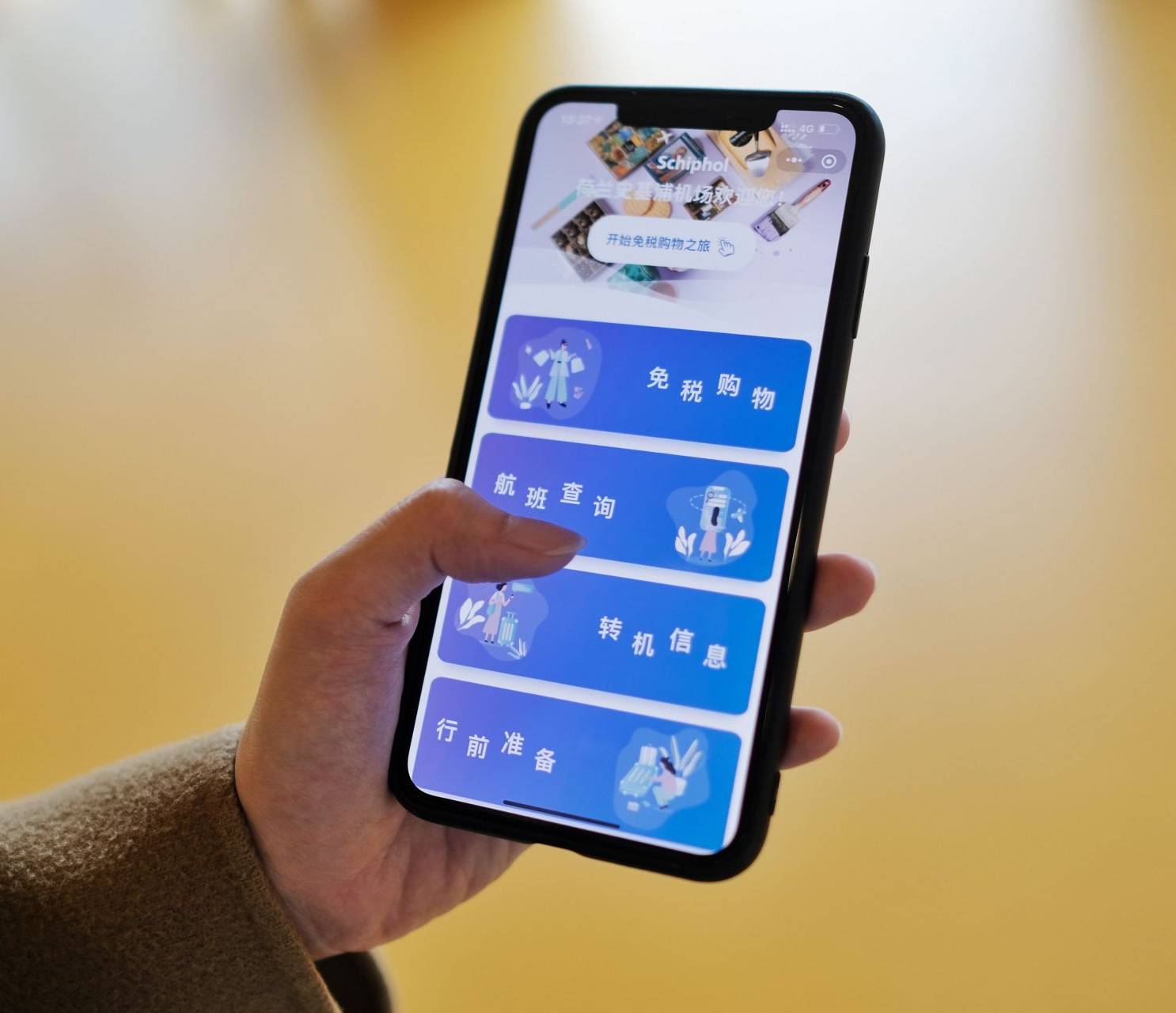 "Mobile is becoming more and more important,'' de Groot says
The airport is also developing mobile advertising opportunities within its own app and website. With significant traffic on these channels – a projected number of more than 2.5 million users a month – it anticipates being able to generate high exposure among passengers.
The airport is currently building a new concourse, which will come into operation in 2020, and it has also started a major renovation of its Schengen shopping area that will see that area almost double in size. It has also commenced preparations for the construction of a new terminal that will add a capacity of 15 million passengers.
"In all these new areas we will be installing state-of-the-art, impactful and mostly digital media objects," says De Groot.
There is a huge opportunity to connect with passengers in these areas. According to Schiphol's own research, passengers spend an average of 142 minutes at the airport, three quarters of them are happy to see advertising in the airport environment and 69% agree that the airport's ads are noticeable.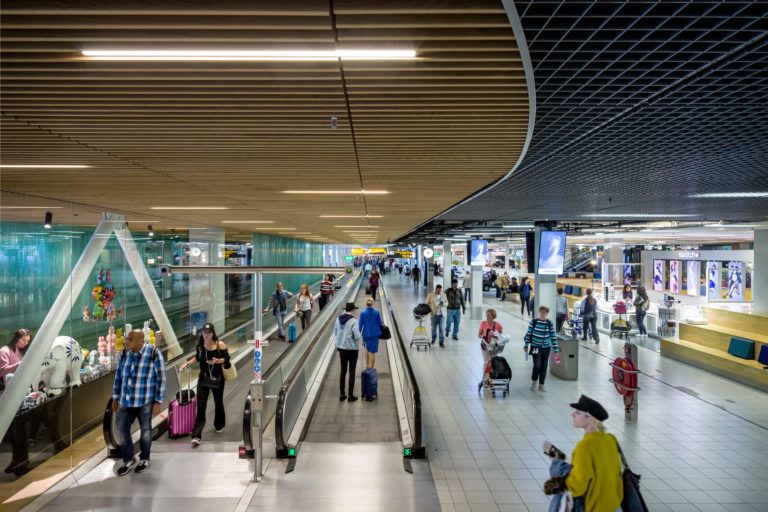 De Groot points out that Schiphol puts a lot of effort into monitoring the impact of advertising. "As an in-house media department, we have detailed information about the impact of campaigns on sales. We are sharing this data with the brands and are using it to optimise the campaigns.
"The last two years, we've been working hard on gathering the right data to give an almost 100% accurate view of how many passengers have walked by an object, how many of them have seen it, and how many times an advertisement has been seen.
"Hundreds of sensors have been placed around the airport to enable us to monitor this traffic and we are currently finalising the interface between this data and our campaign reporting system."
"As an in-house media department, we have detailed information about the impact of campaigns on sales"
De Groot is generous in his praise for what he has seen at other airports in terms of advertising installations. "I love the digital screens installations at LAX [Los Angeles International Airport],'' he says. "It's very smart how they've been able to create a distinct atmosphere with digital screens that also enable them to create amazing branding campaigns.
"Another favourite is Seoul Incheon Airport where they have a huge amount of large digital screens that are being shared by media and operations. I've also recently visited our colleagues at Charles de Gaulle and Rome Fiumicino Airport – they have both installed some impressive high-quality digital screens at impactful locations."
De Groot describes the future of airport advertising as "bright", pointing to the expected exponential growth of air travel in the coming decades. He concludes: "The captive, high-dwell-time audience ensures high visibility for brands, and technology will enable us to increase the relevance of what we are showing to who and at what time, thus increasing the value for both brands and passengers.
"I also expect more and more integration of brands into the airport. Physically, by means of branded seating areas, lounges and services and also digitally, by means of ever more relevant branded content. By that I mean content that goes much further than showing a flashy advertisement but one that actually adds value in the form of relevant entertainment, information, advice or inspiration."
Schiphol goes it alone – The advertising models adopted by the world's largest airports for international traffic
Sight Lines is published by The Moodie Davitt Report (Moodie International Ltd) every month.
© All material is copyright and cannot be reproduced without the permission of the Publisher.
To find out more visit www.moodiedavittreport.com and to subscribe, please
e-mail sinead@moodiedavittreport.com