A snapshot of airport advertising and communications images that have caught the eye – and camera – of the wider Moodie Davitt Report team
Timeless message: 'France has a word for beauty'.
L'Oréal Travel Retail brought an acclaimed 25-year-old advertising theme back to life this year in an ambitious global airport advertising campaign. Pictured below (from top to bottom) are installations from Milan Linate, Singapore Changi, Frankfurt and Shanghai Pudong airports.
The new Changi Airport Terminal 4, opened on 31 October 2017, is surely one of the world's most elegant and tranquil air terminals. It also features some lovely airport advertising. These shots are taken just inside the departures check-in zone and the collective impact of the multiple rotating digital hanging banners from L'Oréal Travel Retail's star-studded portfolio is showcased to great effect in a terminal that enjoys so much natural light, high ceilings and wide panoramic vistas.
The Moodie Davitt Report Founder & Chairman Martin Moodie travels through Hong Kong International Airport at least once a month and never fails to notice – or be impressed by – this advertising placement (and its various executions) long held by The Estée Lauder Companies in the main departures zone. Every week, thousands of consumers take this escalator down into the main shopping area, practically eyeballing the US beauty house's visual on the way.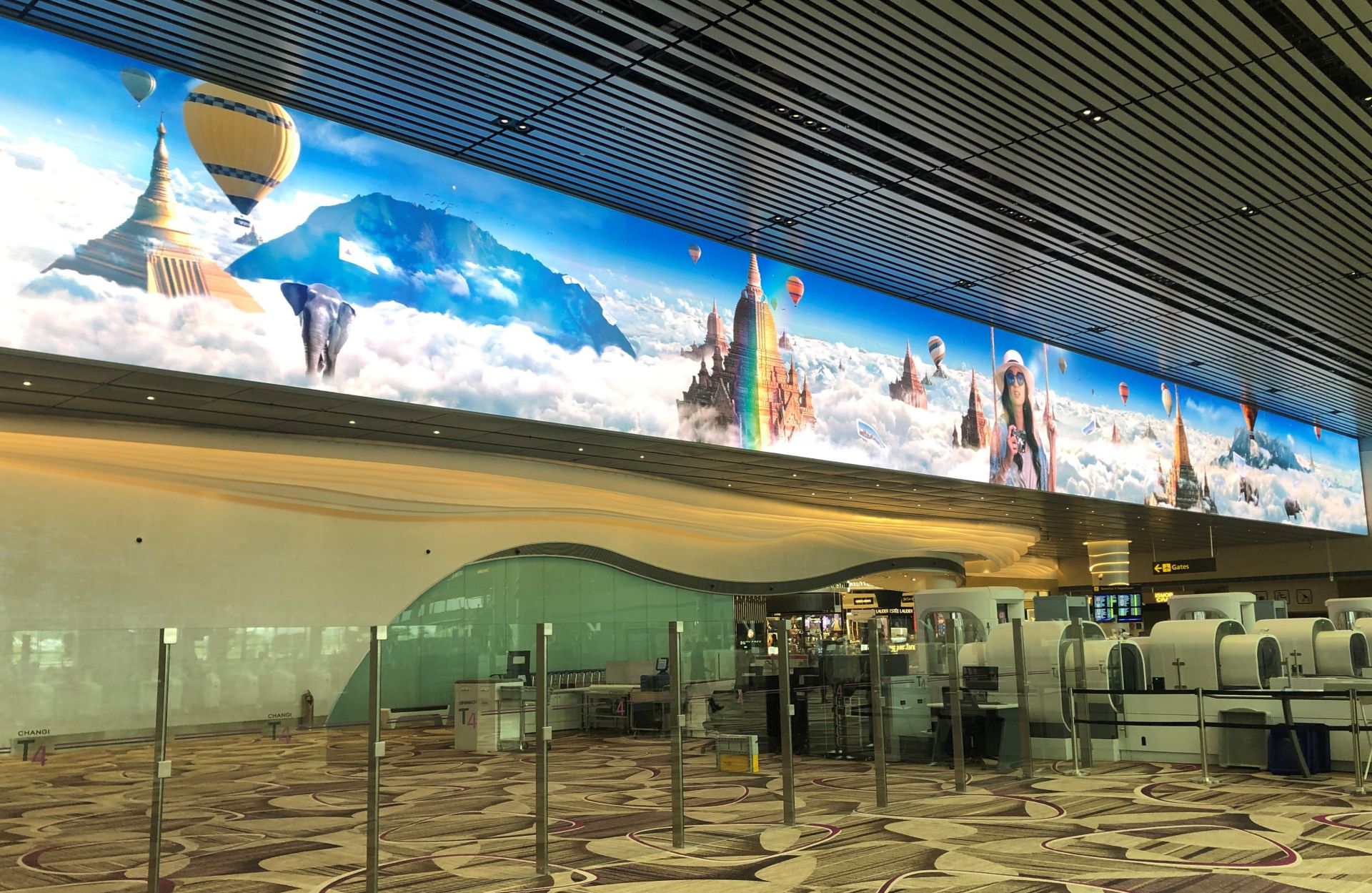 This is not airport advertising as such but a compelling testament to the immense power of digital communication. The scene is Changi Airport Terminal 4. The Immersive Wall at the Centralised Security Screening Area tells an enchanting story of culture and travel destinations. Visible from the departure hall, and to all airport visitors, the Immersive Wall is a 70-metre long by five-metre high LED wall, spanning the entire length of the centralised security screening area.
This giant LED screen showcases 16 diverse and curated capsules of digital content — from panoramic scenes of Singapore and landmarks in Southeast Asian nations to a whimsical animated story of different pieces of luggage travelling through the airport. The 16 video capsules play on a 50-minute loop, with a ten-minute break where the screen shows a scene looking like stone carvings etched into the wall.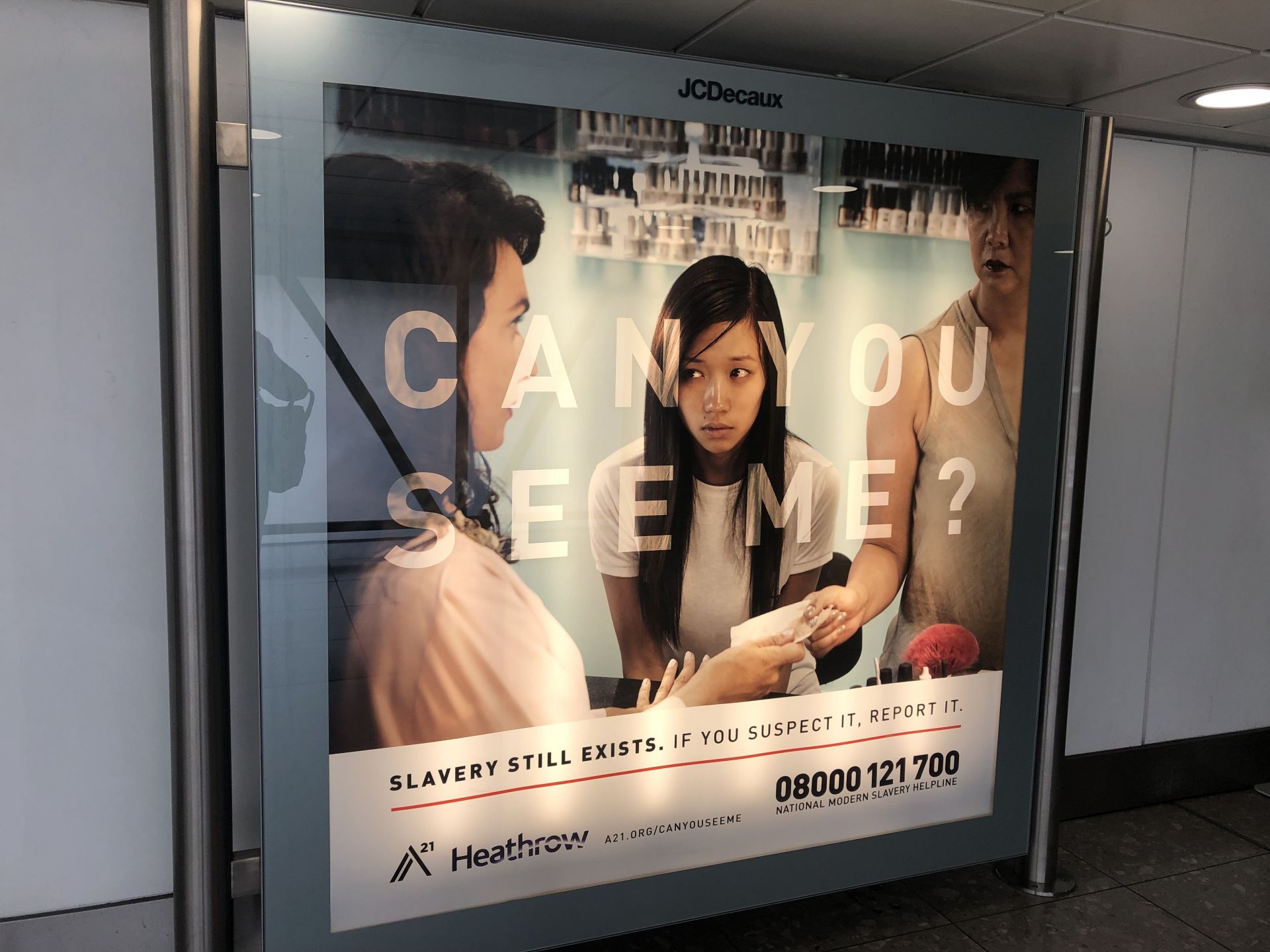 Heathrow is not only one of the world's busiest airports, it's also one of the most responsible. Sight Lines applauds this advertising campaign themed 'Can you see me?', which underlines the airport's commitment to tackling slavery and human trafficking, the fastest-growing global crime and a shameful blot on modern society.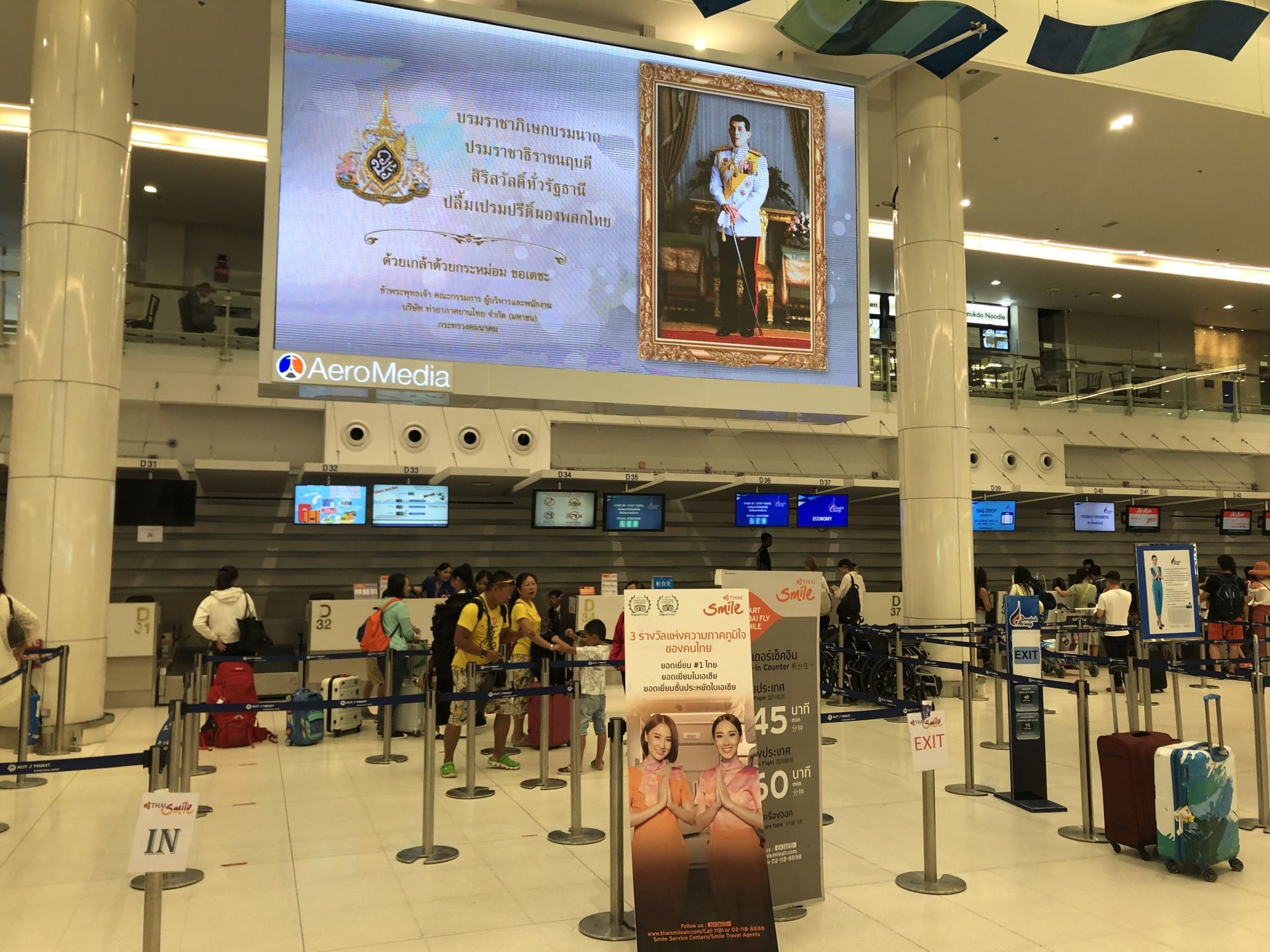 Another example of airport advertising being powerfully used for a social purpose. In this example, Phuket Airport advertising concessionaire AeroMedia affirms its, and the Thai nation's, devotion to King Vajiralongkorn – reigning title, Phrabat Somdet Phra Vajira Klao Chao Yu Hua – who ascended to the throne in 2016.
Big is beautiful in terms of these advertising installations at Düsseldorf Airport, gateway to the capital of the German state of North Rhine-Westphalia. The two examples above and below underline the value of strong, well-positioned advertising propositions in airports.
Zunyi Maotai Airport in Guizhou Province, China is the gateway to one of the world's most famous spirit-producing regions. In particular, the town of Maotai is home to the most-venerated baiju of all, Kweichow Moutai. From the time passengers exit the suitably themed airbridges (below) into the terminal (above), they are left in no doubt that they have entered Moutai (spelled differently from Maotai) country.
Sight Lines is published by The Moodie Davitt Report (Moodie International Ltd) six times a year.
© All material is copyright and cannot be reproduced without the permission of the Publisher.
To find out more visit www.moodiedavittreport.com and to subscribe, please
e-mail sinead@moodiedavittreport.com